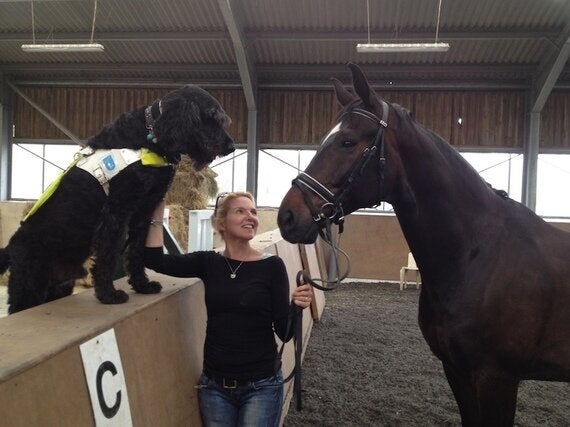 Blue skies, sunshine and sunflowers are more the things that I associate with my home in the South of France than with the United Kingdom, but since Szekit, Uffa and I arrived in the Cotswolds to begin our training with Sandy Philips for the Rio 2016 Games, we have had nothing but Britain at its best. To add to this summer nirvana, Tockington Manor even threw in a Sunflower Ball for which, much to Uffa's disdain, I stapled an inordinate number of fake sunflowers to his harness, leaving him to spend the majority of the evening as I blossomed on the dance floor, glumly sitting in the corner of the marquee, looking like a rather large wall flower or stuffed novelty pot plant.
On his arrival in England, Szekit stepped off the lorry into the glorious Gloucestershire sunshine, after his four day journey from Sweden, looking like a prince, ready to embark upon our new adventure - our Road to Rio. Unfortunately Uffa and I were a lot less graceful on our arrival. We stumbled off the Ryanair flight from Bezier to Bristol after a meagre hour and a half of confinement, looking more like a pair of crumpled paupers. I now concede that navigating an airport with one rogue suitcase, one speeding guide dog and a pair of far from sensible heels is a tall and quite wobbly task.
Dragged by Uffa and dragging my case, we stepped into a world of summer fetes, cream teas, Pimms and bone crunching, muscle searing dressage training. It has been a very steep learning curve but I have learned so much in such a short time. Sandy really is a brilliant trainer who, to my delight, makes no concessions for my eyesight. The greatest compliment is that she confesses that she often forgets that I am blind. It is only my sometimes kamikaze canters towards the wall of the arena when I occasionally mis-count my strides due to concentration saturation, that she is reminded of my lack of sight.
People sometimes say that it must be very hard for me to train but it is as equally hard for my trainer to train me. Unlike most dressage riders I have never seen dressage performed. For me it is an invisible shadow ballet that my eyes themselves have never witnessed. This makes the task of teaching these intricate movements and how to dance them with your horse, a leap of imagination for my trainer also. Conventionally a lot of trainers teach by example. The dressage arena is also adorned with mirrors for the riders to verify the accuracy of their movements. Of course I am blind to this reflection so rely completely on my trainers absolute articulation, precision and criticism to ensure that I am riding the movements correctly. I learn and ride completely through feel, something which Sandy,in a very short time of us working together, has embraced with both reins.
I have no doubt that before we know it Szekit and I will be whipped into lean mean dressage machines, and although I know that our goal is to go for gold, right now my goal is to go for a hot bath.
Smells are different here but fox poop is fox poop which ever country you roll in it