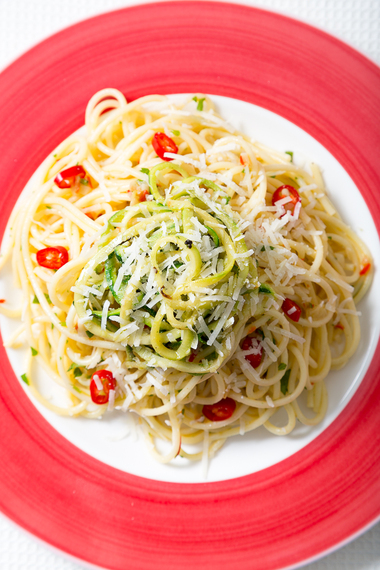 I've recently become a bit obsessed with spiralized vegatables, in particular, spiralized courgettes have become a staple in my diet.
I've always been a bit of a sucker for gadgets in the kitchen and the spiralizer is most definitely my appliance de jour! (Soz Nutribullet). If you don't have a spiralizer machine fear not as you can buy spiralized vegetables from most supermarkets.
The poster food of the clean eating movement, spiralized veggies are a great way to work your 5 a day into your family's diet in a fun and creative way.
I wanted to share one of my favourite spiralized dishes using courgette (and not forgoing the spaghetti either (who knew ;) ).
Combined with chilli, garlic and parsley and pasta it's the perfect mid-week meal for all the family. Easy to make yet guaranteed to fire up the taste buds and just take off the chilli if it's too hot for little ones.
Enjoy!
Chilli, garlic, parsley and spiralized courgette on spaghetti
Ingredients (Serves 4)
1 tbsp olive oil
1 red chilli, sliced
3 cloves of garlic finely chopped
3 courgettes, spiralized
400g dried spaghetti, cooked to packet instructions (use gluten-free if you prefer)
Handful of finely chopped parsley
Grated parmesan (or vegetarian alternative)
Method
Method:
Heat the olive oil in a large shallow pan on a medium to high heat
Add garlic and chilli, heat until aromatic and garlic has turned a golden brown
Add spiralized courgette and fry for just 30-45 seconds, stirring courgette around the pan
Remove from pan and serve with the cooked spaghetti
Garnish with parsley and parmesan
To read more recipes head to parenting blog Honest Mum.