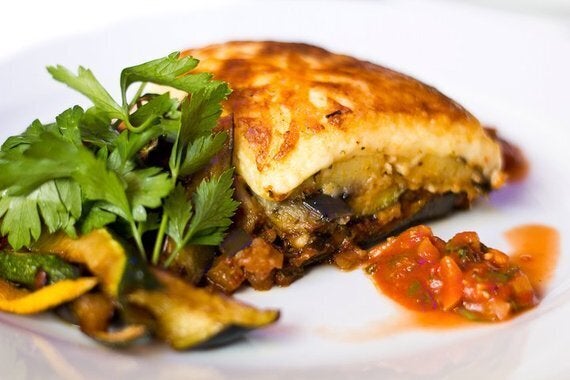 Moussaka is the most well known Greek dishes around. Perfect with a Greek side salad or simply on its own.
180ml sunflower oil for frying
1 large onion, finely chopped
2 cloves garlic, crushed (optional)
450g minced lamb or beef (or a mixture of both)
400g tin of tomatoes, finely chopped or 4 large, ripe tomatoes, skinned and diced
125ml dry, red wine (optional)
1 tablespoon tomato puree
1 bunch flat leaf parsley, leaves finely chopped
1 tablespoon dried oregano
1/2 teaspoon ground cinnamon
1/2 teaspoon ground allspice
salt and finely ground black pepper
1/4 teaspoon of grated parmesan or cheddar/ kefalotyri (hard Greek cheese available in some Continental stores) or graviera
1 teaspoon freshly ground nutmeg
40g grated parmesan/ cheddar or kafalotyri
30g freshly made breadcrumbs
1/2 teaspoon freshly ground nutmeg
Preheat oven to 180°C, gas mark 4.
Trim the aubergine and cut lengthways into 1/2 cm slices with the skin on. Sprinkle with 2 tablespoons of salt and set aside in a colander for 1 hour to sweat and to extract the bitterness. Rinse under cold water, drain and pat dry with absorption paper.
Peel the potatoes and cut lengthways into 1/2 cm slices. Trim and wash courgettes and cut lengthways into 1/2 slices. Reserve two tablespoons of oil; heat the rest in a large heavy based frying pan and fry the courgettes, potatoes and aubergines over a medium heat, until golden brown on both sides. Add just enough slices to make a single layer in the frying pan when frying and drain on absorbent paper to get rid of excessive oil.
Meanwhile, soften the onions and garlic (if using latter), in the reserved oil in a heavy based saucepan, over a medium heat until soft (about 5-6 minutes).
Raise the heat, add the meat and saute until it changes colour, breaking up any lumps with a wooden spoon and stirring occasionally to prevent sticking. Add the remaining ingredients for the meat, leaving half of the dried oregano, cover and cook gently for 30 minutes or until all of the liquid has evaporated.
Season to taste with salt, pepper, allspice and cinnamon. Cover and set aside.
Now melt the butter gently in a heavy saucepan, add the flour gradually and stir with a wooden spoon until smooth and well incorporated.
Cook, stirring over a low heat for 1 to 2 minutes until the roux turns pale, golden brown. Remove from the heat and whisk in the warm milk gradually, 125 ml at a time until smooth after each addition.
Add the salt, return to the heat and keep beating for about 5-6 minutes until the roux has a thick consistency. Remove from the heat, add the cheese and nutmeg, then the egg yolk slowly, stirring continuously all the time.
Line a medium sized baking dish approximately 26x26x10 cm deep with the potatoes first then the aubergines and finally the courgettes, seasoning them and sprinkling oregano as you go.
Spread the meat evenly on top, cover with more layers of aubergines and courgettes and finish with a layer of potatoes trying not to leave any gaps on the top layer.
Cover with the bechamel. Sprinkle over the cheese and breadcrumbs. Grate nutmeg on top of the bechamel. Bake uncovered for 45 minutes or until golden brown. Allow the dish to rest for 10 minutes before serving.