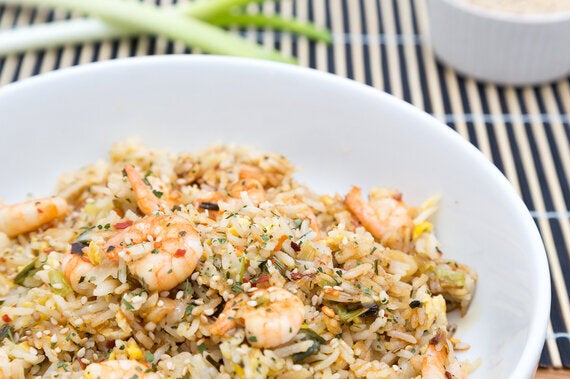 This is one of my favourite mid-week dinners. Incredibly easy to make yet BIG on flavour (and when I say big, I mean Kanye ego kinda of big!).
This dish is perfect when you don't have time to nip the shops, using flavours that most of us already have in our kitchen cupboard/fridge - garlic, coriander, chilli and spring onions.
These powerful and aromatic ingredients result in a wonderfully flavoursome dish sending your taste buds into overdrive and I create a batch without the chilli the kids gobble up!
I like to use good quality large prawns which give the dish added texture and a real succulent feel (baby prawns will work just as well though).
Prawn (or shrimp) egg-fried rice, with garlic, coriander, chilli and spring onions:
2 garlic cloves, finely sliced
3 sprigs of spring onion, chopped
1 tsp of dried chilli flake
2 medium free-range eggs, beaten
sesame seeds (for garnish)
Start by cooking the basmati rice in boiling salted water for 10-12 minutes, then drain and set aside.
Heat olive oil in a large pan or wok.
Add the garlic and spring onions, cook until soft and the garlic has turned a light golden brown.
Add the chilli flakes, coriander and prawns then cook for another couple of minutes.
As they begin to set, give the eggs stir a to break them up - as you would when making scrambled egg
Add the rice to the pan and quickly toss together and serve.
Garnish with sesame seeds.
Related