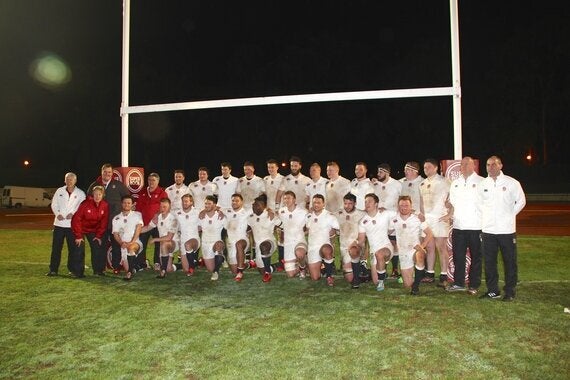 England Students sealed a 32-16 victory over Portugal XV in rugby union, with 17 newly capped players on Saturday 24th of January in Lisbon.
"We are all pleased we got the win," England Students Head Coach Aaron James said. "They've worked hard all week for it, and I'm pleased they got the result."
Portugal's kick off deep into England territory and quick line speed forced England to defend from the get-go. Minutes into the game, UWE lock Joe Dancer sustained a concussion, forcing Bishop Burton's Morgan Eames to come on as an early substitution.
"We lost Joe Dancer early on, but we adapted well with our line outs," said Assistant Coach Ian Davies.
Leeds Beckett fly-half Will Cargill put the first points on the board with a penalty kick. "Cargill controlled the game well right throughout his performance at 10," commented James.
However, Portugal equalised with a drop goal and soon after slotted in a penalty kick during a pressurised period of play for England. This was remedied with another penalty kick from Cargill, making it six-all.
From the Portugal restart, England attacked with intention and Hartpury full-back Alex Brown managed to dot down the opening try under the posts. Cargill's conversion brought the scoreline to 13-6.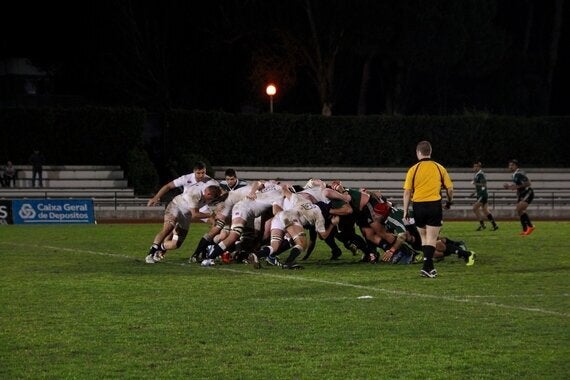 England's set pieces were clinical, setting up opportunities for tries.
Portugal upped the pressure from the start of the second half, slotting in a three-pointer. The home side got a second opportunity at goal, but the penalty kick hit the posts, forcing England to scramble.
England was relieved of defending their try line when a break from Hartpury winger Alex O'Meara brought the ball deep into Portuguese territory. A slick offload sent Vice Captain and Exeter University scrum half Rob Coote over the whitewash in the corner, bringing the score up to 18-9.
On the Portuguese 22, England took the quick tap penalty, patiently pushing Portugal back. University College London flanker Seb Nagle-Taylor managed to find the gap, scoring the third try for England. Cargill added the extras, making it 25-9.
Portugal's fly-half managed to break through a tight wall of England Students defence to score, and a successful conversion brought the scoreline closer.
England answered back with a smooth offload from Durham University's Buchan Richardson to St. Mary's Jak Rossiter, who crossed the try line. Exeter fly-half Freddie Gabbitass nailed the extras, clocking up another two to make it 32-16 at full time.
"It was good all 23 played a decent amount of time," said James, "which is traditionally what we try to do in Portugal." England Students did not experience any dip in performance with the replacements on, proving the strength in depth of the university game.
"Really pleased for the boys, they put a lot of effort into training," said Davies. "Obviously there were mistakes, seeing as it was the first time we played together as a team. But we saw a lot of progression as the game went on and we scored some good tries."
Forward of the match, voted fittingly by the forwards, was newly capped Nagle-Taylor. "Seb had a great game; he was dominant," said Captain and Bath University No. 8 Freddie Clarke.
Back of the match was another newly capped try-scorer, winger Rossiter. "He made a lot of positive impacts in the game," said James. "Will Cargill also played very well."
Clarke's first captaincy of the England Students side was commended by the coaches. "We had some difficult periods during the game, but I thought he managed those really well and got the team working together," said Davies.
"I'm ecstatic," said Clarke. "We came here to get the win and that's what we did. Quite a lot of supporters came down, which is always nice."
"I've had a really good time," said Coote. "It's a good bunch of boys, it's good to get a win, and good to get my first try in seven fixtures for England Students."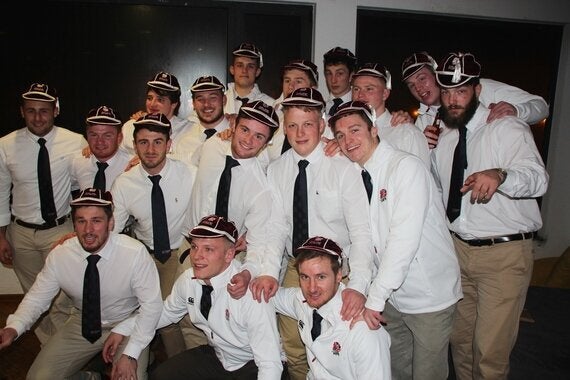 The newly capped England Students players after the win.
England Students Scorecard