The first round of domestic rugby's top flight Aviva Premiership is complete, and each fixture was packed with the sort of excitement and intensity only rugby can bring. I spoke to former Lions and England international Neil Back MBE on Saturday morning before the London Double Header. He was working with national breakdown provider Green Flag, sponsor of Premiership Rugby, to support their roaming car Health Checks at the big spectacle at Twickenham.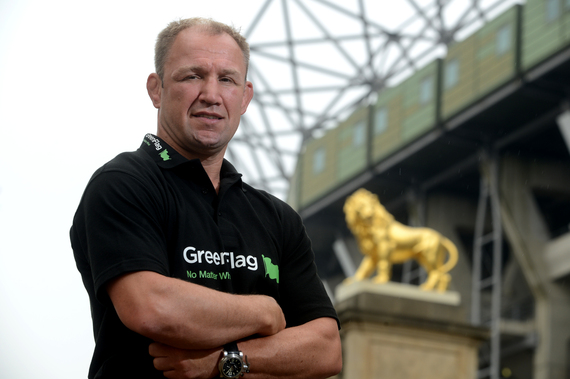 Premiership Rugby sponsor Green Flag's ambassador Neil Back MBE before the London Double Header (Photo: Green Flag)
"It's really exciting," Neil said about the competition this year. "The Premiership seems to get more difficult each season.
"Last year, there were five standout teams, but only four could make it into playoffs. Bath were unlucky, but I think with the investments that they've made, their expectations this year will be a lot higher. They'll definitely want to finish in that top spot, so one of the top teams are going to miss out."
The fight for the trophy began weeks before the big final at Twickenham. It took Northampton Saints two neck-to-neck performances to reach that Champions' podium. First it was a 21-20 semi-final win against Leicester Tigers, and then another dramatic last-gasp victory in extra time against Saracens in the final.
Friday night saw Northampton Saints prove their title as 2013/14 Champions with their 53-6 win against Gloucester Rugby.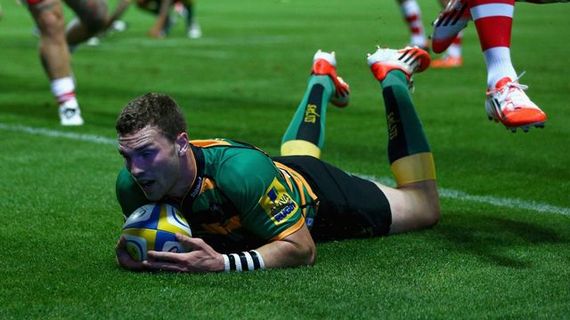 Man of the Match George North scored a hat-trick against Gloucester (Photo: Getty Images via premiershiprugby.com)
"It was an emphatic performance," Neil said.
"I think some of that has been channeled by the agreement between England Rugby and the Premiership. Stuart Lancaster and his coaching team have delayed the announcement of the Elite squad from August to October, so there's a real incentive to put a marker down in these early games."
With the Rugby World Cup starting in just over a year and England's impressive strength in depth for all positions, every single performance will count.
"I was disappointed for the Gloucester players, five of which were in the squad of 55 that trained [with the England training camp] over the summer up at Loughborough.
"In particular Matt Kvesic. As a back rower he's suffering because he's not playing with one of the top teams, and he now has to overwork. It makes his job to gain recognition for selection a lot tougher.
"England players [at Gloucester] that were in that training squad are going to be disappointed because they're going to feel that they're on the back foot, and it could affect their chances of progressing and getting into a very competitive England squad."
Last season's 47-man touring squad to New Zealand boasted players from every single Premiership side, including Worcester Warriors who have been relegated this season to the second-tier of domestic rugby, the Green King IPA Championship.
I asked Neil what the chances are of players competing in the Championship on getting in the England squad, like Worcester's Chris Pennell, who won his first cap for England this summer in New Zealand.
"Very slim, so be honest with you... it could be a very tough year [for Worcester].
"[Championship side] Bristol Rugby have made a lot of investment, they have a good coaching team, they recruited heavily... but their chances against Premiership players are very slim because you need players who compete at the top level week in, week out consistently. You're not going to get that pressure in the Championship, simple as that."
Such intense competition to get into Lancaster's squad says a lot about the structure of the Premiership and England Rugby, with the focus on growing the best possible England side.
Still, the Premiership welcomes foreign players, including the impressive new international signing Piri Weepu. The World Cup-winning All Black joined newly promoted London Welsh this summer.
"[He brings] massive, welcome experience," Neil said.
"But it's important that English clubs get the balance right. It's important that we don't stop the tracking of young English players with talent if we want to be the best team in the world.
"The trade off is always the learning experience. If you've got great players within your squad then you learn their habits and their skill sets. They pass on the knowledge that they've learnt on the battle field.
"In small doses it's good, but I wouldn't want players coming in to deny opportunities for English-based players to develop."
The agreement between the Premiership and England Rugby to strike this balance between English and foreign players is proving to be a successful formula.
"England are in good form at the moment. The under-18s have had an unbeaten season, the under-20s are Junior World Champions, and the Women are World Champions.
"So the pressure's really on England in the World Cup next year to keep this winning streak. It's a very exciting season we have ahead of us."
The London Double Header proved to be another dramatic affair. Top teams Saracens and Harlequins played against Wasps and London Irish respectively.
"Looking at the fixtures today, I can't see beyond a Saracens and a Harlequins win," Neil said before the day commenced at Twickenham.
"Both of those clubs have got real strength in depth, real competition for places in the starting 15, and on the bench."
Neil's predictions proved to be true, but it wasn't such a straightforward win for both Saracens and Harlequins.
Wasps were leading 27-28 until the 78th minute, when England winger David Strettle scored his third try in the final moments and Owen Farrell converted it to beat Wasps 34-28.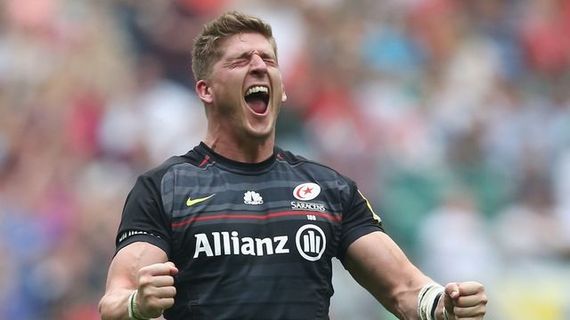 David Strettle celebrates after scoring the winning try (Photo: Getty Images via premiershiprugby.com)
Harlequins had a less-than-perfect performance with two yellow cards, and they gave away 15 points on penalties. They eventually won 15-20 against last year's 10th place London Irish.
It's a crucial year for England Rugby. The first weekend of Premiership Rugby alone proves the intense competition for squad places, with 310 points scored in the six games played, including 34 tries and three hat-tricks. Players have until October to lay their mark, but Stuart Lancaster and his coaching team have an even more difficult task ahead to select the 32-man Elite squad in the lead-up to the World Cup.