What a huge night for women's rugby. The 20,000 capacity Stade Jean-Bouin in Paris was heaving for two World Cup semi-final matches: England vs Ireland followed by France vs Canada. Of the four teams, only England has ever played in a World Cup final, having only won it once out of five attempts, and only England had ever won a semi-final.
Despite England's historic dominance, undefeated Ireland were on a high after defeating the Black Ferns, bringing them to second overall in the tournament. It was expected to be a tightly contested match, it being Ireland's first ever World Cup semi-final and both teams thirsting to get into the final.
England started off on the back foot, allowing Ireland to push them deep into their defensive territory. 16 minutes in, Ireland hooker Gillian Bourke managed to force the ball over the line in a driving maul to score their first, but only, try. This seemed to wake England up, and the rest of the game saw England's dominance. They executed their set plays with clinical precision, and no amount of Irish pressure could put them off. The final score was 40-7 to England.
England coach Gary Street commended the team's performance, saying "against a fantastic opposition that was as good as we could have hoped for."
It was a smashing victory for England, but the show was quickly stolen by the second semi-final of the evening, France vs Canada.
With the loud and passionate home crowd behind France, their Grand Slam Six Nations victory earlier this year, and not having conceded a single try yet in the tournament, they were the obvious favourites for the second semi-final of the day.
It was scrappy at times, what with some dropped balls, inaccurate passes and several players from both sides slipping when they attempted to step defenders. Both France and Canada weren't as precise as England, but their sheer desire to reach the final from the get-go was blatant. There were massive hits from both sides, thundering runs over the gain line, and the energy and emotion from the pitch reverberated throughout the stands. Their desperation to make gains sometimes turned into panicked mistakes, but this meant the ball was turned over quickly, and the crowd was kept on the edge of their seats for the full neck-to-neck 80-minutes.
Both semi-finals showcased some of the best talent in the Women's Rugby world. Here are some of my standout players from the two matches:
Marlie Packer
Marlie Packer had a storming game for England and was definitely a standout despite subbing on for the legendary flanker Maggie Alphonsi halfway through the second half. Clearly desperate to prove her importance in the squad, Packer threw herself into every move and was rewarded with two spectacular tries within the space of five minutes. The first was a classic power run through a wall of Irish defence, reminiscent of her first try against Spain in the pool stages. The second came from a clever kick from Rachel Burford, onto which Packer sprinted onto and dotted over the tryline.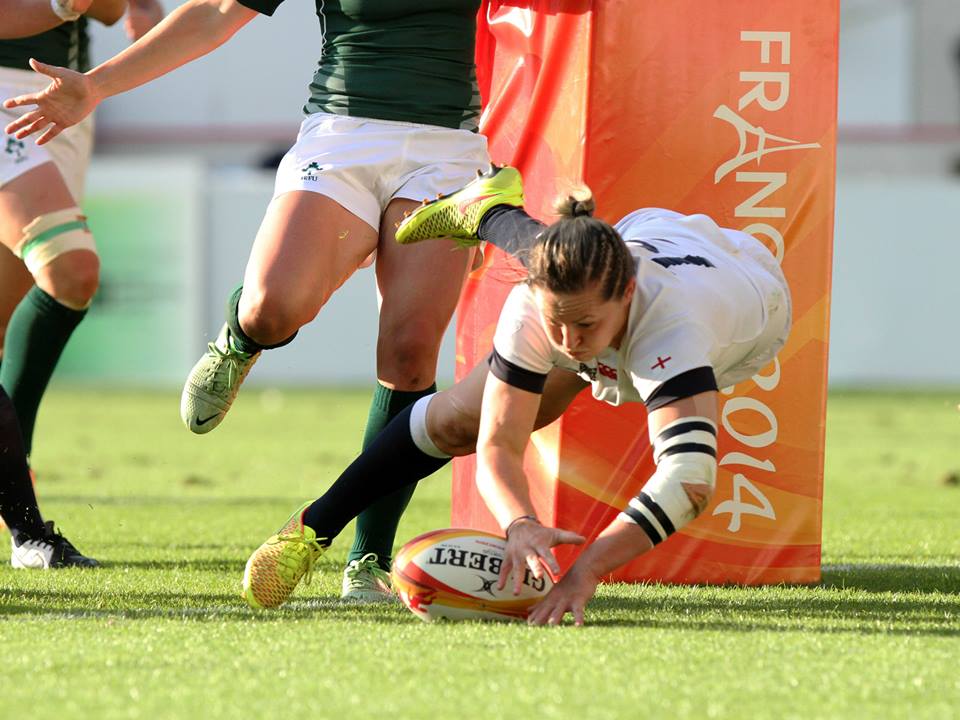 Packer scoring her second try (Image: England Rugby Facebook)
Emily Scarratt
Top point scorer Emily Scarratt was another standout England player. It was her 50m sprint up to the 5m line that opened the door for Kat Merchant's try, the second for England. In addition to all her impressive runs which almost always broke over the gain line, her kicking was spot on. She missed 2 conversions but still clocked up 11 points for England.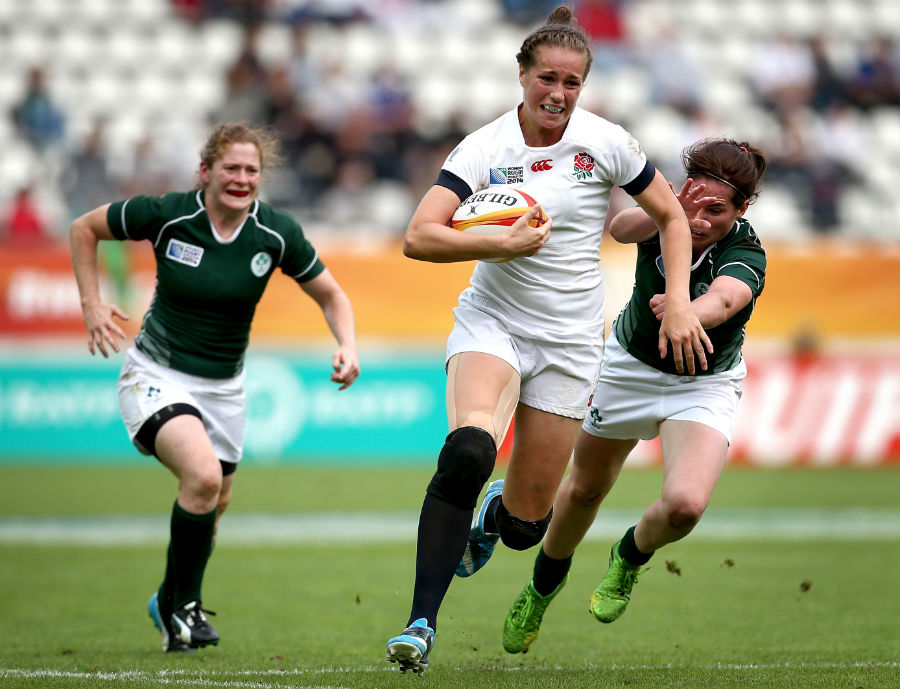 Scarratt making a break (Image: ESPN Scrum)
Magali Harvey
Canada's Magali Harvey definitely stood out the most to me in the second semi-final. Playing at wing, she still got in the thick of all the action. Her second penalty kick was particularly notable; it was two minutes over the 40-minute mark and she had just been body checked by a French player. Despite the immense pressure to equalize the score at half-time, Harvey nailed it. The second breathtaking Harvey moment was her 80m dash from deep in Canadian territory, stepping through French defence to score in the corner. Right after that 80m sprint, she converts her own try from right by the sideline. Quality stuff.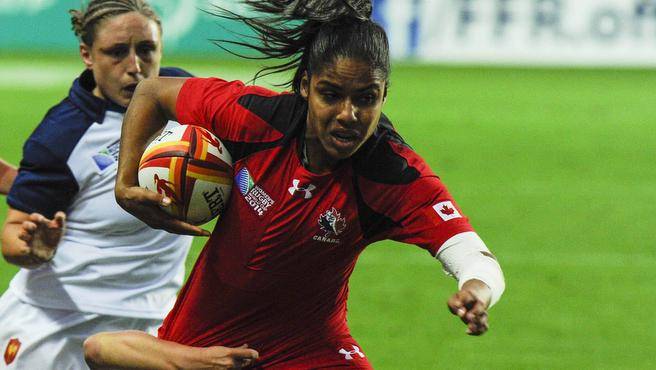 Harvey ripping through French defence (Image: The Chronicle Herald)
Elissa Alarie
Elissa Alarie's amazing vision from the bottom of the ruck was another standout piece of skill. She spotted the gap in France's defensive line and made the 35m run to score Canada's first try. It took Canada ahead of France and intensified energy levels on the pitch by tenfold. She's obviously a very talented player, switching from full-back to scrum-half towards the end of the first-half after Canada's starting scrum half Stephanie Bernier's injury. Being able to switch position mentality so smoothly isn't an easy task and must be commended.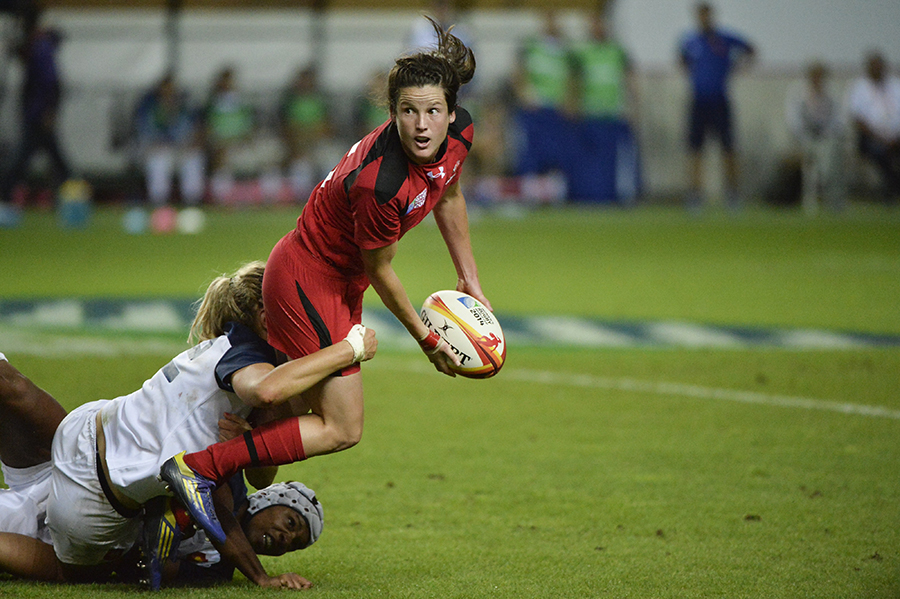 Alarie looking for options after being tackled (Image: ESPN Scrum)
The final on Sunday will see England and Canada kick off at 5:45 BST. Airing will begin on Sky Sports 4 at 5:30pm BST.