When it comes to Christmas drinks, a standard selection of old favourites immediately springs to mind. Mulled wine, Sherry, Baileys, Port - these are the usual bottles seen poking out of overloaded shopping trolleys the week before Christmas. It is the time of year when we spend more money on alcohol than usual and are more likely to try drinks outside our normal repertoire - so there's absolutely no excuse for not being a bit more adventurous when it comes to festive tipples. Variety is the spice of life, after all.
Cocktails have come such a long way since Bucks Fizz and Snow Balls were all the rage and it's time Christmas caught up. So to provide some inspiration for your Christmas drinks menu, I asked twelve experts from the world of food and drink to share their favourite wintery cocktails - one for every day of the festive season.
P.S If you've been particularly naughty this year then perhaps leave one out for Santa instead of the usual schooner of sherry - he'll be so pleased and before you know it, your lump of coal could be exchanged for that much coveted iphone!
1. Auntie's Hot Christmas Punch
As recommended by Simon Difford - Drinks writer, cocktail pioneer and publisher of the diffordguide books. He created this drink to serve live on Christmas Eve 2002 during a BBC radio broadcast.
1 1/2 shots Pedro Ximénez sherry
¾ shot Freshly squeezed lemon juice
4 shots Pressed apple juice
Pour all ingredients into glass and stir. Heat in the microwave for a minute (vary time depending on your microwave oven), stir again and serve.
2. Jamie Berger's Bourbon Hot Toddy
As recommended by Pitt Cue Co. Soho's (if not London's) favourite American BBQ joint.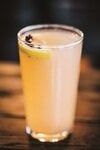 Assemble all the ingredients in a half-pint glass and stir. Garnish with a lemon slice studded with cloves, no straw.
3. The Queen's Speech Sling
Pour all of the ingredients (except the soda) into a cocktail shaker filled with ice. Shake well and strain into a chilled glass. Top up with soda and stick a cherry on top to garnish.
As recommended by Bompas and Parr - Architectural foodsmiths, culinary deviants and real life Willy Wonkers. Based on a traditional punch recipe from the Regency period (made by Monks using Buckfast), Bompas & Parr's slightly less lethal version was created for The Soane Museum's late-night Christmas event.

35ml Green Chartreuse, made by Carthusian monks
125 ml cognac, originally distilled by monks
250 ml strong jasmine tea
Mix all ingredients in a punch bowl. Cut lemons into half-wheels and add to the bowl along with edible white flowers (nasturtium). Ladle into a glass with ice. Garnish each glass with an edible white flower (serves 10).
Recommended by Rebecca Seal, food and drink writer, editor and TV presenter. Rebecca's recipe was recently featured on Channel 4's Sunday Brunch where she is their resident drinks expert.
120ml cider brandy or less, to taste
4 tsp honey, or more to taste
100-200ml cloudy apple juice
Pinch of freshly grated nutmeg
Seeds scraped from about 4cm of vanilla pod (or use a dash of vanilla extract)
Warm everything together in a pan, don't allow to boil. Take off heat and leave to infuse for 20 mins or longer. Taste and adjust brandy, honey or apple juice. To serve, warm through but again do not boil. Serve in heatproof cups or heatproof glasses. Rebecca says "This simple recipe gives you all the Christmassy spices of mulled wine, but with the crispness of apple cider" (Serves 4).
As recommended by The Department of Good Cheer, a pop up cocktail collective appearing every week at the Doodle Bar, Battersea. The Snap Dragon is inspired by a traditional Blue Blazer from the 1800s and the Dickensian parlour game of the same name.

10ml Dodds Gin (or a herbal dry gin, with a strong abv.)
1 cinnamon stick & apple slice to garnish
Warm a small jug and muddle the sugar cube into the brandy, liqueur and gin with a spoon till fully dissolved. Rinse a warmed brandy glass in the absinthe, discard and then using a long match, light both glass and the warmed jug of brandy concoction. Drop the apple slice and the cinnamon into the flaming glass and carefully pour the blazing brandy. Extinguish with a blow, allow to cool for a few moments and enjoy.
7. Bailey's Peppermint Cream
As recommended by Toby Vacher, founder of Twist, one of the UK's first 'cocktail kits by post' companies.
50ml Baileys with a Hint of Mint Chocolate
Heat the hot chocolate and pour into a mug. Add the Baileys and top with whipped cream. Garnish with a mint leaf and crushed candy canes. Toby says "Hot Toddies are always a favourite, but chocolate and warm cozy fires always spring to mind when i think of Christmas, so why not a hot chocolatey cocktail?".
As recommended by Angel De Sousa. Head Bartender at the South Place Hotel, London city's first design hotel with soul.

Combine the ingredients and some ice in a mixing glass. Stir well for about 30 seconds until the drink is diluted/chilled. Pour into a coupe glass and garnish with an orange twist.
As recommended by Ian Burrell - celebrated rum expert, rum ambassador to the UK and founder of the worlds biggest rum exhibition, Rumfest.
Teaspoon of Orange & Ginger marmalade
Stir all of the ingredients in a large tumbler until the marmalade dissolves. Add a large cube of ice and stir until ice starts to melt, diluting the drink. Once very cold, add a slice of orange as a garnish.
10. Johnnie Walker Flower
35ml Johnnie Walker Gold Label Reserve
15ml elderflower cordial.
Shake all ingredients, fine strain over cubed ice. Add a Golden (edible) flower or lemon twist to garnish.
Mix the ingredients together and heat in a pan until it begins to simmer. Pour into a heat-proof glass and garnish with a stick of cinnamon.
As recommended by Olivier Ward - Gin guru at The Gin Foundry, an online compendium of gin knowledge.

250ml Darnley's View Spiced Gin or Bathtub Navy Strength Gin
500ml organic apple cider
100ml freshly squeezed lime juice,
Apple rounds (cored) and Juniper berries.
Pour all ingredients into a pot and simmer until the sugar has dissolved. Leave on the heat for another 5 minutes. Serve warm in a Punch glass (heat resistant) and garnish with an apple wedge studded with cloves.
Popular in the Community