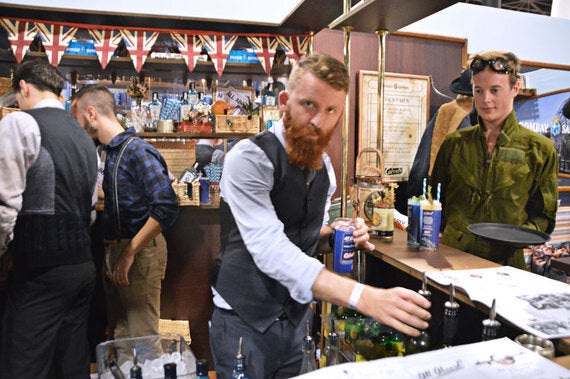 Photo Credit: Victoria Ferran
During London Cocktail Week 2016, Old Spitalfields market was a heady maze of makeshift bars, each offering up their own eclectic range of concoctions. Wandering past a vintage train carriage and an 18th century gin shop whilst sipping on a German aperitif, it struck me how much cocktail culture has changed. When I moved to London, cocktails usually meant a jug of woo woo in Wetherspoons. Now we're in a new golden age of cocktail making and here are a few of the trends which caught my eye.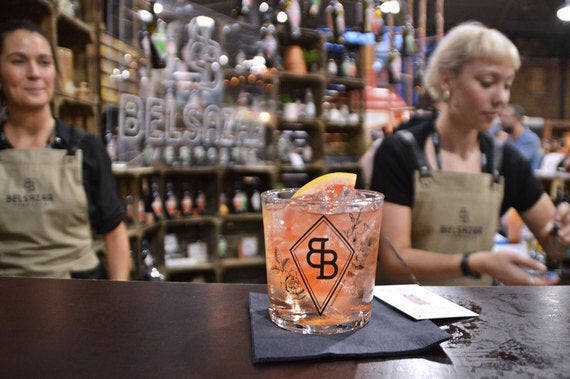 Photo Credit: Victoria Ferran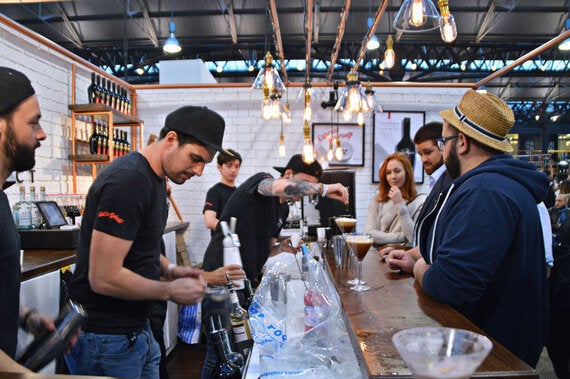 Photo Credit: Victoria Ferran
There's more to coffee than the beloved Espresso Martini: The Bulleit Barista Booth served bourbon barrel-aged coffee cocktails, whilst Tia Maria gave their twist on a martini with a choice of cherry or salted caramel-flavoured whipped cream.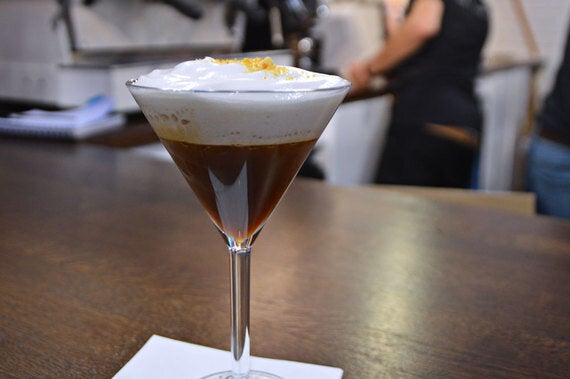 Photo Credit: Victoria Ferran
The Monkey Shoulder Cafe also served Coffee & Donuts: a blend of Monkey Shoulder whisky, a donut infusion, cold brew coffee and caramel. Further afield, Bird of Smithfield offered the Not So Rusty (Homemade coffee infused Haig Club Scotch whisky, hibiscus flower infused Drambuie and chocolate bitters). Black Rock Bar's Java of Skye consisted of Smokey Talisker 10 year old scotch, atomised Skye essence and coffee cream soda.
One to try at home is the
Baileys Flat White Martini:
50ml Baileys Original Irish Cream
Combine all ingredients in a cocktail shaker, then add in a handful of ice, put the lid on tight and shake hard for 15 seconds. Strain into a chilled martini glass and then carefully float three roasted coffee beans on the surface.
Or a surprisingly refreshing
40ml Gin (Tanqueray Ten is recommended)
Individual serve of tonic
Fill a long glass with ice and add the gin. Top up with tonic and then float Cold Brew Coffee on top of liquid by pouring slowly over a teaspoon or down the side of a cocktail stirrer. Garnish with a lime wedge.
I staunchly refused to drink whisky until two years ago when a bartender named Angel persuaded me to try it mixed in a cocktail shaker with raspberry jam. He poured the sweet, icy liquor through a strainer and dipped the rim of a tumbler in sugar. It was absolute heaven. Monkey Shoulder's Tea & Cake was equally indulgent - a mix of whisky, earl grey, camomile, agave nectar and deep-fried whisky. A quick dash across the market and the Auchentoshan popup - Welcome To The New Malt Order - was serving unusual whisky and ale cocktails.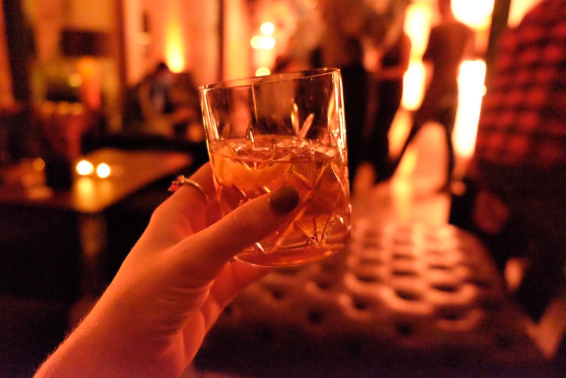 Woodford Reserve, the small batch Kentucky bourbon, went one step further, taking over the White Rabbit Studios near Old Street for three nights. Each evening, one of the world's top bars partnered with a different London bar and created an adventurous whisky cocktail menu. For example, The Punch Room's Oak-Fashioned was a mix of Rye, Oak-moss syrup and Absinthe. Whilst An Ode to Mrs Tottenham was a mind-boggling combination of Woodford Reserve, Lemon & Orange Oleo-Saccharum, Pineapple Cordial, Rare Tea EDITION Blend and Ambergris Oil. For authenticity, furnishings from each bar were brought in specially, as were their regular music playlists.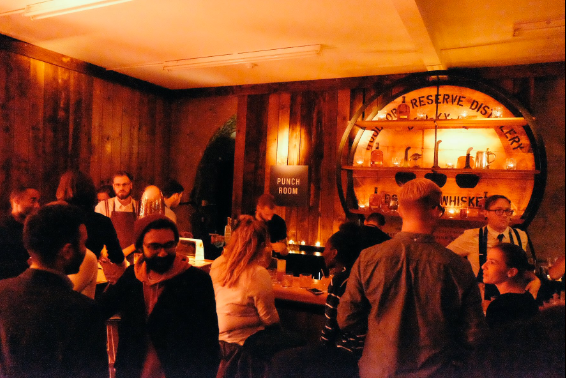 This wasn't the only takeover in town - Clumsies, Greece's top cocktail bar, had a week's residency at Callooh Callay and LA's top mixologists popped up at East London's White Lyan bar. Takeovers and residencies are on the rise - earlier this year, Jörg Meyer, Hamburg-based bartender and inventor of the celebrated Gin Basil Smash, came to the Shangri-La Hotel's GŌNG Bar, on the 52nd floor of The Shard, for a four day residency.
Aviation Cocktail Centenary: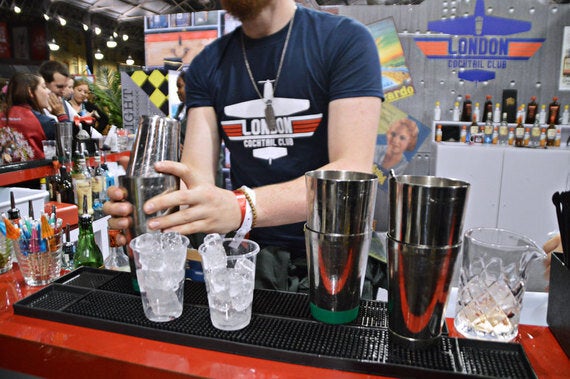 Photo Credit: Victoria Ferran
The Luxardo Aviation Society celebrated 100 Years of the Aviation cocktail with its 'Departure Lounge' pop up, complete with plastic aeroplane cups. Essentially, it's a variation on the gin sour with lemon juice, maraschino and crème de violette. But at Spitalfields, you could also try an extraordinary sugar snap pea variation. Nobody really knows who invented it, but the first known mention was in Recipes For Mixed Drinks published in 1916. It came to England when Prohibition forced American bartenders oversees. Harry Craddock served it at the Savoy Hotel and it was included in his highly influential 1930 Savoy Cocktail Book.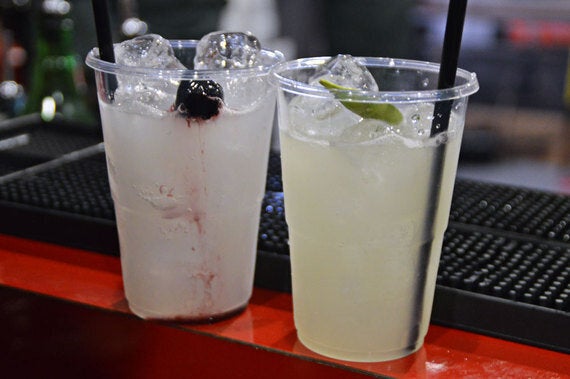 Photo Credit: Victoria Ferran
According to UK brand ambassador Gareth 'G' Franklin, the Aviation has stood the test of time because there's a true relationship between all the ingredients: the gin's botanicals compliment the maraschino cherry liqueur which also has pine and floral notes. Maraschino belongs to an ancient family of floral Italian liqueurs called Rosolios - this ties in with crème de violette and the citrus binds it all together.
20ml Luxardo Maraschino liqueur
7mls of Briottet Crème de Violette liqueur
Shake with lots of ice. Serve in a chilled martini glass and garnish with a maraschino cherry. Alternatively you could make a Come Fly With Me where you add all the ingredients into a tall glass with ice and top with tonic water.