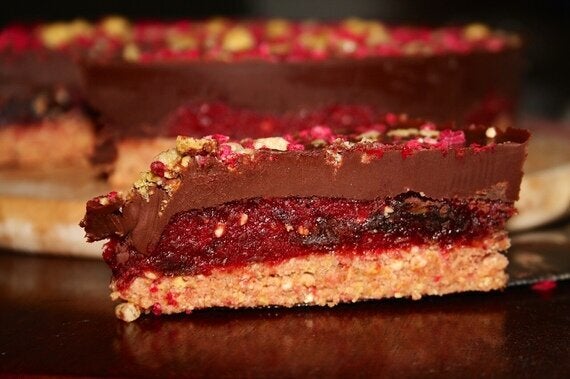 This is a very easy no-bake 'fridge cake' recipe that is great to make with the children in the holiday season! The cake is absolutely decadent but the great news (and the big difference!) is that the toffee won't break your teeth, the colours are from beetroot, rather than beetles and there is no white refined sugar in this recipe! Plus, my husband swapped eating sugar some months ago with daily treats such as this one and still lost a stone! Eat in moderation of course but with supreme joy!
It also contains no dairy, refined white sugar, eggs or gluten! The cake is glorious however and can also be served as a pretty bejewelled birthday cake.
This recipe is from mine and raw chef Peace Ravenwood's new recipe book. To learn how to make cakes like these you can learn all about WonderCake here.
Chocolate Raspberry Crunch Cake.
For the base you will need:
200g naturally sweetened cereal or granola (or a mix of 100g shelled hemp seeds and 100g white dry mulberries)
2 tbsp maple syrup (or raw honey)
5g freeze-dried raspberries
Process all the above ingredients until you get a lovely pink colour coming through from the raspberries.
Push the mixture down firmly into a cake mould of your choice.
Place in the fridge whilst you prepare the next layer
For the toffee caramel middle you will need:
2 tsp natural beetroot juice/food colouring
De-stone the dates, chop or pull apart and process all the above ingredients in a food processor until you achieve a gorgeous caramel sticky mass.
Press firmly on top of the base mixture.
Place in the fridge whilst you prepare the topping layer.
For the topping you will need:
300g raw chocolate such as Om Bars, Decadently Pure or Rawr
3 tbsp melted coconut oil
Melt the above ingredients by placing them in a pyrex dish and then putting nearly on top of a saucepan with boiling water (make sure the dish sits firmly on top of the saucepan with no gaps and that it does not touch the water)
Stir until the chocolate has melted.
Take care when you hold the dish as it will be hot! Use an oven glove to protect your hands.
Pour the chocolate mixture onto the cake.
Before the chocolate sets, sprinkle on 5g freeze-dried raspberries and a handful of the cereal/granola/mulberries/shelled hemp seeds.
Place on a tray in a fridge overnight or freezer.
Let the cake stand at room temperature a few minutes before serving.
Connect with Victoria Leith on her positive parenting website MamaBabaDo. or on Facebook here.