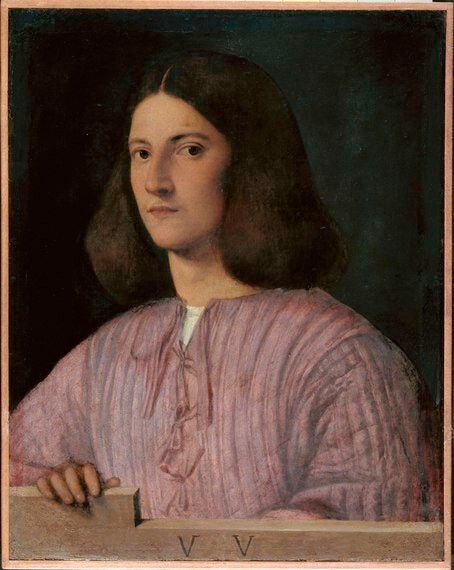 Who was Giorgione? After all, he's hardly a household name and yet the Royal Academy has opened a new exhibition dedicated to uncovering more about him and his work. Well, this is most definitely a welcome exhibition because Giorgione was a brilliant artist in 16th Century Venice, a prodigy who died too young and whose full potential, sadly, went unfulfilled.
Giorgione died in his early thirties, most likely from plague which was at epidemic levels in Venice at the time. But even in his short career, Giorgione was at the forefront of innovations that transformed portraiture.
He was committed to bringing portraiture to life, to have sitters who engage with their viewers, for an element of state of mind, of emotion, to be conveyed. He had no interest in the stiff, blank faced, formal portraiture that the wealthy in Venice had commissioned before. He wanted his portraits to be active rather than passive.
A case in point is the celebrated Terris Portrait, 1506, on loan from San Diego. Like so many of the portraits on display, this one is closely cropped - the sitter's head taking up the canvas completely. But this is an engaging portrait, the man's gaze directly at us though a little elusive, a little enigmatic. Perhaps the influence of the Mona Lisa can be seen here. After all, Leonardo da Vinci was visiting Venice around this time and the opportunity to learn from the Master, perhaps, was taken.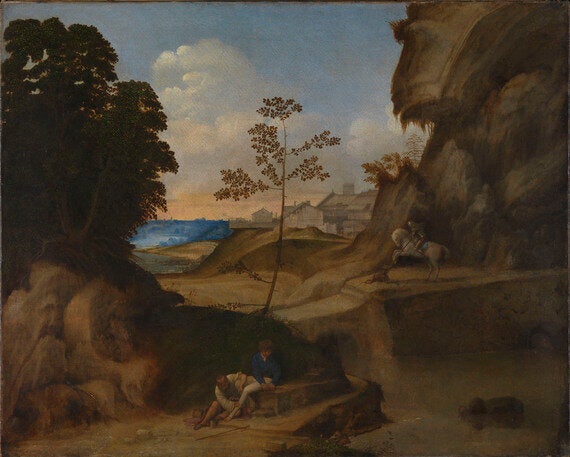 Giorgione was not alone in challenging conventional portraiture, though. He was part of a burgeoning art scene in Venice. This was a rich city. And that meant wealthy merchants and the emergence of sophisticated patrons who wanted to be seen to be encouraging the arts. Giovanni Bellini was the big name at the time, but Giorgione, along with Titian, were leading the young hotshots coming through. They were the ones challenging conventions.
And it's this that leads to the central problem when revisiting Giorgione's work - attribution. Which paintings did he actually paint? Few paintings have any inscription of his name - or any name - and given Titian developed a similar style at this time, some works have been attributed back and forth between them.
By curating a show that brings together a selection of works from the big hitters at the time - Sebastiano del Piombo and Albrecht Durer, as well as Bellini, Titian and Giorgione - the Royal Academy not only brings to life this period of art in Venice, but also highlights the challenges of attribution. When inscription is unavailable, how can we be sure which artist painted which work?
Giorgione is often seen as the principal talent, the primary force. And, what's fascinating is that seems proven as, for me, the highlights are those works where Giorgione's hand is pretty certain.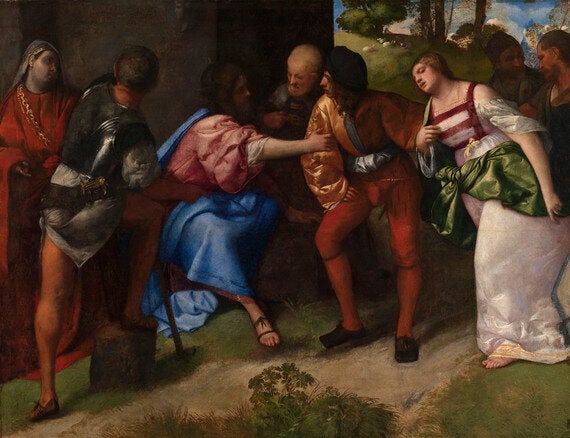 La Vecchia, 1505, is a powerful portrayal of an elderly woman, widely thought to be Giorgione's mother. The hunch in her shoulders, the thinning hair, even the deep wrinkles in her dry skin. The artist's lesson on the transience of life is clear. The portrait is profoundly realistic, yes, but, more than this, it is also a striking contrast with the idealised beauties that was the representation women were usually reduced to in art at that time (and beyond).
And away from portraiture, Giorgione's landscape Il Tramonto, 1506-10, is absolutely beautiful. A tranquil, rather barren, landscape dominates the canvas; the two men in the painting slight in comparison to the magnitude of the trees and cliffs around them. Unfortunately a restorer, a few hundred years later, has gone and painted in St George slaying a dragon in the middle ground. Quite what possessed them to do that, who on earth knows?
But this aside, there is much to attract the visitor to this compact but revealing exhibition. Whether all those pieces attributed to Giorgione are by him, we can't be sure. But In the Age of Giorgione does a terrific job of showcasing the innovative work of Giorgione, and leaves us to ponder what might have been had the plague not taken this talented artist so young.
Royal Academy of Arts, London to June 5, 2016
Admission: £11.50 (concessions available)
1. Giorgione, Portrait of a Young Man ('Giustiniani Portrait') Oil on canvas, 57.5 x 45.5 cm Gemaldegalerie, Staatliche Museen zu Berlin, Preubischer Kulturbesitz Photo © Jorg P. Anders
2. Giorgione, Il Tramonto (The Sunset) Oil on canvas, 73.3 x 91.4 cm The National Gallery, London Photo © The National Gallery, London
3. Titian, Christ and the Adulteress Oil on canvas, 139.2 x 181.7 cm Glasgow Life (Glasgow Museums) on behalf of Glasgow City Council. Archibald McLellan Collection, purchased 1856 Photo © CSG CIC Glasgow Museum Collections