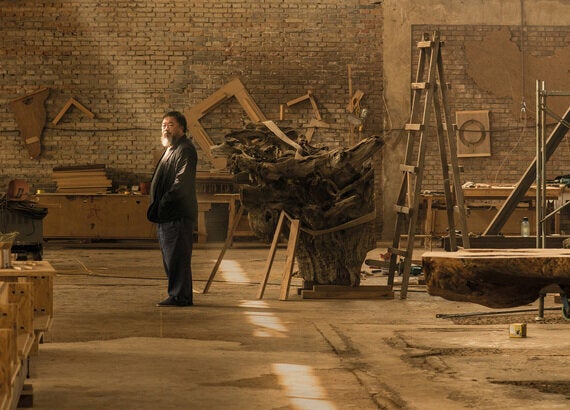 The Ai Weiwei exhibition at the Royal Academy of Arts is a rather sombre affair that brings into sharp focus the scale and impact the Chinese government's attempts at censorship have had on the artist.
There is a strong autobiographical theme running through this exhibition. The artist has placed himself at the centre of much of his work. Many pieces are new, created in the past few years, and often responses to personal experiences such as his detention, where he was held by the Chinese authorities for 81 days and his passport confiscated, or the sudden bulldozing of his Shanghai studio.
Souvenir from Shanghai, 2012, is an attempt by Ai to create art from destruction. It is a tightly packed cube of rubble left from his destroyed studio and set in a wooden frame. The defiance in the work is almost tangible.
And in S.A.C.R.E.D., Ai places himself directly in the art. This work consists of six large dioramas - contained boxes that are faithful reproductions of the cell he was kept in and within each cell is a scene - Ai being interrogated by Chinese officials, Ai being watched over by guards whilst he sleeps.

And where Chinese government censorship affects others, Ai seeks to capture that too. The 2008 earthquake in the Sichuan province killed thousands of people but the authorities tried desperately to hush up the scale of the loss. Ai's Straight, 2008-12, is his attempt to expose that deception, with steel bars reclaimed from the wreckage straightened out and laid out across the floor of one of the large galleries in the RA, with the names of the dead scribed in boards on the surrounding walls.
That mix of Big Brother and rebellion infuses so much of the work on show. Marble sculptures such as Surveillance Camera, 2010, and Video Camera, 2010, reflect what Ai and the Chinese people have to endure, whilst Ai's wallpaper with the middle finger constantly raised in a swirl of repeated images, depicts his refusal to back down.
Ai is a very modern man - he is a prolific user of Instagram and the Twitter logo is featured heavily on another wallpaper pattern that covers the walls of one of the galleries. But he is also interested in Chinese heritage.
In Dropping a Han Dynasty Urn, Ai comments on the Cultural Revolution and its destruction of Chinese history for the sake of personal vanity and revolution. Nothing is scared in the pursuit of ambition and economic development.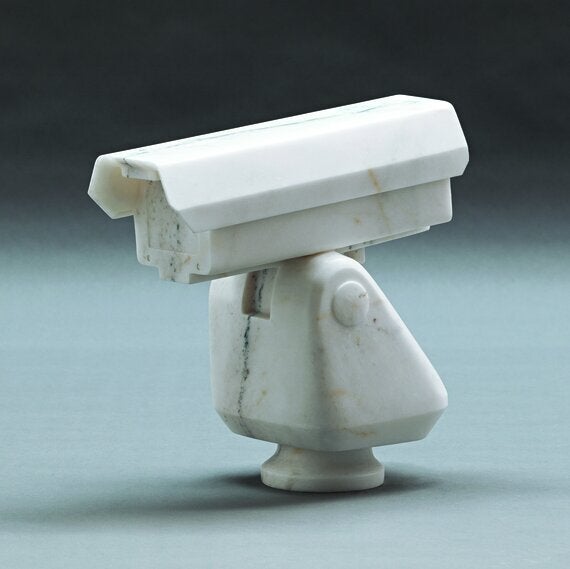 And the exhibition also contains objects from Ai's Furniture series, which creates contemporary art from antiques, such as Grapes, which is a sphere comprised of 27 stools from the Qing dynasty.
Fragments, 2005, is one of Ai's most ambitious sculptures and builds on the Furniture series. Here, Ai uses pieces from the Ming and Qing dynasties, along with salvage from ruined temples, to create a three-dimensional skeletal outline of a map of China.
The work fills one of the galleries, and visitors are free to walk through it, underneath it, passing around the scrap furniture with ease. Interesting enough - but this piece exists to reflect how tourists to China can move without impediment around the country. Chinese citizens, however, cannot.
Ai's art, you see, gains weight from explanation. The pieces are interesting to observe but not many would consider them masterful technical achievements and, interestingly, they don't necessarily move you. But they are an effective tool in pulling back the curtain.

For most visitors, this will be their first time seeing such a range of Ai's works. This will be their first glimpse of the art behind the artist. What I expect this will reveal to many is that though Ai Weiwei may be the most famous artist in the world, he may not be the best. The question is, does that matter?
As an artist, Ai has made the decision to record what is happening to him, to document his censorship, to record as evidence the attempts by the Chinese government to silence free expression. And as an artist, he is in a unique position to do so.
Without Ai, we would have no insight into such a secret world. No other artist is being subject to this level of suppression. Ai has taken his experience as a witness, as a victim, and is turning this into art to expose and shame the Chinese authorities. Such persistence could have huge repercussions for both China and its people.
Separating the man from his work may be difficult in this instance and, though his pieces may not amaze, they are too important to overlook. There is much to learn and absorb from this vital exhibition.
Royal Academy of Arts, London to December 13, 2015
1.Ai Weiwei in his studio in Beijing, taken in April 2015. Photo © Harry Pearce/Pentagram, 2015
2.Ai Weiwei, Dropping a Han Dynasty Urn, 1995 3 black and white prints, each 148 x 121 cm. Courtesy of Ai Weiwei Studio. Image courtesy Ai Weiwei © Ai Weiwei
3.Ai Weiwei, Surveillance Camera, 2010. Marble, 39.2 x 39.8 x 19 cm. Courtesy of Ai Weiwei Studio. Image courtesy Ai Weiwei © Ai Weiwei
4.Ai Weiwei, Straight, 2008-12 Steel reinforcing bars, 600 x 1200 cm. Lisson Gallery, London. Image courtesy Ai Weiwei © Ai Weiwei
Related