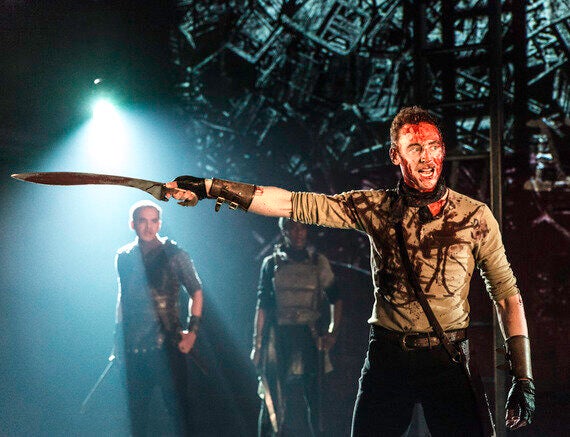 The Donmar's production of Shakespeare's Coriolanus is a vivid, dramatic production that brings out all the blood, bravery and heartbreak in this tragedy. And its leading man steals the show with a remarkable performance.
Coriolanus is a ruthlessly cruel, tyrannical Roman general. His bloody victories on the battlefields though are not enough to pacify all back in Rome. The poor are hungry and revolting at the lack of food, believing much of it is being diverted to the Army. He may be unbeatable in battle but Coriolanus has neither the patience nor skills to outwit his enemies in the Senate who whip up a riot to ensure he is banished. But though Coriolanus is exiled, Rome soon realises it has picked the wrong man to make an enemy of.
At the heart of this production is a commanding performance from Tom Hiddleston. His Coriolanus dominates every room and every battlefield he stands in, irrelevant of the odds against him. It is quite awesome. But there is always the risk with Coriolanus that he can become a quite one-dimensional character. Not so in Hiddleston's hands.
His Coriolanus has more emotional range than that, playing up sarcasm to manipulate those who he considers pathetic and also showing surprising vulnerability when he is confronted by those that he perhaps loves and fears more than he cares to admit.
Hiddleston is supported by a fine cast who work hard and bring great light and shade to Shakespeare's verse. There are notably superb performances from Mark Gatiss as Menenius, the Roman senator walking a fine line between his support for the insensitive Coriolanus and that for the poor Romans, and from Deborah Findlay, Coriolanus' domineering mother.
Coriolanus is a tough play to stage at the best of times - big, bloody battle scenes, riots on the streets of Rome and battles on the Senate floor - but in the limited space of the Donmar, the challenge is more so. Credit is therefore due to Director Josie Rourke and Designer Lucy Osborne for their deft adaption of the small stage.
A ladder against blood-red bricks is the front line in an assault on the city walls. Yet it quickly becomes the Senate floor with the addition of a row of chairs. And a flurry of rose petals transforms the Senate into a parade through the streets of Rome. It's all smart and very smooth.
And then of course there is the already famed scene where Tom Hiddleston takes a shower. The thought of a shower scene might be enough to send the fangirls into a frenzy but I was anxious that it was included for the sake of it. Yet actually it was one of the most poignant moments in the show.
Coriolanus is a tough character to love. He lives for war, believing "a brave death outweighs a bad life." But in the shower, as this hero winces under the pain of his wounds, we're allowed a glimpse into the man behind the mask.
I loved this show. I found it enthralling and moving but there are a couple of things I'd like to change. Bursts of electronic dance music and white noise break up the scenes and these don't always work. Sometimes the sound is jarring, not in harmony with the rest of the show. I get what it's there to do - to modernise the production, increasing its accessibility - but sometimes it just comes across as trying a little too hard.
However this is small fry in what is really a bold and daring production.
Tom Hiddleston really does put in an extraordinary performance but there's no ignoring the impact of his star casting. Last time I was at the Donmar, for Roots, the stalls had a lot of empty seats and those patrons that were in the audience were mostly of retirement age. Not this time around.
The House was packed and the demographic of the audience was profoundly different. Yes there were a lot of fangirls but the audience was far younger generally. These are good signs yet this run has already long sold out.
A handful of tickets are released each Monday at 10am but I hear on Twitter that that is a complete nightmare - demand far outweighing supply. And also London is not accessible for everyone. Therefore if you want to see this really exciting and moving production, don't forget the NT Live project is broadcasting the play into cinemas around the country on 30 January 2014. Don't miss it.