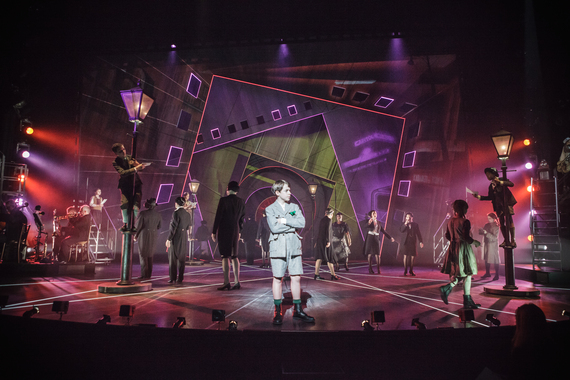 Emil and the Detectives is a bright, exciting adventure that has as much entertainment for adults as it does for kids.
Set in Weimar Germany, Emil is a young boy from a small rural town who has been sent to the city by his mother with one single responsibility - to safely hand over the 140 Marks she has saved all year to his grandmother.
But on the train to Berlin the money is stolen from Emil by a stranger - Mr Snow. But determined not to let his mother down, Emil sets out to conquer the hostile world of the capital city, track down the elusive Mr Snow and take back what is his.
This is a journey of discovery and of coming of age for the young Emil but it is also a story of new friendships. For even though Emil is alone in the City, he soon develops friendships with a wonderful cast of children, the kids of Berlin, who come to his aid.
1920s Berlin is wonderfully realised in a set designed by Bunny Christie. The hurly burly of the big city is crafted by both projections of vintage maps and grainy photos on the back of the Olivier, as well as an ever-changing world of street-lamps and sewers across the stage.
Of course it wouldn't be a faithful portrait of Weimar Germany without the cabaret. There's a glimpse of the singers and the dancers in the Berlin night. And the whole production is accompanied by a musical score from Paul Englishby which really adds to the flavour and energy of the show.
And the dialogue is snappy and funny; full of pace and wisecracks. It's a brilliant adaptation by Carl Miller that doesn't patronise but educates as well as entertains.
The main attraction though is the cast of children - the first time the National has worked with child actors. They are full of energy and spirit and there are a few stand-out performances, in particular Georgie Farmer as the cheeky Toots and Izzy Lee as the street-wise Pony.
The production is strong throughout but it really engages in the second half as the audience becomes more involved in the show - and as the show becomes more involved with the audience as the cast runs amok through the theatre in the climatic chase scene to catch Mr Snow.
The play is aimed at kids, much like War Horse and His Dark Materials before. But though Emil and the Detectives does not achieve the heights of these two shows, it was nevertheless great entertainment for all. There were a lot of kids in the audience and to see them so enthralled by the production was great.
National Theatre, London
To March 18, 2014