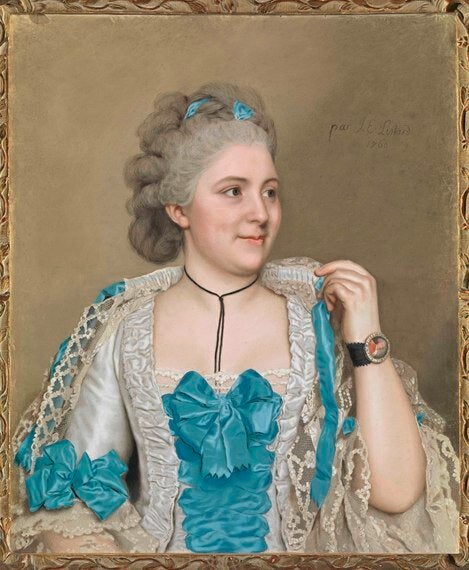 Pastels are a nightmare to work with, and they provide a real challenge for artists who want to add delicate details and tones. So how wonderful it is that the Royal Academy has chosen to put on a show on Jean-Etienne Liotard so that more can marvel at how this artist mastered this tricky medium.
Liotard was one of the most highly accomplished portraitists of 18th century Enlightenment Europe, crossing the continent back and forth to complete commissions on royalty and high society (in fact, Liotard was so respected that the rich would often travel to him to ensure he could complete their portrait).
That he chose to work so much in pastels rather than the more conventional oils is impressive enough but what also impresses in this small but impressive survey of his work in the Sackler Wing is just how far preservation techniques have come as you'd expect these 300 year old pastel portraits to have faded, crumbled into dust. Not at all. Their colours and lines are so sharp, so fresh, as if they had just been completed. Extraordinary.
Such preservation ensures we can see these works as they would have been completed so we too can admire the details and the expressions that Liotard was able to fashion.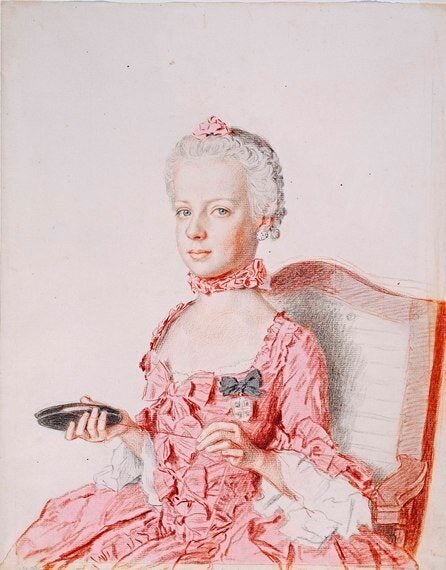 The skin tones are sublime - creamy and blushing for the healthy, such as in the stunning portrait of Julie de Thellusson-Ployard, but also sweaty and sickly for the ill, such as in the tender portrait of Princess Louisa Anne.
And the intricacy of fabrics and dress is so impressive. From the sheen on luxurious satin bodices to the crumples in a cotton apron, the pastels are worked in such a way that you can almost feel the fabric underneath your own fingertips.
But this impressive ability to capture even the most delicate of details isn't just reserved for his portraits. Included in the exhibition are examples of Liotard's still-life works and his genre scenes of more ordinary lives. Take a good look at these. The shine on the apples in the fruit bowls, the furry skins of the peaches... They are quite extraordinary. Getting texture this fine in more routine mediums is a challenge, let alone in pastels.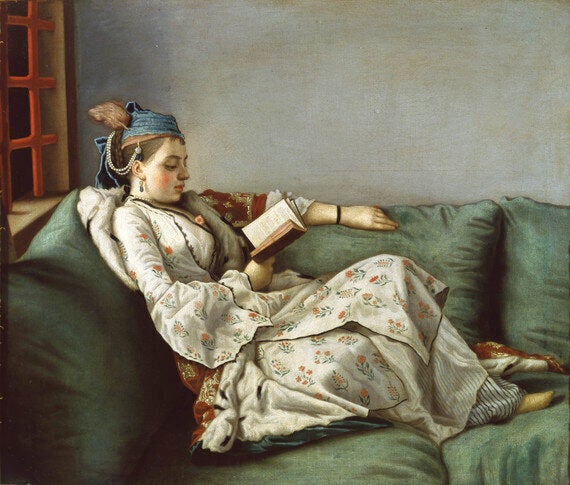 But there is more to this exhibition than just worthy admiration of the pastels. There are some of Liotard's oils too, including my favourite of his - Woman on a Sofa Reading. And one of the themes in this work, which you then see in so many others, is Liotard's fascination with the culture and fashion of the Turkish Empire.
Liotard lived in Constantinople for four years and this immersion in Turkish society started almost a form of branding for Liotard where he brought in Turkish customs and dress into his works, giving them a unique perspective, a variety, that none others had.
Though Jean-Etienne Liotard had a considerable reputation in his lifetime, that's not the case now. His achievements overlooked as new artists and Masters came on to the scene..
There is, though, a vast pool of potential visitors in the numbers who are visiting the RA to see the Ai Weiwei exhibition downstairs. I hope they take the opportunity to visit this Liotard show too as there is much to admire in this fascinating display of works from a master craftsman.
Royal Academy of Arts, London to January 31, 2016
1.Jean-Etienne Liotard, Julie de Thellusson-Ployard, 1760, Pastel on vellum, 70 x 58 cm. Museum Oskar Reinhart, Winterthur, inv. 278. Rodolphe Dunki, Geneva; acquired 1935. Photo SIK-ISEA. Photography: Philipp Hitz
2.Jean-Etienne Liotard, Archduchess Marie-Antoinette of Austria, 1762. Black and red chalk, graphite pencil, watercolour and watercolour glaze on paper, heightened with colour on the verso, 31.1 x 24.9 cm. Cabinet d'arts graphiques des Musees d'art et d'histoire, Geneva. On permanent loan from the Gottfried Keller Foundation, inv. 1947-0042. Photo Musee d'art et d'histoire, Geneva. Photography: Bettina Jacot-Descombes
3.Jean-Etienne Liotard, Woman on a Sofa Reading, 1748â??52. Oil on canvas, 50 x 60 cm. Galleria degli Uffizi, Florence. Photo Gabinetto Fotografico dell'Ex Soprintendenza Speciale per il Patrimonio Storico, Artistico ed Etnoantropologico e per il Polo Museale della città di Firenze.