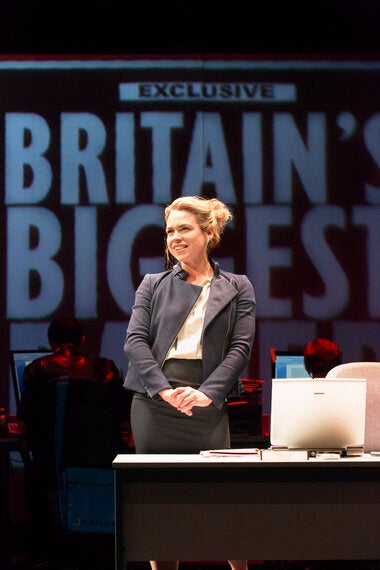 In pop culture terminology, the National Theatre has done a bit of a Beyoncé.
Conceived and rehearsed in secret, Great Britain, a play about phone hacking at a British tabloid, was suddenly announced last week and then on Monday, just days after the hacking trial verdicts were passed down, the show opened.
The quick opening, as well the bold decision to abandon the well-worn path of drawn-out run-up times and preview nights, meant there was a real buzz in the auditorium on opening night.
And that ballsy attitude runs right the way through this funny, bitingly satirical show as subtlety is thrown out the window as director Nicholas Hytner and writer Richard Bean go for Murdoch Inc. all guns blazing.
Everything we now know about tabloids, from the hacking trials and elsewhere, is crammed into this play's three hour running time - hacking phones of missing girls, Murdoch's expansion from print into television, philandering celebs, MPs expenses, corruption at the Met, mob attacks on paediatricians (rather than paedophiles) the coverage of a dying celeb (with echoes of Jade Goody), Saville, Murdoch's appearance at the Commons' Select Committee, former editors being leveraged into positions in government, 'fake Sheikhs', rummaging through bins, use of private detectives, paying out informers in bundles of cash, Page 3 girls, politicians' genuflections to the whims of media moguls, policy shaped by party donations...
There's a lot to take in.
It's comprehensive but probably too much. At times the desire to cover absolutely everything causes the story to suffer. The writing is exciting, packed full of one-liners but it's as if Bean and Hytner are trying to show how much they took in from the hacking trial, when a more selective approach would've made the piece more incisive. In this case, less would have been more.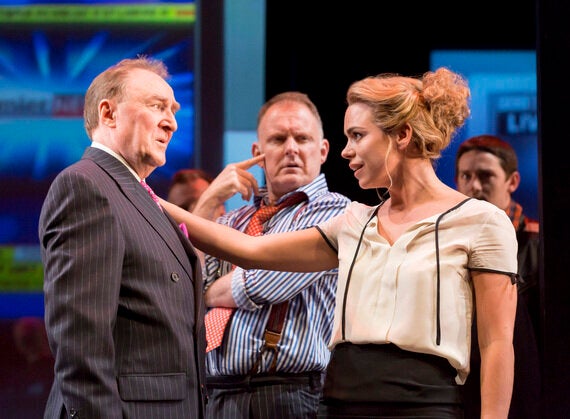 The cast is huge (there are over 30 speaking parts) but each of them is superb. Many are working with very one-dimensional stereotypes but in this farcical comedy set-up, it all works quite well.
Billie Piper shines as Paige Britain, the ambitious news editor at red-top British tabloid The Free Press where the mission statement of "we go out and destroy other people's lives on your behalf" pretty much sums up where we're expected to place our sympathies.
And with its focus on "scum stories" such as MEPs, immigrants, gypsies, feminists, benefit scroungers, single mothers, career women and "scousers, obviously" it's not particularly hard to guess which paper this is based on.
A cursory attempt is made to frame phone hacking in an ambiguous light - honourable when used to solve crimes; reprehensible when used for manipulation of politicians and innocent bystanders - but it's not really believable.
When Britain declares that had phone hacking found the missing schoolgirls alive she'd have been declared a hero, the sharp intake of breath in the auditorium was audible. It feels more like the character is self-deluded rather than making a fair point.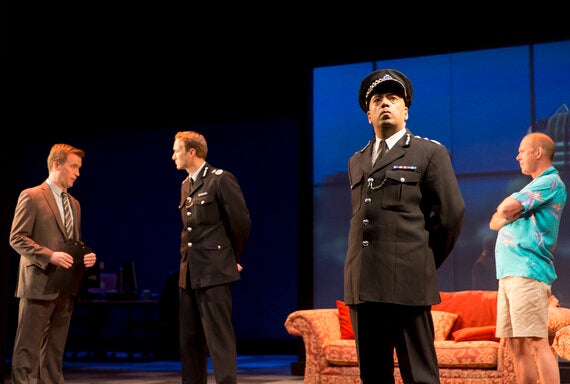 Nevertheless Piper is excellent and works well to lead the play from the front and balance out Paige's ruthless ambition and profound moral ambiguity with plenty of charm and some nice comic touches.
But the show is very much stolen by Aaron Neil as the hapless Police Commissioner who blunders from one PR disaster to another. I don't think I have laughed at anything as much this year as I have at Aaron Neil's comic timing and po-faced sincerity. His performance is so funny that even Oliver Chris, who plays Neil's ambitious Assistant Commissioner, struggled to keep a straight face.
As much as the talented cast, the dynamic production design (Tim Hatley and 59 Productions) impressively maintains the pace of the production throughout.
Huge screens shift across the stage, shaping the layout from newsrooms to yachts, from basement archives to The Ivy restaurant. But there's no let-up in the show to allow for these quick scenery changes. Instead key developments such as Breaking News clips and the Queen's Speech are projected on to the screens as they move across the darkened stage - a great reminder that we live in the era of 24-hour news coverage.
That this really great play was conceived and executed so quickly, which it needed to be to retain its topicality as well as bringing excitement and a dynamic buzz to theatre, is a compliment to all involved. But given that speed it was always likely to be a bit rough around the edges.
In many ways that imperfection, that need to just get it out there irrelevant of any small gripes, reflects life at the tabloids. I liked the raw edge. I liked the imperfections. Longer development time and preview nights would probably have polished the edges but somehow I think that would have defeated the purpose and robbed Great Britain of its energy and relevance.
National Theatre, London to August 23, 2014
1. BILLIE PIPER as Paige Britain
2. Left to right: DERMOT CROWLEY as Paschal O'Leary, ROBERT GLENISTER as Wilson Tikkel, BILLIE PIPER as Paige Britain
3. AARON NEIL (Sully Kassam) with JOSEPH WILKINS, OLIVER CHRIS and ANDREW WOODALL.