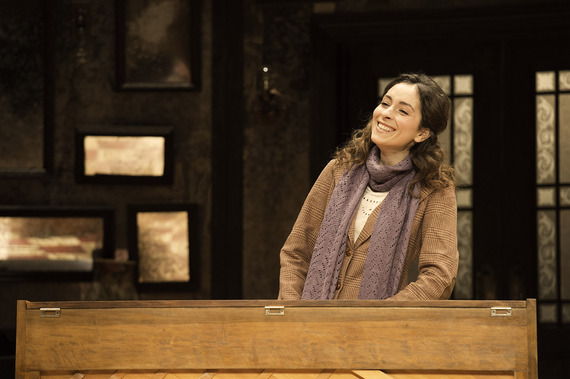 Image credits: Zrinka Cvitesic (Girl) in Once © Manuel Harlan
Once the Musical is a really warm, bittersweet show filled with Irish charm. Set in present-day Dublin, it is the story of Guy (Arthur Darvill), a broken-hearted, introverted musician and his fleeting affair of the heart with Girl (Zrinka Cvitesic), a spirited and wilful Czech woman who hears him busking.
A musician herself, Girl is moved by Guy's music but is distraught when at the end of his performance, Guy leaves his guitar behind, a sign that he is done with music. Girl is appalled and steps forward, desperate to cajole him into channelling his talents into producing a demo tape.
Guy though wants to be left alone to nurse his broken heart - his girlfriend having left the economic challenges of Dublin behind for a new life in New York without him - but Girl refuses. With her combination of blunt, direct Czech wit and her bright, bubbly personality, she wears down his defences and in the process, opens up his heart.
Modern-day Dublin really provides the spirit in this piece. As Girl and Guy pull together all the resources they need to fund a demo tape, they cross paths with a wide array of characters - both Irish (Dubliners and outsiders!) and Girl's circle of Czech family and friends who've come to Ireland in search of a better life for themselves.
Directed wonderfully by John Tiffany, the music is unequivocally a strength in the show and every piece generated a prolonged round of applause from the audience. All original songs, the pieces vary from the foot-stomping joyful Irish folk music to melancholic a cappella harmonies.
And though this is a musical, the book written by award-winning Irish playwright and screenwriter Enda Walsh is very funny, with plenty of dry, sharp wit to keep this piece from being overly-sentimental.
Certainly with its heavy emphasis on folksy charm and national authenticity, Once does flirt with being too twee and clichéd - the feisty Czech mother who gives Guy the once over when he comes to visit is quite a one-dimensional character, and Girl's best friend, a tough, hard-nosed woman, who offers to seduce another character who can help with band practice only if there's something in it for her, comes very, very close to being quite an ugly stereotype of Eastern European women.
But there is enough heart and depth in the actors and the story to keep Once just about on the right path.
A highlight is the set design (Bob Crowley), which is simple but deceptively brilliant. The interior of a Dublin pub makes up the single set of the show. But with its low lighting and its walls covered with wooden-framed mirrors that reflect the drama back into the room, the intimacy is retained beautifully.
There have been some recent changes in cast - Darvill has taken over the lead role but the celebrated Zrinka Cvitesic remains and she really is the heart and soul of the production. Her bright personality that masks her own breaking heart as she falls in love with Guy - a man she can't have - dominates the show.
It must be hard for Darvill to come in to an established production, even though he has played the role on Broadway. Certainly at times his character was a bit lost, overwhelmed by the others. I expect it will become easier for him as he feels more at home with the established West End cast but he has a wonderful voice and brought heartfelt emotion to his musical numbers.
Cvitesic gives a star turn, for sure, but each of the 12 adult members of the cast work so hard throughout the show. They rarely leave the stage and each one seems to have the ability to play a variety of instruments - drums, guitars, violins, cellos... The talent is superb. And not only do they complement the leads with their music but also with some truly fine harmonies and quite wonderful choreography and movement.
With its touching storyline, fine cast and original music, it's easy to see why the show has gained so many nominations in the upcoming 2014 Olivier Awards - an impressive six in total - including Best New Musical and Best Actress in a Musical.
This hasn't been a kind time for musicals, with high profile productions such as Stephen Ward: The Musical and From Here to Eternity struggling, so it's lovely to see such an unassuming but original piece succeed.
I'm not usually one for musicals but Once won me over for sure - it is funny, tender and heartfelt.
Phoenix Theatre, London
To July 4, 2015