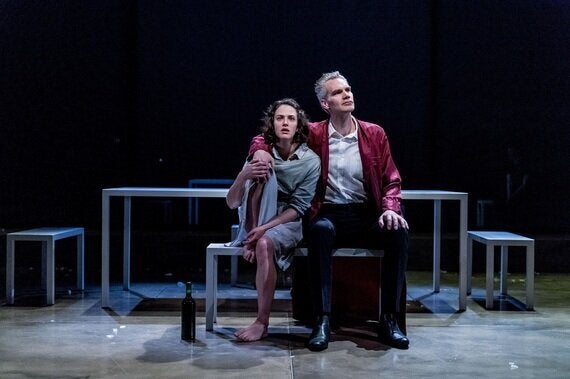 Greek tragedies are an unbelievably tough challenge for modern audiences - everything is literal, characters say what they mean, and the Gods are involved in everything. But these stories of revenge, questioning whether violence can ever be justified, are deeply entrenched in our culture, and arguably as relevant now as they have ever been. So, how to put on these stories and make them interesting?
Well, the Almeida has responded to this challenge magnificently with a gripping production of Aeschylus' Oresteia that not only dramatically re-examines this famous tale, but yet also claws away at its central theme of whether 'an eye for an eye' can ever be just.
Agamemnon (Angus Wright) is a weary King. The long running battle with Troy shows no sign of ending. And he is desperate for this war to end - as are his people. But when he prays to the Gods, they return with a simple message - "the child is the price."
Interpreting this to mean he must sacrifice his youngest daughter, Iphigenia (Amelia Baldock), Agamemnon battles with his conscience before accepting that he must do what is necessary, committing a crime that shocks his wife Klytemnestra (the superb Lia Williams) and one that will lead to a cycle of violence and revenge that will destroy his family.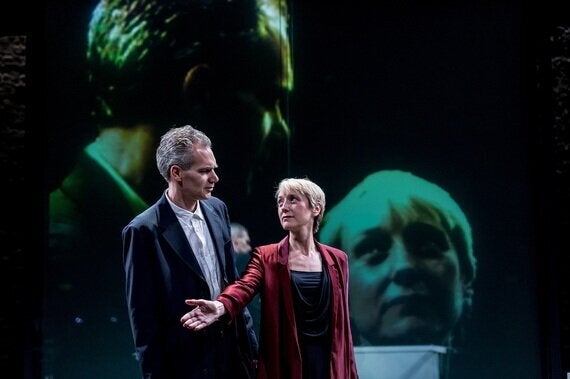 And all the while, separate and running parallel to this famous story, is the fascinating voice of Orestes (Luke Thompson), Agamemnon's son, deeply involved in a session with his therapist (Lorna Brown) as he battles with the fact that his own terrible fate was sealed the moment his father killed his sister.
The central story is legend but it has been given an energetic and passionate new lease of life in this production from director Robert Icke and dramaturg Duska Radosavljevic, and the result is a show that is dynamic and challenging with dialogue that is believable and relevant. And thankfully they've even managed to break up the tragedy with humour in places.
It's not just the story that has been overhauled but the production design too. Out have gone the Grecian robes and sandals to be replaced with a sparse set and simple, contemporary clothes. In fact, if anything, my only gripe with this show is that, if you stopped the actors from speaking, you could be forgiven for thinking you were actually watching Ivo van Hove's revolutionary A View from the Bridge,which opened at the Young Vic last year.
Imitation may be the sincerest form of flattery but this does go a bit far at times. The stark white set and lighting, the characters dressed in cool muted tones of greys and creams, even the benches around the edge of the stage where some of the characters will sit with their backs to you... All of this is present and correct.
Nevertheless, it works. And the cast is excellent throughout.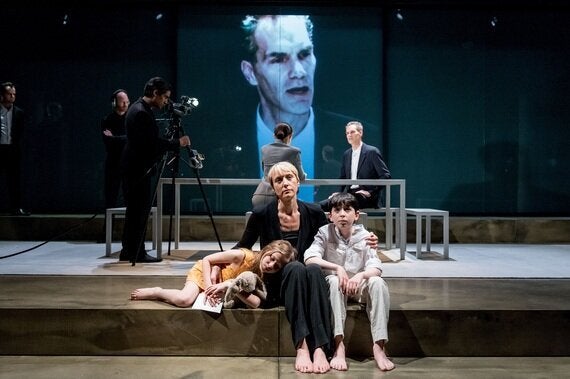 Angus Wright is fascinating as Agamemnon, the King desperately trying to rationalise what the Gods have compelled him to do, to match up the sacrifice he demands of his Army with the sacrifice now expected of him.
And Lia Williams and Jessica Brown Findlay, in their challenging roles of Klytemnestra and Electra respectively, bring complexity and depth to characters that can often become too overworked with hysteria to find sympathetic.
At the climax, it is the story of Orestes that comes to the fore, with Orestes having to answer for the crime he has committed, no matter how just he may have considered his act of revenge. And it's crazy just how this rings true with us even today with the sick perversity of the death penalty still with us, where we punish an individual act of murder with a State-sanctioned one.
It will be interesting to see how audiences react to this show. With a running time of 3h40min, I expect many will be put off, which is a shame as this is a gripping production where you really don't feel the length of that running time.
I applaud the risks taken in this production. Really, you have to. For what is the option? That we leave these tales to gather dust on the shelves? We can't do that. There's too much in them worth examining to just preserve them in their dated and often exhausting traditional productions.
As the cast took their bows, I left the theatre full of questions, the issues raised racing through my head. That's a good sign. That's what we call a result.
Almeida Theatre, London to July 18, 2015
1.Jessica Brown Findlay and Angus Wright in Oresteia. Almeida Theatre. By Manuel Harlan
2.Angus Wright and Lia Williams in Oresteia. Almeida Theatre. By Manuel Harlan
3.Eve Benioff Salama, Lia Williams, Ilan Galkoff & Angus Wright in Oresteia. Almeida Theatre. By Manuel Harlan