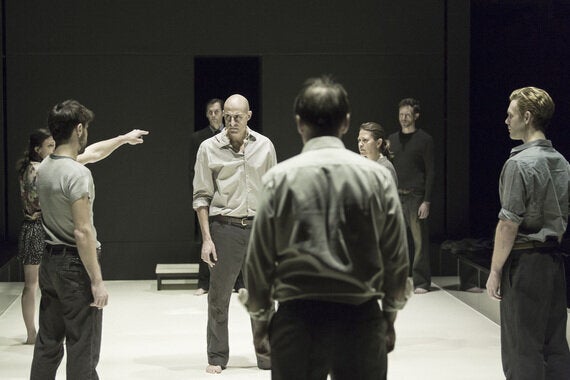 Theatre simply doesn't get better than this. This Ivo van Hove-directed revival of Arthur Miller's A View from the Bridge stunned when it showed at the Young Vic last year and it loses none of its power in this West End transfer.
Mark Strong stars as Eddie Carbone, an Italian-American man who works on the New York docks in post-war America. There's a huge Italian community doing the same and many of them are supporting and hiding immigrants from their homeland who are fleeing the destruction and poverty of post-war Italy for a new life in America.
Yet when Eddie's wife, Beatrice (Nicola Walker), volunteers to shelter her distant cousins Marco (Emun Elliott) and Rodolfo (Luke Norris) who have just arrived secretly on the ships, Eddie's control of his household is destroyed for though Eddie and Beatrice have no children of their own, they are the guardians for their niece, Catherine (Phoebe Fox).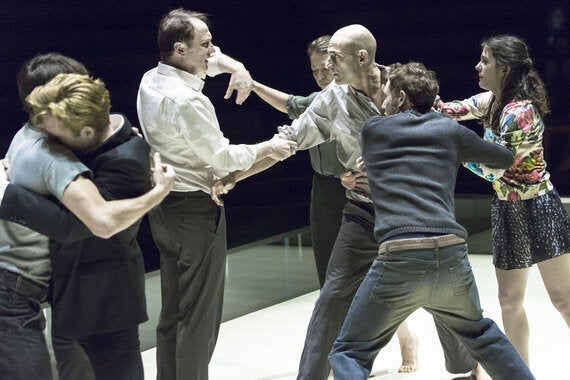 The arrival of the handsome, charismatic Rodolfo turns the young Catherine's head. But their budding relationship angers Eddie, whose own feelings for his pretty niece are confused, and highly, highly questionable.
It's interesting what you remember and what you forget about a production. The tension, the gut-wrenching tragedy in the piece is as devastating as when I saw it last year. Yet I'd forgotten how good the sound and lighting design are.
Don't be deceived by the simplicity in Jan Versweyveld's stripped-back bare stage design as there is some very clever, manipulative use of requiems and stark lighting to ramp up the tension.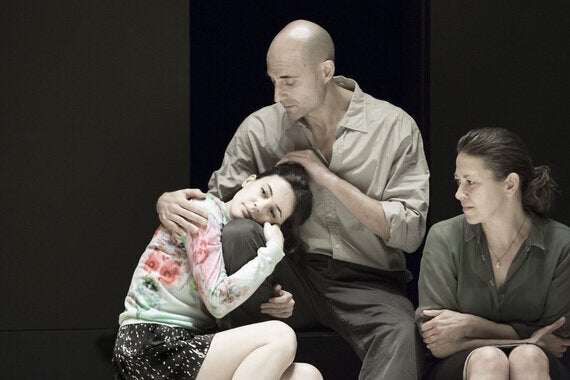 And I'd forgotten the smell. It's not often that a theatrical production brings in that sensory experience but the smell of sweat and blood is primal and evocative.
But it is impossible - Im-possible - to write a review of A View from the Bridge and not focus on the performance from Mark Strong. I mean, the right words just elude me.
Mark's performance as Eddie Carbone, a man whose moral compass and self awareness are completely and utterly lost, is just staggering. It was unequivocally the standout performance on the stage last year. To describe it as an acting masterclass or tour de force seem glib. His capture of Eddie's tsunami of emotions contained in the most fragile of shells is devastating. Frankly, if he doesn't win the Olivier for this in April, well, I'm going to do a Kanye!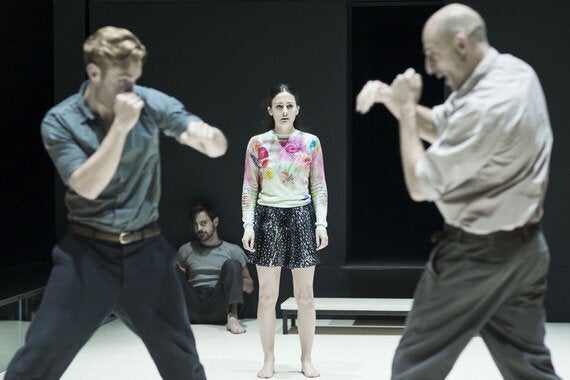 But though Mark's performance is deserving of the standing o he is apparently getting every night, he is supported by a terrific cast. Each and every performance is stunning but there is a particular and quite brilliant tension between the two women in the piece.
Nicola Walker is superb as Beatrice, Eddie's wife, who is struggling both morally and emotionally with her husband's transfer of affections from her to her blossoming niece. Her performance of repressed anger, jealousy and fear is practically palpable. And this is set against a great performance from Phoebe Fox as Catherine, whose coming of age is a treacherous affair.
Last year, when I saw this play, I wrote "this production is simply faultless." The same remains true today. Bearing witness to this show, one of the most extraordinary theatrical productions you will ever see, is an honour and a privilege.
Wyndham's Theatre, London to April 11, 2015
1. Cast of A View from the Bridge. Photo credit Jan Versweyveld
2. Cast of A View from the Bridge. Photo credit Jan Versweyveld
3. Phoebe Fox (Catherine) Mark Strong (Eddie) and Nicola Walker (Beatrice) in A View from the Bridge. Photo credit Jan Versweyveld
4. Luke Norris (Rodolpho) Emun Elliott (Marco) Phoebe Fox (Catherine) and Mark Strong (Eddie) in A View from the Bridge. Photo credit Jan Versweyvel