On 12th September 2009, I married my soulmate. Daniel and I had been together since we were 17, a cliché, but we are childhood sweethearts. At the age of 28 we made the formal commitment in front of friends and family to spend the rest of our lives together. For richer or poorer and in sickness and health. When standing making those vows I wonder how many people really delve into the significance of what they're promising. Certainly we had no idea that just four and a half years later our world would be turned upside down.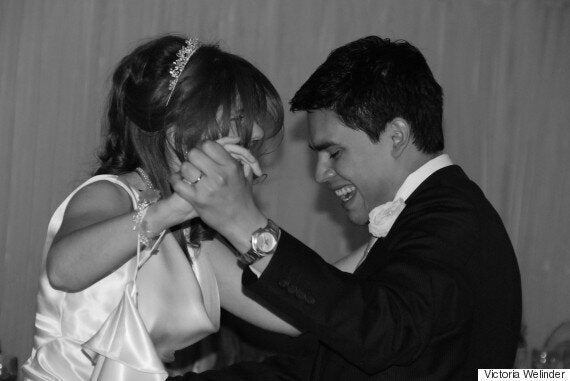 2014 - what a year and not quite what we expected at 32. On February 4th 2014, coincidentally World Cancer Day, we stepped into a brave new world and onto the breast cancer treatment treadmill. Starting with 6 cycles of chemotherapy, FEC, which will make all of you Father Ted fans out there smile, cold cap, hair-loss, wig-buying, head scarf tying, feeling battered by the cumulative chemo effect, becoming a human notepad before surgery and then being zapped by radiotherapy but throughout it all being given the most love and support I could possibly imagine, before stepping off the treatment treadmill, tamoxifen aside, in late October. I also discovered that I carried the BRCA1 mutation which meant that my risk of incurring a primary breast cancer was 60-90%. At least this gave me an explanation as to why this had all happened.
During this year, Daniel and I became even closer. We laughed, we cried but above all else ensured that on good days we did the things that mattered to us most, going for countryside walks and eating good food. Sunday nights have always been our nights together, cooking a good dinner and us taking the time to really talk and connect with each other.
At the end of 2014, despite a tough year, things were looking good and the future was looking bright. Years like 2014 really engrain and make you treasure the special people and experiences in your life. So it was with this vitality that we entered 2015 and by chance I signed us up for a Sahara trek for Breast Cancer Haven, the charity that had supported us both so well during my treatment. It gave me a good goal for getting my stamina back and to be able to walk long distances once more. Six months before my primary diagnosis I had walked a marathon with my best friend from school, so I knew I had it in me, it just had to be built back up again. Daniel and mine Sunday afternoon training walks became a really special time for us. We loved exploring the Chiltern countryside, walking past the church where we got married and the island where we had our wedding reception were always special moments.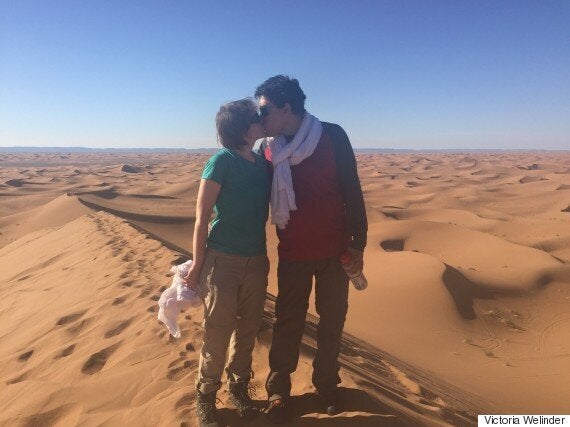 The Sahara trek was an incredible experience, one where we met many wonderful people, but for me it was sleeping under the stars and sharing this experience with my soul mate that made it all the more special.. After this trip, we travelled often, to Sweden to see Daniel's parents, to Menorca, Barcelona and further afield to Peru and Bolivia. We took nothing for granted especially each other.
Given our age the topic of children often came into conversation. My treatment had always taken precedence but during this time we had decided to adopt and after a fun filled but thankfully medically uneventful 2016 we got the green light from my oncologist and surgeon to proceed with the adoption process. There's no denying it had been pretty painful seeing many of our friends starting families at a time when this was simply not an option for us. So 2017 was going to be the year for us to start our family in our way.
January 2017 arrived and we formally started the adoption process. It felt exciting, but slightly scary at the same time, I guess some of the same feelings that a couple having a biological pregnancy experience.
In parallel on 4th February we went away for the weekend. Each year since my primary diagnosis we have done something to celebrate life and this year was no different. A sunny weekend by the coast was the perfect way to celebrate three years since diagnosis and this included a spectacular coastal path walk over the course of 4 hours. I can be a bit clumsy so it was no surprise that on one particularly steep decent I slipped and landed straight onto my bum! I burst into laughter but thankfully, no damage done, so we kept walking. This weekend was about celebrating after all.
A few weeks later I noticed that my back had really begun to hurt. Perhaps a delayed reaction to my coastal path fall but worth mentioning to my surgeon. I had a bone scan which came back normal so was told to see a back specialist for good old fashioned back pain. Fast forward a few weeks and my mum came with me to get the results of a MRI scan on my back, as Daniel was away travelling with work. He used the word mets (metastatic) followed by 'see your oncologist as soon as possible'. The worst news had hit, I had secondary cancer. This was the ultimate game-changer as secondary breast cancer can be managed, but not cured. My beautiful husband was what felt like a million miles away.
No one should have to make or receive these type of phone calls but on 5th April that's exactly what we both had to endure. Subsequent scans showed that the cancer had also spread to my liver, lungs and some lymph nodes. This news felt so cruel particularly given the adoption journey we had started. Words cannot describe how guilty I felt bestowing this news onto my soul mate, the person that I have spent more than half of my life with. There was a phase of tears, expressions of love, hugging each other so much as we just never wanted to let go. This slowly morphed into the more practical phase of what treatment looked like, Chemotherapy was back in our lives and this time far more grueling and testing for both of us including hospital stays and blood transfusions. I'm about to start a new treatment regime so we're hoping this will be kinder to my body and our lives.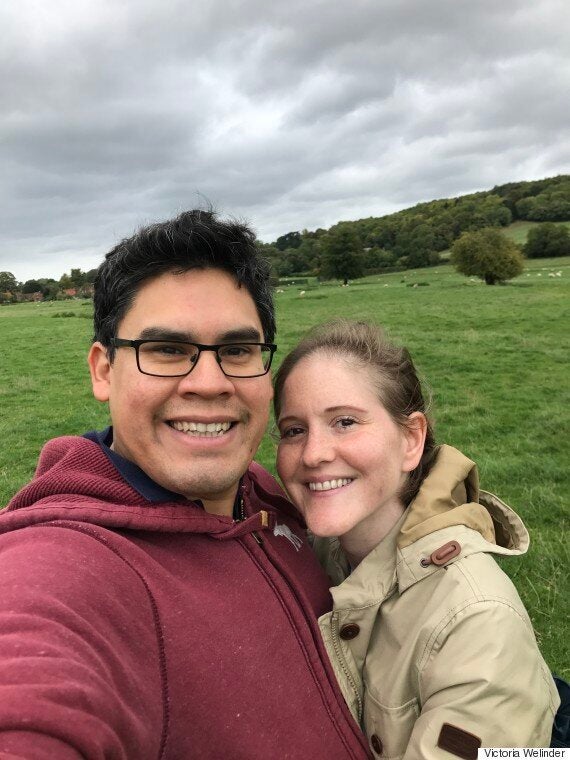 Secondary cancer has definitely put a cloud above our heads but despite some physical limitations we have managed to keep walking together. They may be shorter slower walks, but we still do them hand-in-hand and appreciate the nature all around us. Birthdays have been hard to celebrate this summer but when our bronze wedding anniversary approached on 12th September I wanted to make it a really special day. So it won't be a surprise that we headed out for a hand held walk in the sunshine and then enjoyed a supper out. I found Daniel some vintage Swedish bronze coin cufflinks, which felt appropriate for him and the brief! The cloud lifted, albeit temporarily.
How long do I have left with this most amazing person? The answer is I do not know and haven't wanted to ask. But what I do know is that each day I treasure every hug, kiss, smile and laugh I hear from the most wonderful human being. There are many days where this situation causes silences but I'm lucky to know that I've got a champion of a person beside me. It tears me apart that we won't grow old together, unless a medical miracle appears pretty darn quickly, but all we can do is appreciate each day and make sure we end each day with a perfect kiss.