The migrant crisis in the Mediterranean has reached new proportions in the last week. Last Wednesday, Medecins Sans Frontieres (MSF) rescued 1,658 people in one day alone. It was their biggest day of operations on the Mediterranean, with 199 children rescued. Though this is one of the deadliest times of year to cross the Mediterranean, there is no sign of the numbers of crossings slowing.
Whether the escalating situation in Calais, Southeast Europe or in the Mediterranean, political leaders have been slow to respond. They have been embroiled in debates over asylum seeker quotas, border control and attempts to shift responsibility from one state to another. Politicians are justifying their policy decisions on the need to 'discourage risky journeys' as David Cameron said, or to ensure they are not offering, in Viktor Orban's words, 'an invitation for those who would like to come'. However, those undertaking the risky journey across the Mediterranean are unlikely to make decisions to risk their lives based on the finer details of European policy. Over 2,500 people have died crossing the Mediterranean so far this year, and the numbers will continue to grow.
Ministers from all 28 EU member states are meeting on 14 September for an emergency session on the migration crisis and how to respond. While European leaders arrange their travel to Brussels, the public is taking matters into its own hands.
A crowdfunding campaign called People's Armada has been launched on Indiegogo to buy a search and rescue ship for immediate action in the Mediterranean. With so few search and rescue ships operating on the Mediterranean right now, another ship or two could help to double the number of people rescued.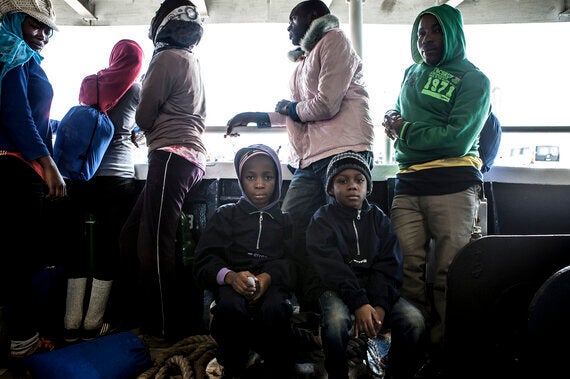 The Migrant Offshore Aid Station (MOAS) operates one of the only three rescue ships with MSF, The Phoenix. The Phoenix has rescued 11,000 people in the last year alone, and has a team of six MSF staff on board to offer medical care. But MOAS operations are due to end on 31 October, which would cut the number of rescue missions with MSF by a third. This will come at a time when the number of people making this dangerous journey is increasing.
People's Armada is a movement by the public to raise €3 million in 10 days to buy and refit at least one new boat for MOAS. However, if successful, the ambition is much greater - to crowdfund for a fleet of ships for MOAS - quite literally a People's Armada - to save more lives.
In the time it takes for European leaders to book their flights to Brussels, the public may have saved another 11,000 lives for the year ahead.
People's Armada was established as a partnership between the Migrant Offshore Aid Station (MOAS) and a group of young Londoners with a campaigning background that were frustrated at the pace of the response to the Migrant Crisis. Our initial target of $3,000,000 is enough for MOAS to buy and refit one ship, but ultimately we aim to raise enough to send an armada of crowdfunded ships to save thousands of lives. All money raised goes directly to MOAS. Please join us here:
Popular in the Community