By Kate Matthams-Spencer
Fronted by Adriana Lima, ready to take on the Winter beauty battle, see inside Vogue Paris November, out now.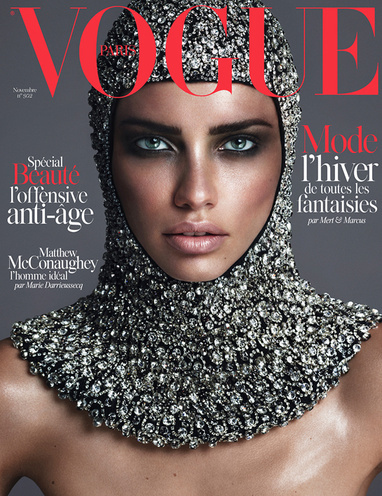 "Our beauty special puts the spotlight on the spectacular recent advancements in anti-aging technologies. The latest crop of products is much gentler on the skin, producing more natural, more precise results," writesEmmanuelle Alt, Vogue Paris editor-in-chief, in her November 2014 editorial. Our beauty editors review the latest skin-boosting textures that will help you get back your glow, as Adriana Lima fronts the issue as a beauty warrior in Dolce & Gabbana neo-armor, for Mert & Marcus. Protection against the ravages of Winter is not only skin-deep this month, as we pick the best sheepskins and a few highly original new furs to see you through Fall and beyond. With the cold weather, comes a bold new approach to dressing, as couture takes to the street, super Karlie Kloss goes off-piste and Oscar-winning actor Matthew McConaughey lifts the lid on how he maintains the kind of all-consuming energy that we would love to have - here's hoping that our feature on meditation around the world will go some way to achieving the same. November is all about renewed energy on all fronts, as we get ready for Winter.
Vogue Paris n°952, out October 29
Subscribe or download the issue as soon as it is out, on Google Play or the App Store, for iPhone or iPad.
Inside Vogue Paris November 2014