By Kate Matthams-Spencer
First, we spotted them on the runway. Then we called in some of the biggest photographers in the business to shoot them for the glossy pages of the magazine. Meet the next generation of modeling stars in the February issue, out 22 January.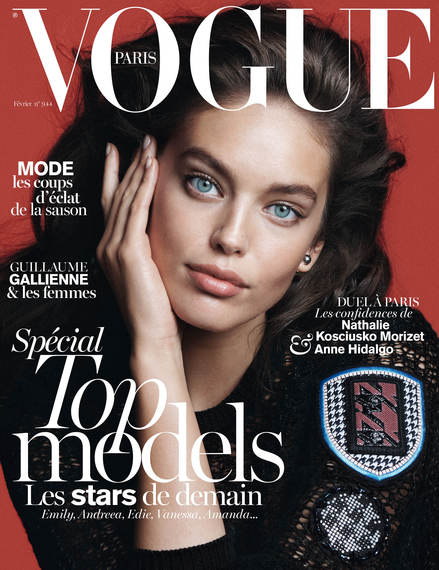 "Fresh-faced and schoolgirl-style, smooth and sophisticated, classic beauties and edgy new faces; 22 models feature in this issue. Like Emily, Edita, Amanda and Andreea, you might know some of their faces if you passed them them on the street. Others - think Freja, Saskia, Edie and Georgia - are already established stars. And in their wake, a clutch of the new faces that we're backing," writes Vogue Paris editor-in-chief Emmanuelle Alt in her February editorial. With David Sims, Inez & Vinoodh, Terry Richardson, Mario Sorrenti and Mikael Jensson all behind the lens, some of the biggest snappers in the business and regular Vogue photographers were called upon to immortalize the girls on glossy paper, in a series of double portraits that reveal by turns their innocent charm and sultry sensuality to super sexy effect. Edie Campbell leads the charge, followed by the irresistible Andreea Diaconu, Sam Rollinson, Amanda Murphy and Vanessa Axente. A mesmerizing Emily DiDonato makes way for to a candid Frejaand an electric Saskia, all beautiful girls who have paved the way for 12 promising young models including Malaika, Riley and Estella. Remember their names.
Two more for you, are Anne Hidalgo and Nathalie Kosciuscko-Morizet, Paris' queens of hearts currently fighting it out for the honor of being the first female mayor of the city. The two politicians go head-to-head in an issue that resolutely faces the future.
Vogue Paris n°944, out on newsstands, your iPhone and your iPad, January 22