By Rachel Huber
With Gisele lighting up the cover, November's Vogue Paris brims with all the best in seasonal beauty hints and tips, photographed of course by some of the industry's finest.
"Focusing on the transformative power of beauty, November's Vogue Paris explores how even the smallest change can boost your appearance and update an entire look, whether it's a glossy lip, shimmery eye or a soft, fresh complexion," writes Vogue Paris' Editor-in-chief Emanuelle Alt in her editor's letter. And for the issue, who better than Brazilian bombshell Gisele Bündchen, the poster child for healthy, vibrant and 100% natural beauty to take the cover? Appearing on the magazine for the first time since Vogue Paris' June/July 2012 body issue, Bündchen heads November's line-up of stunning Vogue Paris girls who all prove that when it comes to makeovers, subtlety rules.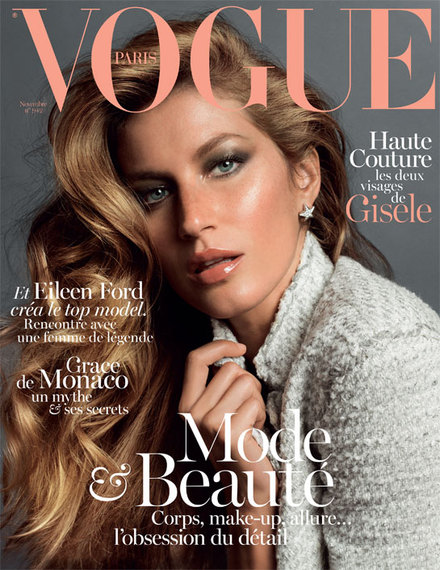 Inside, discover everything from the latest and greatest in product imports and must-adopt beauty tips and tricks from across the globe, to a David Sims-shot feature on 13 of the season's hottest and hippest make-up updates. Photography's role in defining beauty is celebrated too as an inspiring showcase of Hans Feurer and Helmut Newton's work highlights the camera's ability to capture real beauty, elegance and grace. Think fabulous glamazon-era images from a time when infamous model maker, Eileen Ford was giving the likes of Brooke Shields, Jerry Hall and Lauren Hutton their first big breaks. From the glitz and glamour of the past, to the most important trends of today, beauty knows no age in Vogue Paris this November.
On newstands, your iPad and your iPhone for the special price of €2.69 on iPhone, now.