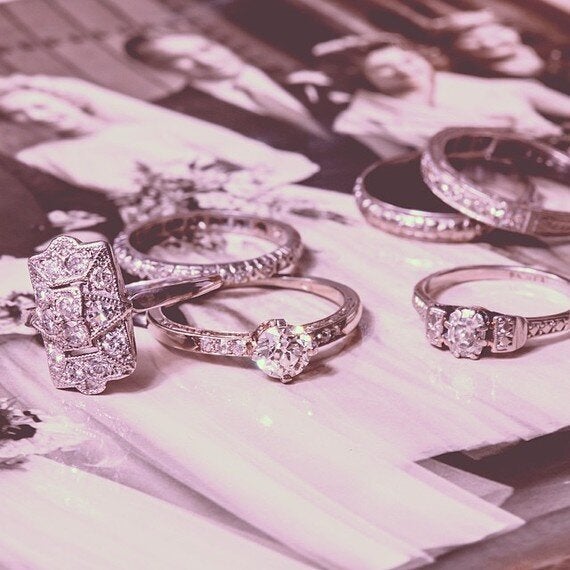 Here at Vogue, we've seen many a wedding, whether it be printed between the glossy pages, or attending those of our nearest and dearest. So we know that, amidst the magic there's often more than a little blood sweat and tears that go into making the big day. That's where we come in. This year on Vogue.fr, you've met the designers; you've sussed out the dress styles of the season and got a heads-up on how to decorate your wedding venue, but what about the all-important engagement ring? And more importantly, how do you find it?
Like all good guides, we'll start from the beginning, the beginning being the cut of your diamond, which should be chosen with care. If you're looking for timeless, opt for a princess, round or oval cut, with their softly faceted shapes. Those after something a little more striking may be tempted by the graphic lines of an emerald or Asscher cut, best set on a minimalist band, or the marquise with its sharp proportions, which lends a fragile yet elegant allure.
As for style, do you go vintage or contemporary? In recent times, blushing brides-to-be have been drawn towards the sleek, the minimal, no-fuss bands, seen in designs by Ofée, Maison Martin Margiela and Finn, with their clean aesthetic.
But that's not to say we've forgotten about those retro classics, dripping in the Art Deco diamonds that scream romance. In fact, one of our favorite sources of inspiration right now, is spending a lazy Sunday morning leafing through Instagram, where below, you can see for yourself our best-loved vintage engagement ring dealers, including magnificent Belle Epoque solitaires and a Buccellati ring dating back to 1935.
And if you're still stuck for ringspiration, there's one final Vogue pearl of wisdom: in the form of Paris jeweler, Tellor, who offers a custom-made service, guiding you step-by-step through choosing the cut, purity, color and an appropriate setting, for a personal approach to engagement ring shopping.