This year, Glastonbury had an 86% male line-up. To put this statistic in context, Download had 94%, Creamfields will have 97%, Latitude 81% and Wireless 80%.
Sadly, an 84% male line-up signifies a relatively progressive UK music festival. Glastonbury also hosted one of only three women topping the bill in the UK 2015 festival season. Even this is a tarnished accolade, Florence and the Machine were bumped up only to replace all-male rock band The Foo Fighters.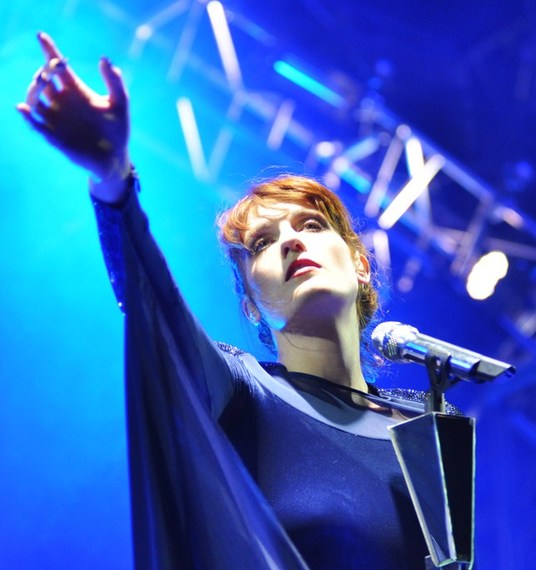 I journeyed to Glastonbury 2015 with these unconvincing stats (and a hefty rucksack) on my back. A weary feminist in every sense, I didn't expect any mind-blowing gender debate from Worthy Farm.
I spoke way too soon. After getting my hands on a programme, I immediately spotted a feminist discussion panel. After a late Friday night, I hauled myself out of my tent. I skipped breakfast, chugged a coffee, and power walked to the Left Field tent, so pumped for Feminism Without Borders. It wasn't Feminism Without Borders. I'd turned up on the wrong day. Luckily, the talk I'd gone to was similarly inspiring. Venceremos! The New Radical Movements had an impressive all-woman panel. Cat Boyd (Radical Independence Campaign), Pippa Goldfinger (Independents for Frome), Marina Prentoulis (Syriza), Sirio Canos (Podemos) explored the rise of grassroots political movements. I loved seeing these women eschew the sexism of mainstream politics, whilst shutting down lazy cries of 'but they're not interested!'
24 hours later, I was back at Left Field for Feminism Without Borders. The kick-ass panel consisted of Reni Eddo-Lodge (award winning journo), Shanice McBean (Black Dissidents), Sue Marsh (Disabilities Campaigner) and Zrinka Bralo (Migrant and Refugee Communities Forum).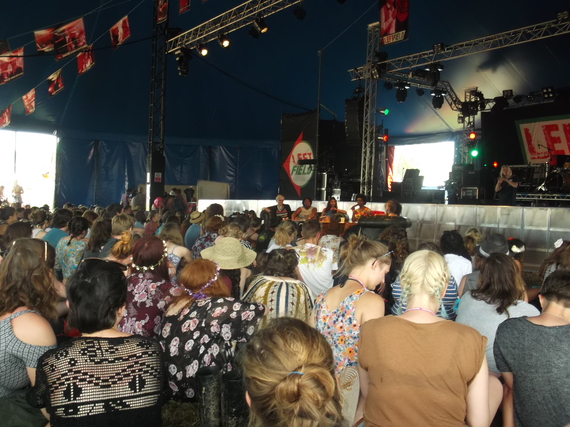 Intersectional through and through, the debate tackled Yarl's Wood, racial discrimination, activism, gender fluidity, domestic violence and more. Feminism Without Borders was aptly named - it debated the best ways of including everyone in the movement. Inclusivity was key; the audience part-controlled. Half the time was dedicated to questions . Astute attendees of varying genders quizzed the panellists on pressing issues, such as single-issue feminism and the treatment of non-binary people.
It thoroughly enjoyed engaging in face-to-face feminist debate. I felt empowered, inspired, and determined to quit my armchair feminist lifestyle.
After a brain refresh at Left Field, I expected Shangri-La's hedonistic ways to re-tarnish my mind. No such luck. This year, Glastonbury's untamed mini-city hosted a "Shang Re-election". Installations and arty posters yelled a massive fuck you to the Tories. Political musicians stormed the Hell Stage. Whilst winding my way through a hexagonal maze to find them, I spotted these: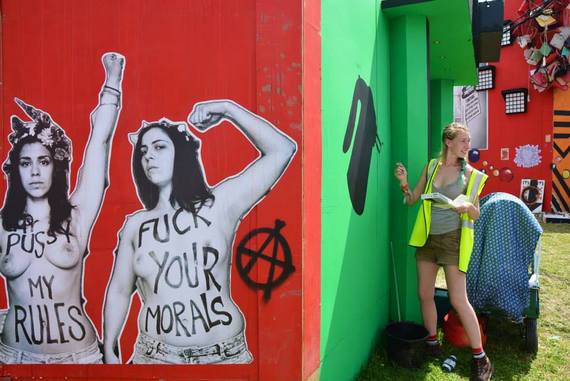 #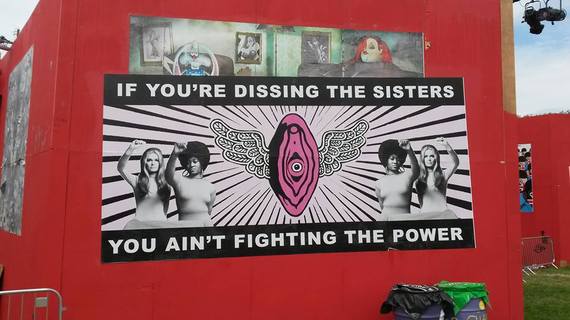 Protesters after my own heart, the women in the first picture assert ownership of three key stolen aspects of womanhood: sexuality, body image and political agency.
Alternatively, The winged vagina of the second picture irked me. Surely, by now we know that a vagina is not a symbol for womanhood? Still, this image speaks a thousand words. It tells of prevalent cissexism, but also (thankfully) a more empowering message. Gloria Steinem and Pamela Hughes's power stance says it all: whatever the fight, an intersectional women's movement is vital.
Alongside art and debate, Glastonbury's women rocked via music. Punk professor Patti Smith empowered a 100,000-strong crowd (and the Dalai Lama) with her hit People Have The Power. Backed by an all male band, Indira Roman dedicated a salsa song to her female fans. "Don't be afraid of saying no", she advised us. Kate Tempest stormed the Park Stage with countercultural poetry. "Nothing you can buy will ever make you more whole/This whole fucking thing thrives on you feeling incomplete". Previously the domain of pale males, rabble-rousing politics were owned by the Women of Worthy Farm. Saying that, "rabble-rousing" is a rather tame to describe my favourite Glastonbury feminists.
Pussy Riot pulled up in front of the Park Stage in a military truck, wrestled a 'Russian soldier' to the ground and bound him with tape. They were then joined by Charlotte Church, who chatted to them on top of the truck. In their discussion, Tolokonnikova and Alyokhina stated 10 Pussy Riot principles, including "stay queer" and "think different, think feminist".
I left Glastonbury with these rules and some much needed femspiration. The festival highlighted overlooked issues and the need for powerful activism. Feminism shone, despite very few women actually being booked. Glasto's chief booker Emily Eavis insists that the line-up issue lies with the media, record companies, and radio. "The question of why there are so few women needs to be asked further back than us". Whether you agree with her or not, gender issues were inescapable at Glastonbury 2015. With such awareness of intersectional feminism, I predict a lot more women on next year's line-up.
If UK's line-up problem doesn't significantly improve, perhaps we should take a lesson from Patti Smith, Indira Roman, Kate Tempest, Feminism Without Borders, Venceremos, and finally, Pussy Riot:
"Every change begins with a riot."