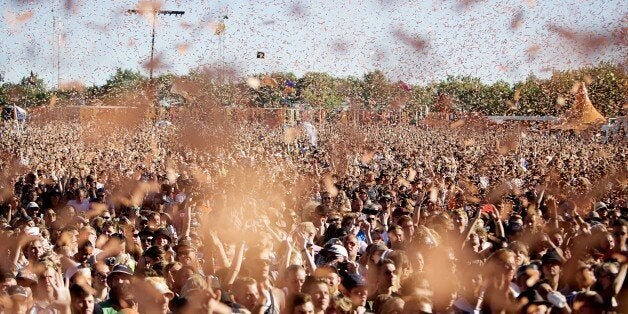 This summer I've managed to land a pretty sweet gig - traveling to three major European festivals and talking into a microphone as part of Red Bull TV's Season of Festivals. We kicked things off at Primavera Sound, a hipster mecca in the center of Barcelona, where around 195,000 people dressed entirely in black nodded their heads to some of the world's best bands. A perfectly programmed lineup, great weather, and no mud. It was great. And Radiohead blew my mind.
The second stop is Roskilde in Denmark, where I'm currently holed up in a porter cabin to briefly escape the musical madness. The lineup is brilliantly eclectic, with a range of urban acts from Skepta to Vince Staples, more rock than you can mosh a stick at, and a healthy smattering of electronica. It's a festival much more in the traditional mold - fields, mud, and a slight smattering of rain. It also has a huge temporary tented metropolis where an overwhelming bulk of Roskilde's 130,000 attendees spend a full week living. Dream City. It really is a city; everything is created by its inhabitants and it has a mayor, a fire department, and an array of elaborate architectural structures that bring the whole community to life. From pillow fights to foam parties, yoga sessions and dance battles - so long as it is sustainable, safe, and adds to the festival experience, anything goes.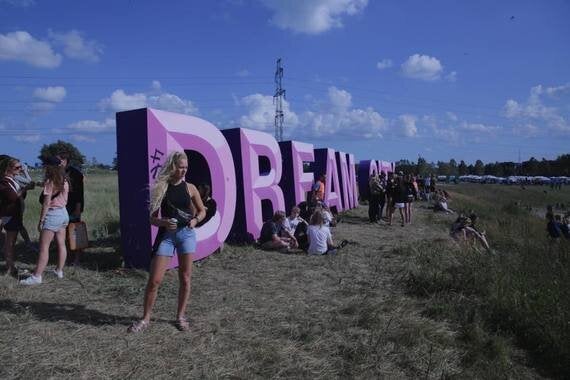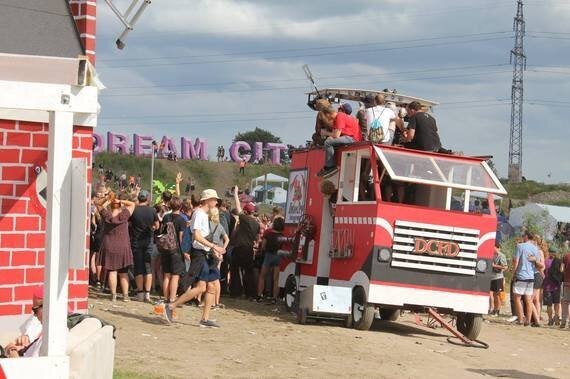 The best thing about the Dream City campsite is that it gives us an unrivalled glimpse into what life would be like on earth if a strange disease wiped out everyone under the age of 17, and over the age of 22. I may publish a full report later (watch this space Nobel), but for now I've outlined the three key findings from this post apocalyptic social experiment below, and I warn you it's pretty hard-hitting stuff...
1. People are prepared to drink their own wee (sort of)
At music festivals, people will unashamedly wee everywhere. When I say everywhere, I mean everywhere. You can be having a conversation with someone, of any gender, and the chances are they may just start weeing (not in their pants, that would be weird). Roskilde festival is aware of this tidal wave of wee, and are trying to harness it for the good of mankind by installing 'wee trees' around the site - effectively urinals attached to trees - which collect wee that then gets sent on to localfarmers to use as fertilizer for barley crops. This then eventually gets turned into beer and, presumably, consumed and turned back into wee at next year's Roskilde. And so the sustainability cycle continues.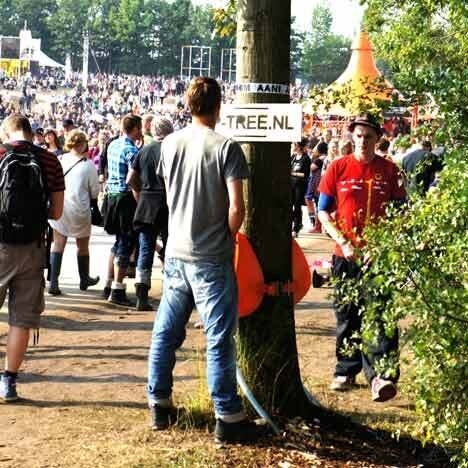 2. You won't necessarily need clothes
There's a naked run through Dream City ever year. It takes place on the Thursday afternoon. I got on site on Wednesday morning and looking around assumed it had already started...
3. People won't fight, they won't discriminate, they'll just hug each other. Lots.
On my wander round the site, the main thing that struck me was the feeling of togetherness, and acceptance. Each section of the camp has its own theme and vibe, from the 'Cuddle Camp' (self-explanatory) to the 'Unicorny Camp' which champions the presence of LGBTQ participants at Roskilde. There is no camp rivalry and everyone gets on. Dream City doesn't have an entrance criteria. There's no formally policed border. Freedom of movement is very much part of the freedom of everything else that this place prides itself on. I got the distinct feeling that if it was up to the citizens of Dream City, Brexit would probably just be a word used to describe throwing up after your morning meal, and nothing else.
So there you have it. Roskilde is an awesome festival with great music and a feel good vibe, but more than that it's a fascinating place to study an alternate reality. And if you fancy experience the liberating feeling of peeing where you stand whilst in full view of a gaggle of naked joggers, then 'urine' luck.
Catch all the action from Roskilde festival on Red Bull TV until July 3rd and Bestival September 9th - 11th