London is home to beaucoup de French people; about 300-400,000 in fact. That's wonderful news for the city's entertainment scene, as it means London's pubs, warehouses, theatres, and even churches are oozing with continental cabaret culture. Don't speak French? Doesn't matter: Most nights are heavy on the music, and anyway, French is a delight to listen to, even when you're clueless as to what's being said.
A couple of weeks back I was in the bowels of Heath Street Baptist Church in Hampstead for an evening of French jazz, courtesy of Lilly Zazou. Lilly, aka Elise Lefay is an extraordinarily accomplished mademoiselle, able to turn her vocal cords to anything from Piaf to Poulenc. Indeed, earlier this year, I was wowed by her rendition of La voix humaine, a stripped-down opera performed by one pianist, one singer.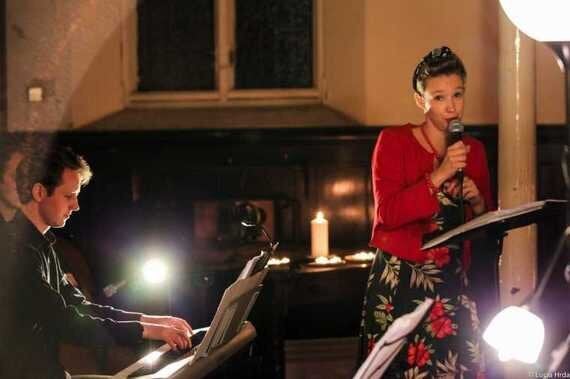 Backed by an accomplished trio of musicians, Lilly Zazou purred her way through standards like La Vie en Rose and Petite Fleur (it should be pointed out that not every song had a floral theme), while tables of punters clinked wine glasses and soaked up the atmosphere.
Great effort had gone into striking said atmosphere just right; the entire room was draped in old manuscripts and glowing in candlelight. The bar was stocked with a very decent selection of wines (another advantage of being at a French show), while a specially-appointed absinthe fairy dutifully fluttered from table to table serving glasses of the green stuff.
Lilly Zazou is a superbly-compiled, very affordable show, where you can gen up on your French music know-how, and get to speak with some of the city's French denizens in the process. More Lilly Zazou performances are planned for the near future. Keep yourself informed by joining the Facebook page.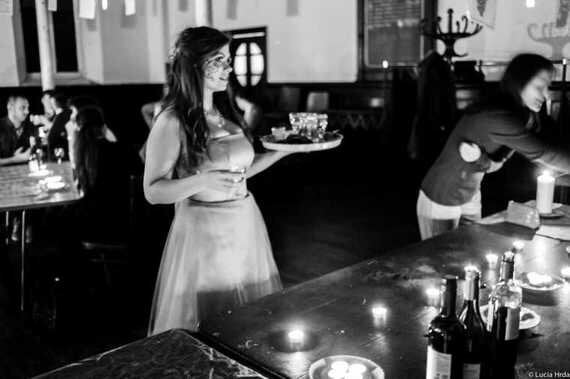 Lilly Zazou is one of a number of French shows in London that evoke an école vieille (probably not a genuine term) Paris. Here are two more that stand out from the crowd.
Soirée Pompette labels itself "ze French-tongue-in-cheek cabaret", and is a riotous carousel of music, bingo, burlesque and slapstick. Though it's French language, Soirée Pompette insists anyone will feel bilingual by the end of the night. The show is en vacances in Hove in November, but will no doubt return to London for a December spectacular. Stay posted here.
If you want to push the boat out, The Black Cat at Café Royal Hotel, Regent Street, has a Christmas residency on December 6, 7, 13 and 14. There are a few dinner packages to choose from, which accompany a show that "draws inspiration from the absinthe-soaked heyday of Montmartre's dark and daring cabaret underworld." The setting is achingly decadent too.