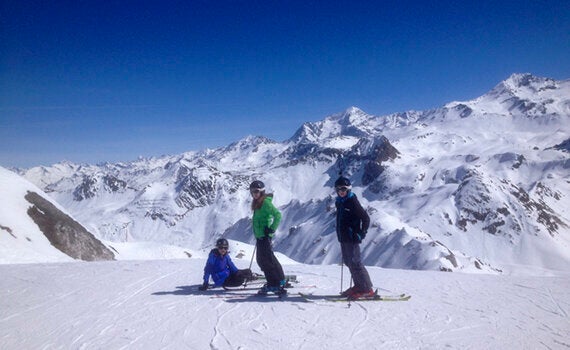 Choosing the right family ski resort is never easy. Before you know it, you're staggering through a blizzard of questions and conundrums. Does it have easy access to ski lifts and a diverse range of runs to suit everyone in the family? Do you have a baby who will need crèche facilities, or teenagers who will be bored senseless without a snowboarding half-pipe to practice their corkscrews? Does the resort have ski classes suitable for everyone's age and ability? Do the instructors speak English? Are there other activities available like ice-skating, bowling or an indoor swimming pool - Godsends in bad weather or if (shock horror) you discover that your children simply don't like skiing. Is the chalet or hotel accommodation suitable for children? What are the options for self-drive, flying or taking the train?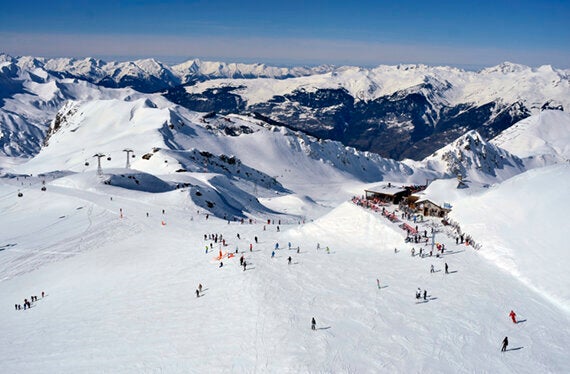 Last Easter, we think we might have found the perfect solution. Spread over a vast meringue-whip of peaks, glaciers and carefully tended pistes, La Plagne is part of Paradiski, the world's second largest ski area. Snow is guaranteed, with 70% of the runs above 2,000m. Paradiski's vital statistics are impressive: 121 lifts, 256 runs (37 black, 79 red, 128 blue and 12 green), two glaciers, 958 snow cannons and 133km of cross-country skiing trails.
We're not a serious skiing family: parents who hadn't been for 20+ years (and seriously doubting whether their knees were still up to the task), a 16-year-old son with a school ski trip under his belt (and an unnerving enthusiasm for red runs) and his twin sister - a complete novice, as keen on après ski as learning the basics of the snow plough.
At La Plagne you can happily ski all-day, every day on blue runs, crossing the valley on the Vanoise Express cable car to Peisey-Vallandry and Les Arcs if you wanted to. We stayed at Les Néréides, a block of compact but well-equipped self-catering apartments in Belle Plagne (2,050m) with views across the broad swathe of pistes beneath the Col de Forgle. You could walk out the front door first thing, put on your skis and not take them off again until you returned that afternoon.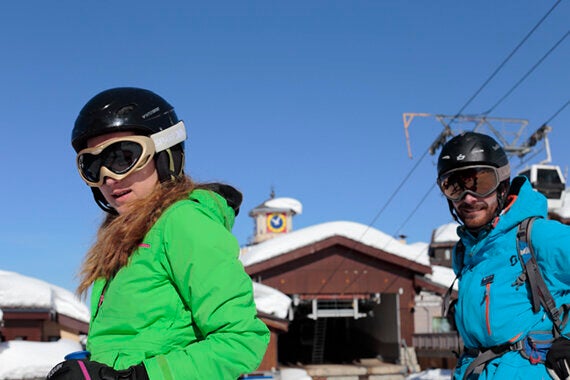 My daughter enrolled on a few mornings of ski lessons. The nursery slopes were a short slip-slide below our apartment and featured a 'magic carpet' lift - something of a relief to her after enduring various button-lift horror stories from her brother. We complemented her lessons with three days under the expert tutelage of Arnaud - a charismatic ski guide from the Oxygene Ski School.
Having a ski guide made perfect sense for us. Not only was Arnaud able to show us around the huge La Plagne ski area, but he could also give each of us tailor-made technique instruction as we went. His backpack bulging with a picnic and a bottle of wine, he led us on wonderful ski expeditions, crossing the 2,505m La Grand Rochette to explore the quieter slopes above Champagny-en-Vanoise, or delving into the forests around Montchavin and Plagne Montalbert. At lunchtime he'd find a picnic table in a natural suntrap or with a head-spinning view of the 3,417m peak of Bellecote.
With intensive one-to-one tuition, our skiing abilities quickly evened out, enabling us to ski more challenging runs as a family. Our favourite was Les Sources - a long, sweeping red run with a steep, adrenalin-charged mid-section between Roche de Mio and Belle Plagne.
During the week, my son notched up his personal speed record (don't ask) and mileage using Yuge, La Plagne's free smartphone app that also records where you ski and provides live updates on the weather, lift traffic and piste status.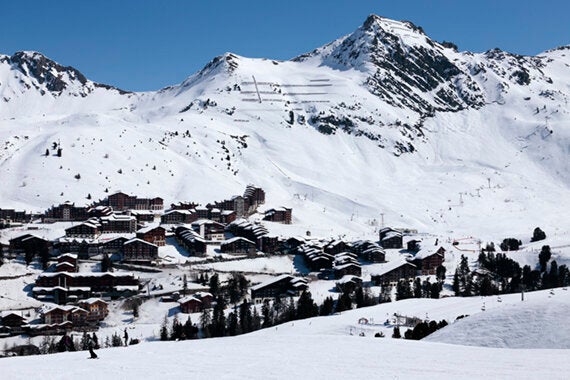 Self-catering was as easy as falling off a button lift. Although it's one of the smaller and higher places to stay in the resort, Belle Plagne has a well-stocked supermarket and an excellent pizzeria. For more variety, we walked down to Plagne Bellecote where restaurants served everything from steaks and frites to fondues and raclettes.
Ultimately, though, it's the range of activities on offer in La Plagne that raises it above other family resorts. You can take to the pistes on fatbikes, airboards or an inflatable dinghy, climb a 22m-high ice tower, strap on snowshoes or cosy up in an igloo. New activities this season include husky sledding for children as young as eight, plus a 600m-long zipwire from Plagne Aime 2000 to Plagne Centre with views of Mont Blanc as you 'fly' across the valley. For the ultimate thrill, don't miss La Plagne's 1992 Olympic bobsleigh run. Strapped into a four-person, self-braking bobraft, you reach speeds of 80km/hr as you're flung through 19 bends on the 1,500m course.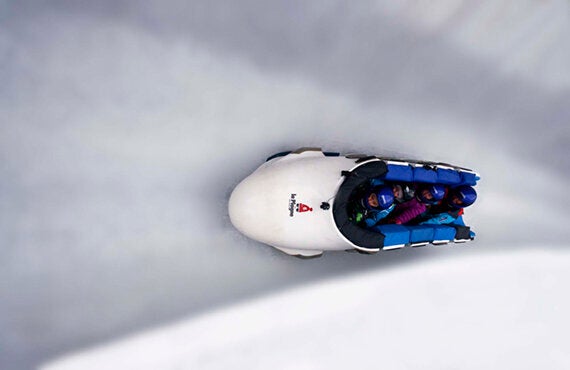 Related