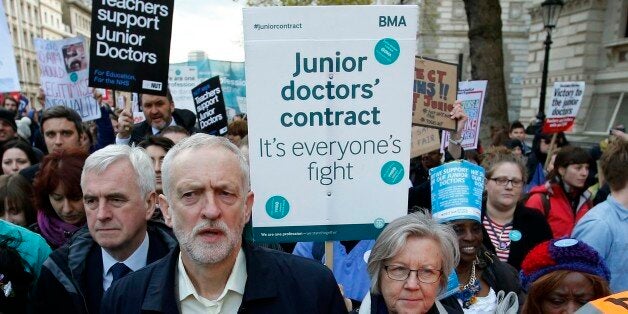 Austerity is the central public health issue of our time. For many of us working in the NHS, Corbyn's policies are just common sense.
Like all doctors, I hold myself accountable to a strong set of ethical guidelines. We treat everyone according to their clinical need, regardless of their background, beliefs or political persuasion. For some in the medical profession, that impartiality means that they can sometimes feel uncomfortable speaking out about politics. But for me, speaking out about what is happening to the NHS has become an ethical duty. My advocacy for my patients and for my medical colleagues impels me to do so.
I have worked in the NHS for the last 8 years. In the course of those eight years I have seen at first-hand how the NHS has been squeezed by austerity and privatisation. As a direct result of government cuts, the majority of NHS Foundation Trusts are in a perilous financial state. This is exacerbated in many cases by the financial millstone of PFI repayment - effectively a method of funneling public money into private pockets.
Acute medical wards, A&Es and GP practices all around the country are in crisis. There is a critical shortage of psychiatric beds, ambulances are delayed at an increasing frequency and NHS staffing levels are worryingly low. Our ability to discharge patients safely from the hospital back into the community is hampered by the inadequate social care available to our elderly and disabled patients. The Health and Social Care Act, passed in 2012, has accelerated the privatization and fragmentation of the NHS and removed the legal responsibility of Government to provide a comprehensive service to the people of England.
For staff, it is not just our ability to care for patients that is being compromised - it's our working conditions. Across the NHS, staff are demoralized and exhausted. The new contracts which Jeremy Hunt is attempting to impose on Junior Doctors are not about creating a seven day service - a task which civil servants believe is impossible without a massive increase in resources. It is about making exhaustion, inhuman working hours, and falling wages the new normal.
Austerity is the central public health issue of our time. It is a policy which is systematically tearing apart the safety net on which many of the most vulnerable in our society rely on. The policies being inflicted on the NHS - not just the work of one government, but the culmination of a political consensus over decades - are killing people. They are nothing less than a form of structural violence.
But this consensus is gradually being demolished. Over the past decade, a mass movement against austerity has grown and mobilised. Initially, it lacked the ability to translate strikes and marches into political clout, but last year it broke into the mainstream. Wherever you stand on the political spectrum there is no denying the fact that Jeremy Corbyn and the new leadership of the Labour Party have successfully challenged the idea of austerity. No longer can it be presented as an economic necessity - it is a political choice.
Without defeating austerity, and the mixture of ideology, corruption and spinelessness that allowed PFI to happen, we cannot save the NHS. It is for that reason that Jeremy Corbyn is the only leader who I trust as a doctor to not only defend the NHS but to make it the envy of the world. He, and John McDonnell, have stood with Junior Doctors on picket lines and braved the wrath of the press to speak at our rallies. They know what is at stake here.
Now, Jeremy Corbyn has backed up this sentiment with a raft of policies that will take the NHS back into public ownership. Echoing the demands of staff and campaigners, Corbyn and his team have backed the NHS Reinstatement Bill (a private members Bill which would reverse the Health and Social Care Act). They have pledged to end the privatisation of the health service and end PFI. And they will open up training to a new generation of NHS staff - by reinstating student nursing bursaries and abolishing tuition fees with a new National Education Service.
These policies won't just bring the NHS closer to its founding commitments, of being publicly funded, publicly provided, universal and free at the point of use. They will direct money right back into patient care. Without spending billions on PFI debt or wasteful deals with the private sector, NHS Trusts can spend it on beds and staff. Attracting more staff to the profession, with decent pay and working conditions, will enable the NHS to spend less on expensive agency staffing arrangements. And investing in a truly fair and well-resourced social care system - funding it properly and making it an integrated service - will enable hospitals to discharge patients quicker, freeing up beds and saving resources.
Jeremy Corbyn's policies are not "idealistic". They are deeply pragmatic and necessary. In medicine, we are trained to look at evidence. These are basic measures to secure the future of the NHS - and they are backed up by pretty much every piece of academic health research as well as the policies of all NHS trade unions, patient groups and campaigning groups.
So for me, as an NHS worker, the decision on who to back for Labour leader - and who to campaign for to get into government - is an easy one. I'm voting for Jeremy Corbyn.
Related