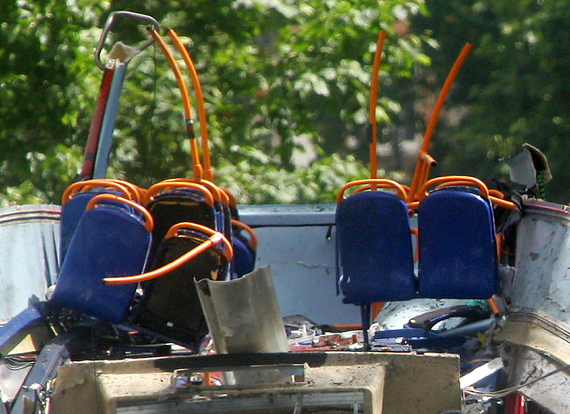 I remember 7/7 vividly; the atmosphere, the failed plot in the weeks to follow, the shooting down of Jean Charles de Menezes and the climate that took over in the months that followed. Today 10 years on from the devastation of July 7th 2005 we still haven't quite moved on from what took place and if our terror alert level is anything to go by we don't seem to be moving forward.
In the midst of summer in a city still elated from winning the 2012 Olympic bid, it was only hours later on the morning commute that the bombs took off. Following the 2003 invasion of Iraq according to security services a terror attack was inevitable here in the UK and it was just a matter of time. Suddenly here it was; London was under attack. London; the most cosmopolitan city in Europe, London's transport service which all parts of the community so heavily rely upon - the city which came out in force to oppose war. Our response, Londoners and the then Mayor of the city showed strength and resilience in the face of an attempt to break the spirit of London.
"Londoners will not be divided be this cowardly attack, they will stand together in solidarity" Ken Livingstone, Mayor of London (2000-2008)
Livingstone told all those who attempted to attack London's way of life and the freedoms experienced in the city that they would not be successful, but 10 years on; much has changed. Britain's response in policy to the devastation of that day has pushed a narrative in opposition to what we heard. Our freedoms coming under attack with legislation passed through parliament and enshrined as recently as last week a testament to the impact of 7/7. Counter terror laws calling for public servants to spy on others creating a climate of suspicion and mistrust. Clampdowns on speakers impinging on individual liberty and rhetoric which has been compared to McCarthyism fuelling the idea of problem communities. Following the attack, the strategy from the government to prevent terrorism, has been through tackling extremism. A theory which likens religious ideology to acts of politically motivated violence but this theory leaves out that terrorism is mainly about politics.
Bombers Mohammed Sidique Khan, Shehzad Tanweer, Hasib Hussain and Jermaine Lindsay, made their way from Luton that morning a decade ago, travelling into London to cause destruction. That day they set things in motion not just for their own families and the lives of their 52 victims and the families of those who lost their lives but all communities in the UK.
Looking at images of the victims on the number 30 bus, those from Kings Cross station and Edgware Road, young, old, men and women it's difficult not to imagine that it could've been anyone - in London you'll find everyone and in its victims on that day you see that. Less than two weeks on from an attack on foreign shores which left 30 Britain's dead our Prime Minister David Cameron has said we must become "intolerant" of extremist Islam in order to protect "the very things we stand for" . London after the bombing in 2005 came to a stand still. As we remember the victims of that tragic day we are also now dealing with measures which come from a climate of fear. The presumption of innocence has been lost and its value to society is now being measured.
I was in sixth form at the time, conscious of my faith and conscious of what made me and still makes me a Londoner. A decade on from 7/7 its a day that has and is shaping things to come for my generation as we all continue to feel it's consequences - but difficulties often prove to be the most testing of times, pushing you to make choices and the 7th of July 2005 was a difficult day for London.