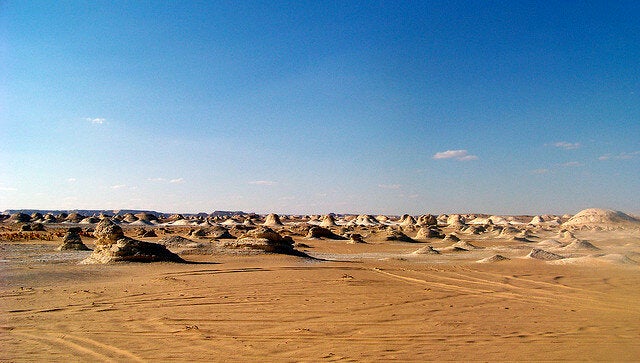 Sick of caravan holidays and cheap all-inclusive deals to European resorts? Do something different with your travels in 2013 and consider one of these more unusual suggestions for this year's holiday.
Containing many of the world's greatest wonders, North Africa is a great place to explore the desert. Join a tour that includes adventurous drives in a Range Rover or Land Cruiser across open desert plains and soak up the immense natural beauty of the sand. It's possible to camp out in the wilderness for a couple of nights with anything from hotel-standard set ups to straightforward tents, and you'll share the company of local desert folks like Bedouins in Morocco and Nubians in Egypt during your stay. It's truly an experience like no other.
Go on a spiritual retreat
Since the release of bestselling book Eat Pray Love and the subsequent film adaptation starring Julia Roberts, Indian ashrams have become all the rage. While travelling all the way to India to find God might not be as appealing or practical as it was for the central character in that story, planning for a spiritual holiday experience may well be. I love the look of La Muse Inn retreats in France which offers retreats for artists and writers. Their daily activities include Yoga and meditation as standard - what could be more relaxing than that?!
If you enjoy travelling by water and believe that the journey is just as important as the destination, a cruise may be the perfect option for you. There's an unfortunate myth that cruises are a holiday option that always cost a fortune, but this isn't the case anymore. Websites such as CheapCruises.com offer tools to find the best option based on your preferences and chosen dates, making the process quick, simple and painless.
Do you feel devilishly inspired when you watch David Attenborough travel the world in search of exotic and endangered animals? If so, a trip away to meet some of these wonderful creatures might be the right way to go this year. Safaris, particularly in Africa, are becoming evermore popular, with many companies offering competitive pricing to stay ahead of the game. If you'd prefer an icier experience, a trip to Lapland in Finland or another chilly location in Scandinavia would be a good choice.
The truly wonderful Oh Comely Magazine ran a feature called 'Hometown Tourist' towards the end of last year, and it was incredibly inspirational both in sentiment and execution. It aimed to encourage people to appreciate their own hometown in new ways. Consider following their example for your holiday this year, and stay where you live rather than disappearing abroad. Take the week off from work and explore your region or a surrounding area with fresh eyes; the monuments, artistic offerings, restaurants and more. You'll fall in love with your home location all over again.
For more lifestyle posts including travel, food, beauty and home, visit Lauren's blog Take on the Roadby clicking here.