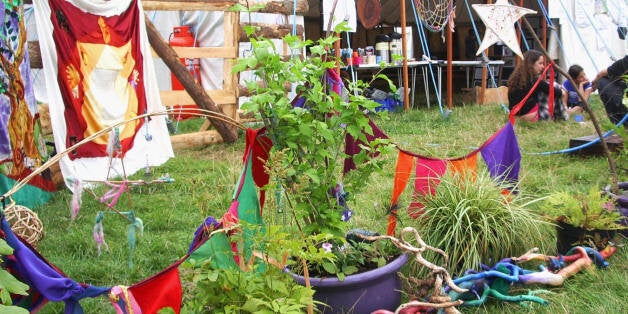 In ancient times, life for the common person could be a struggle. Well-being of the individual and the family depended on growing enough crops, the survival of the family's livestock, and getting through the winter. Although the origins of the first festivals across the world vary they have always been a natural part of living in communities that must weather the seasons together. The festival began as a time of celebration that brought people together to feast, drink, be merry and rest after a period of struggle. Festivals were also usually linked to agricultural, solar or lunar events, for example it was common to feast after the harvest, when the hoard was plentiful and bellies could be filled while people reconnected with one another after a season of hard work or after a long winter. In many cultures it was common to celebrate the return of the light to mark the passage of winter, to mark the rebirth of the sun, or to offer rituals to the sun to entice it to return. It was often traditional to give gifts, role play, or reverse roles, for example the ancient Romans allowed slaves could become masters for a few days, while the masters acted like slaves. In addition to role-playing, the festival was also useful for providing entertainment, and traditions and storytelling were a large part of this. At many festivals candles were lit, fires burned, stories were told, and hearts were warmed.
At the modern-day festival, these traditions have not petered out altogether. At some point in the history the traditional festival was co-opted by religious ideology and glossed over with Christian interpretations, and was changed significantly in essence. However, there are still festivals today that work from the old principles of bringing people together and being good to one another, and although older people complain that many festivals have become commercial affairs rife with advertising and aimed only at making money, I can name at least one modern festival that still holds true to those original principles of community, connection, and the celebration of pure human joy.
The Green Gathering is the festival I'm talking about. While winter gatherings traditionally served to ward off the 'winter blues' and the lack of light, this summer festival aims to bring people together at the height of the sun's reign. This is more than just a sustainable festival. The Green Gathering is certainly off-grid; the electricity is powered by wind, sun and people-power, and environmentally destructive biofuels are nowhere to be seen. The festival has an educational focus to teach festival-goers how to make their own lives more sustainable, a recycling crew who provide more different bins than any other recycling firm, wood-fired showers and food stalls that centre around fair trade feasts. But above all the festival is about community, about bringing people together to tell and hear their tales.
The Green Gathering began as a series of peace camps in the 1980s, but although it has increased in popularity year on year, the aim of the festival is to serve the people. Now the site capacity is 5,000 people, despite having a 20,000-strong attendance in 2007. When The Green Gathering started up again in 2011, a decision was made by the organisers to go 'back to its roots' and start small. Festivals used to be about community, about bringing people together to tell and hear their tales, but when they get too big the chance for connection can be lost. Behind-the-scene organiser Hazel tells me that 'a festival...can be so much more than just a party in a field. A festival like The Green Gathering gives us space to experiment with alternative forms of community, energy and infrastructure. It's great for discovering like-minded people, for forging creative partnerships...It's a glimpse of how we could organise and live differently - this is the joy of festival, and it has repercussions beyond festival.'
The Green Gathering is about a lifestyle that many of us wish to have. The 'good life', if you will. A way of living that centres around community and co-operation, permaculture approaches to life's problems, discussing solutions to social issues, changing the way we interact with our environment. The stereotyped idea of only old-school hippies attending such gatherings is an outdated one; at this festival you can learn about the latest innovative green technology alongside taking part in modern hobbies such as crafts, composting, recycling, cycling and upcycling. It's also a place to enjoy storytelling and tell stories, make art and watch performances, or become performers. These are all traditional forms of festival entertainment designed to lift the soul, accompanied by traditional ways of feasting, on real food and drink, under the open sky in a natural woodland. This is a festival to end all harvest festivals, a summer carnival to end all carnivals. People say that The Green Gathering is a family-friendly festival. I say that The Green Gathering is the people's festival.
Aside from all of these aspects, of all of the things on offer at The Green Gathering, Hazel tells me that almost overwhelmingly, what festival-goers say they're wowed by is 'the people': 'there are a remarkable number of highly skilled, creative, authentic, collaborative, generous, beautiful people who choose this as their must-go-to festival. And it's a really friendly festival, so there's chance to get to know and learn from and share with these fabulous folk. What's best to hear - and it is heard quite frequently - is "It's inspirational, transformative" or "The Green Gathering changed my life".'
The festival's tagline is 'beyond hedonism', because it's ethos is about bringing people together to tell and hear their tales, to craft a better way of living. The aim at this gathering is not to lose your head, but to gain it. So go along, and feast on the freedom - it might just change your life.
The Green Gathering will take place from the 31st of July to the 3rd August this year in Chepstow, Wales.