Violence towards refugees and migrants travelling into Europe has been on the rise since the borders of Europe closed and individuals and groups have been forced to find alternative routes across the borders.
Closing the borders of Europe has not meant the end of a European refugee crisis. Thousands of people are still trying to make the journey into Northern Europe from Greece. However, the journey has now become much more dangerous and difficult. Violence inflicted on refugees trying to cross Macedonia to the north of Greece is incredibly common, but still many individuals and groups attempt the journey.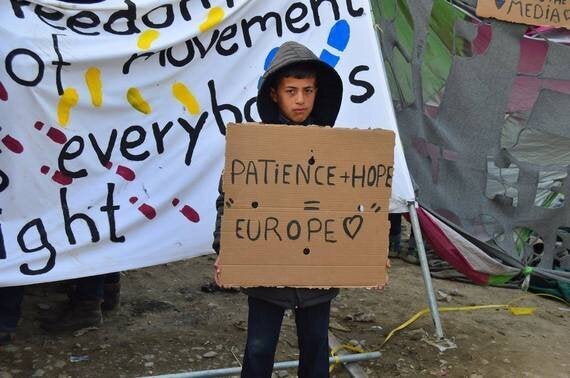 Last year, 2015, and into the beginning of 2016 saw a huge number of people crossing from Turkey into Greece and onto the Balkan route to Northern Europe. In the month of October alone over 211,000 people seeking refuge entered Greece by boat (data.unhcr.org). The majority of new arrivals would take a ferry to mainland Greece and being the overland journey, by bus, train, taxi and on foot through Macedonia, Serbia, Croatia, Slovenia and into Northern Europe. However, Europe wasn't going to stay welcoming forever and on the 8th March 2016 the border closed, locking thousands in Greece.
By the middle of March over 55,000 people had become stuck in Greece, and over 14,000 were in the Northern province on the border with Macedonia. The small village of Idomeni on the Greek-Macedonian border had been the first official crossing point for refugees and migrants heading to Europe. When the border closed many people, unsure of their options, moved to Idomeni and the surrounding areas in the hope the closure was temporary.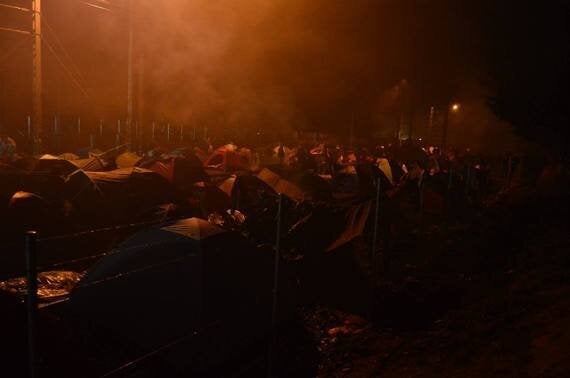 The gates stayed closed. Furthermore the European Commission issued an additional 10million euros to 'help [FYROM] deal with the refugee crisis' (europa.eu, 15.02.2016), and extra controls were put in place to guard the border. Specialized border control personnel were brought into Macedonia from Austria, Hungary, Croatia and Serbia, as well as high visibility- infra-red cameras and a second 26km long 10foot razor-wired fence.
Many were prepared to wait, deterred by the extreme measures of border control. But desperation, terrible living conditions, lack of food and medical care and opportunity to leave meant many attempted to cross the border regardless of the closure.
Smugglers charge between $800 and $1000 per person to get across Macedonia to Budapest or between $1700 and $2500 to reach Germany or Austria. Or for those without money the journey consisted of walking over 200km from Idomeni, Greece to the next reception centre in Presevo, Serbia. However, not only is it dangerous to cross because of extreme weather, lack of food and water, mountainous terrain, smuggler corruption and the distance, many people are subject to violence at the hands of the Macedonian authorities and 'pushed- back' illegally into Greece.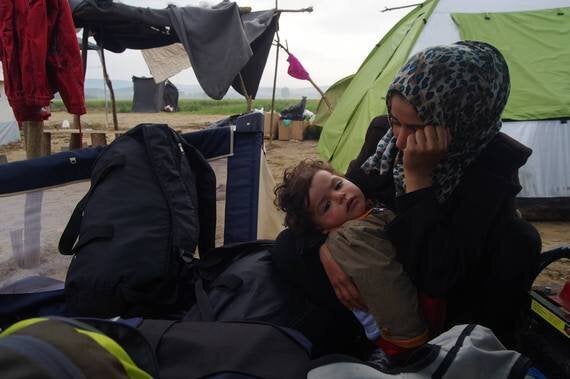 Individuals pushed back are often scared to talk about their experiences but some are keen for their stories to be heard. Said Mrasrs (name changed for protection), attempted to cross Macedonia but was violently pushed back to Greece where he shared his story with me.
Said is from Morocco and had been in Greece for about 3 months before he attempted the journey. When he arrived to Greece in December of 2015 the borders were already shut to Moroccans. He moved up to Idomeni in the hope of trying to cross, but was caught by the police and put into detention for 2 months. Upon release, determined not to remain stuck in Greece, he returned to Idomeni in the hope of trying again.
For a couple of weeks, he lived in a forest about 5km outside the main camp of Idomeni, waiting for the right moment to cross. On the 21st March 2016 he set off with a small backpack stuffed with water and food. He walked for over 30 hours before stopping to rest in an abandoned bus in the small town of Strumica. Security officers saw him and told him he could rest there for a while, at which point he got into the bus. Not long after he stopped, the police arrived and removed him from the bus.
From the bus station he was taken immediately to the local police station for questioning. He was asked where he was from, at which point he presented a set of fake Syrian papers, acquired before leaving Greece. Instantly the papers were recognized as fake and confiscated. After more questioning regarding where he was from, why he was there, who he was with and how he entered Macedonia, he was transferred to the official government refugee camp in Gevgelia.
Forced to stay in Gevgelia, he was unable to return or continue.
The Gevgelia camp is run by the Macedonian army and a couple of official NGO groups. After two days of waiting in camp he heard from friends in Greece that they were going to attempt the journey across Macedonia. He wanted to return in order to join them and try again.
Approaching some of the military officers on camp he asked to be allowed to return to Greece. Said was then taken by an officer to a room located inside the camp and beaten. He was told to put his arms up by his face, the officer proceeded to punch him in the stomach and chest; he was also beaten around the face.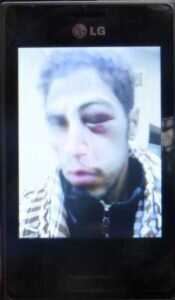 Told he had no right to ask questions, he states: 'I was treated like an animal'.
Following the abuse, he was taken out behind the room and told to wash his face, rearrange his clothes and tell no one about the beating. After he straightened himself up he was escorted by military to the border fence and told to leave.
Once back in Greece he took refuge in the forest and has remained in hiding ever since too afraid to try again.
This is not an isolated incident. Many individuals attempting to cross Europe have been heavily beaten at the hands of those in authority. More of these stories based around the Greek-Macedonian border are recorded on unreportedpeople.eu, however this is only a small selection from one of many borders.