The leader of Libya's National Transitional Council has declared Muammar Gaddafi's rule "at an end" as rebel fighters stream into Tripoli.
"God has chosen that Gaddafi end should be at the hands of these youth, so that they may join the Arab uprising. I declare that Gaddafi's rule is at end" Mustafa Abdul Jalil told a press conference in the eastern stronghold of Benghazi.
He said the Libyan leader would be given a fair trial "but I have no idea how he will defend himself against the crimes he has committed against the Libyan people and the world".
Rebels and Nato are unaware of Gaddafi's whereabouts, Jalil and Western leaders said on Monday, but heavy fighting was reported outside his compound in Tripoli.
Jalil also confirmed Gaddafi's sons Muhammad and Saif al-Islam had been captured by fighters, after a prosecutor at the International Criminal Court (ICC) said they had been detained.
The ICC said it would contact rebels to discuss the handover of Saif al-Islam, Gaddafi's eldest son, who is wanted for crimes against humanity.
The comments came after prime minister David Cameron insisted that Libya was on the road to "freedom and democracy" but warned there was no room for "complacency".

Libyan rebels have been met with little resistance as they flood into Tripoli, media outlets have reported, with some pro-Gaddafi forces surrendering.
But Sky News said clashes were being witnessed around Gaddafi's compound and the Rixos hotel, where many journalists are holed up.
It added that significant numbers of rebels had been killed in fighting.
Earlier Colonel Gaddafi earlier urged his supporters to take up arms against rebel "rats" as he continues to cling on to his 41-year reign.
Western leaders have called on the dictator to stand down to avoid further bloodshed, with Cameron urging Gaddafi to "give up any claim he has to control Libya"
"His regime is falling apart and in full retreat. Gaddafi must stop fighting, without conditions - and clearly show that he has given up any claim to control Libya," the prime minister said on Monday.
Franco Frattini, the Italian foreign minister, said Gaddafi's "time was up".
"The time is up. There is no alternative to surrendering and handing himself in to justice," he said.

08/29/2011 8:31 PM EDT
Witness Says Gaddafi Troops Killed Nearly 150 Prisoners
CNN reports:
Muneer Masoud Own, 33, who made a living doing manual labor, said forces loyal to longtime Libyan leader Moammar Gadhafi slaughtered nearly 150 prisoners as rebels closed in on Tripoli last week.

Charred bodies littered the ground around a warehouse -- roughly 30 feet by 45 feet -- where the detainees were kept. A volunteer who helped remove them, Bashir Own, estimated that he had seen about 150 bodies. He is not related to Muneer Own, who said he barely escaped an ordeal that started about a month ago.
08/29/2011 6:02 PM EDT
Prayer In Benghazi
Dozens of Libyans perform the last late afternoon prayer of the Muslim holy month of Ramadan at Freedom Square in the eastern Libyan port city of Benghazi on August 29, 2011.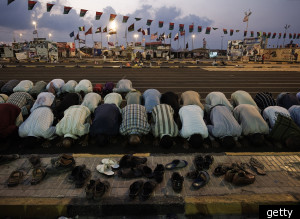 08/29/2011 5:01 PM EDT
Gaddafi Intelligence Chief May Be Killed
Libya rebels claim to have "almost certain information" that Gaddafi's intelligence chief was killed.
| | |
| --- | --- |
| | @ Reuters : FLASH: Libya rebels have "almost certain information" that Gaddafi intelligence chief killed on Sat. -Spokesman tells al-Arabiya TV |
08/29/2011 3:40 PM EDT
Rebel Commander Speaks On Khamis Gaddafi
The rebel commander in Tripoli Al Mahdi Al Haraqi told Reuters that he had confirmation that Khamis Gaddafi has been killed in a clash near Ben Walid.
Reuters writes:
He was taken to a hospital but died of his wounds and was buried in the area, Al-Haragi said, without giving the timing. No independent confirmation of the death was available.

A U.S. official, speaking on condition of anonymity, told Reuters the United States could not yet independently confirm Khamis' death but said similar information was being received in Washington from "reliable sources."
Rebels claimed twice before Khamis Gaddafi was killed.
08/29/2011 3:15 PM EDT
NTC Considers Sheltering Of Gaddafi Relatives An Act Of Aggression
Libya's National Transitional Council reacted strongly on the message that relatives of Gaddafi would have arrived in Algeria, Reuters reports.
A spokesperson for the NTC said it considers sheltering members of Gaddafi's family an act of aggression.
"We have promised to provide a just trial to all those criminals and therefore we consider this an act of aggression," spokesman Mahmoud Shamman told Reuters.
"We are warning anybody not to shelter Gaddafi and his sons. We are going after them in any place to find them and arrest them," he said.
08/29/2011 2:42 PM EDT
Khamis Gaddafi Reportedly Killed -- Again
A rebel commander in Tripoli claims Gaddafi's son Khamis has been killed in clashes in southern Libya.
Khamis was claimed killed twice before.
| | |
| --- | --- |
| | @ Reuters : FLASH: Gaddafi's son Khamis killed in clashes in southern Libya -Rebel commander in Tripoli |
08/29/2011 2:35 PM EDT
ENI Reaches Agreement On Gas Export
AFP reports Italian energy company ENI reached an agreement with the Libyan National Transitional Council to take up gas supplies to Italy.
08/29/2011 2:12 PM EDT
Libya Rebels Seek Extradition Gaddafi Family
Libyan rebels they seek the extradition of Gaddafi's family members who fled to Algeria.
| | |
| --- | --- |
| | @ Reuters : FLASH: Libya rebels say will seek extradition of Gaddafi family from Algeria |
08/29/2011 2:07 PM EDT
Sky News Reports Gaddafi's Son Has Been Killed
Rebel commanders say Khamis Gaddafi, one of Colonel Gaddafi's most feared sons, has been killed in an air strike south of Tripoli.
08/29/2011 1:15 PM EDT
Algeria Confirms Arrival Of Gaddafi Relatives
Algeria confirms two of Gaddafi's sons, his daughter Aicha and his wife are in the country.
| | |
| --- | --- |
| | @ Reuters : FLASH: Algeria confirms two of Gaddafi's sons, wife and daughter are in the country - Al-Jazeera TV |
SUBSCRIBE TO & FOLLOW UK DAILY BRIEF