John Galliano: Fashion Designer Guilty Of Anti-Semitic Insults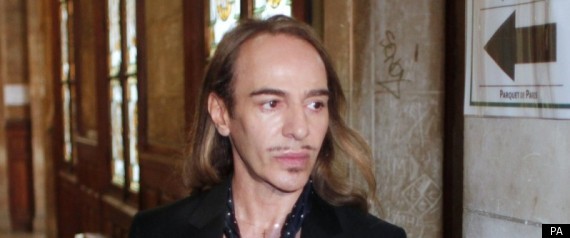 A French court has convicted John Galliano for racist and anti-Semitic slurs, handing him a suspended fine of £5,245 (€6,000).
The fashion designer, who did not attend the proceedings on Thursday, verbally abused a woman in a Paris restaurant in October and a couple at the same restaurant in February. He previously admitted to the insults, blaming his behaviour on addictions to drugs and alcohol, but denied allegations of racism and said he had "no recollection of the events."
The court found him guilty of "public insults based on origin, religious affiliation, race or ethnicity", having subjected 47-year-old English language teacher Fatiha Oummedourto to a series of insults in the Cafe La Perle cocktail bar.
A similar incident occurred in February when the designer verbally abused 35-year-old museum curator Geraldine Bloch and 41-year-old Philippe Virgitti. He told Ms Bloch that she had a "dirty Jewish face".
Following a further outburst at the same restaurant, which was captured on video and widely circulated, Galliano was fired from his job at fashion house Dior.
Following the verdict, Galliano's lawyer said: "There will not be any fine to be paid and it is a fair and wise decision by the tribunal. Mr Galliano wants to apologise and he continues his treatment to be cured."