Financial Crisis Leading Farmers To Build 'Mega Dairies'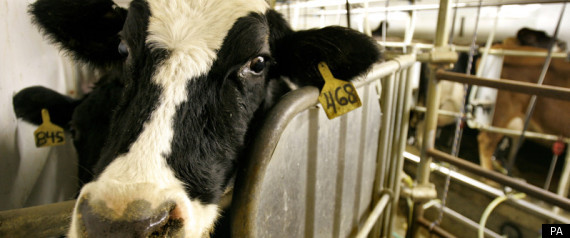 A move towards milking cows in intensive American style 'mega dairies' would be bad for farmers' incomes as well damaging for the welfare of cattle, animal rights campaigners have warned.
The World Society for the Protection of Animals (WPSA) is worried that tough economic conditions are leading British farmers to shun the traditional practice of letting cattle graze outdoors.
In a report published on Friday the WSPA encourages farmers to go "back to basics" by adopting a pasture-based system rather than keeping their herds indoors, and using different varieties of cattle that may produce less milk each day but live longer and healthier lives.
There are now just 15,000 dairy farms left in the UK (11,000 in England and Wales) – down from almost 30,000 ten years ago.
The campaign is backed by Dragons' Den investor Deborah Meaden, who said any move towards intensive milking was based on "high risk economic guess work".
"The British dairy industry is in crisis. Ordinary farmers are being railroaded into thinking that bigger is better and they must go intensive to survive," she said.
"Not only is it wrong for farmers, the countryside, consumers and for cows, but it is based on unsustainable principles and high risk economic guesswork. WSPA is proposing a viable, alternative business model. I hope that it gets the attention it deserves before it's too late, and this crisis becomes an irreversible calamity."
The WSPA is urging consumers to support the campaign by refusing to buy milk produced by intensive farming, much like the campaign against battery farmed hens.
But DairyUK, the body that represents the interests of dairy farmers, said they believed there was room within the UK milk pool for different types and sizes of farm, depending on factors such as the geographical location of the farm, the production system favoured by the individual farmer.
"The health and welfare of cows is paramount, regardless of the size of farm. For cow welfare, good stockmanship and management are more important than the size or type of farm," a spokesman said.
"Because of our weather, most dairy cows in this country already spend up to half the year indoors. There is no evidence that cows that spend longer periods inside have poorer standards of welfare.
A spokesman for the Department for Environment, Food and Rural Affairs (DEFRA) said that it was not the government's job to tell farmers how to look after their cattle as long as they were meeting the right animal welfare requirements and were not causing any environmental damage.