Rapper Wretch 32: I Wouldn't Want My Kids To Go Through The Violence Of My Past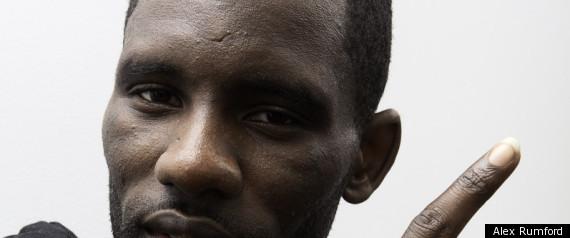 The chart-topping rapper Wretch 32 has pledged his support for a new campaign to educate young people about the consequences of violence.
Wretch 32, real name Jermaine Scott, is no stranger to violence, having witnessed it first hand growing up. His father took part in the 1985 Broadwater Farm estate disturbances and he went to school with Mark Duggan, the man whose death sparked the riots in the UK last month.
In an interview with the Huffington Post UK, the 26- year-old from the notoriously violent Tiverton estate in Tottenham, North London, explained why he was supporting the Stand Against Violence initiative.
"There's been so many violent experiences in my background, from school to right the way up. It's beyond what happens in Tottenham. I wouldn't want my kids to go through anything like that, so I look at it from a different perspective."
The campaign hopes to educate the younger generation about the devastating effects of violence through a documentary film which tells the story of Lloyd Fouracre. The 17-year-old was killed in a random attack in Taunton the day before his birthday. Adam Fouracre, the victim's brother, teamed up with Scott to try and publicise the of the consequences of violence.
"I turned to focus on education because young people are the next generation", Fouracre told the Huffington Post UK.
"If you want to make a difference you need to try and get through to them, encourage them to make the right choices and then hopefully that will then in turn affect society. The idea was to look at education, try and raise awareness of the consequence of violence and get people to think before they act."
Scott emphasised the importance of education in changing society and what he felt could be done in schools to help prevent violence.
"In schools there's a lack of role models. The kids need to understand for every action there's a reaction and possibly a consequence. I feel like they really need to understand that for any violent thing that they do do, something can happen.
"Without schemes like this, they aren't necessarily being told and they are at a very impressionable age. At that age, you kinda do your best and you do your best until you know better. It's about giving them awareness."
The Stand Against Violence film documents Lloyd's life from toddler to his teenager, and his sudden death. It focuses on the effect his murder had on his friends and family, and the pain that continues to haunt them.
Speaking of what he thought of he film, Scott said:
"What happened with Adam's brother could happen anywhere, it could happen on your doorstep it could happen in Tottenham or where Adam's brother is from in Taunton."
"I am sure people are going to react positively to seeing the footage. For me it was important as a human. I mean forget the music and the artists. It is important to watch as human being."
A number of campaigns have sprung up in the wake of the riots, attempting to champion the positive role young people play in society. One of them - a name and fame young people Facebook group that aims to get people talking about the good that young people do, was a "good cause", Scott said.
"What that shows me is that there are people who are willing to say 'hang on, I'm not into what's going on here'. It shows that there are people on the same page as us."