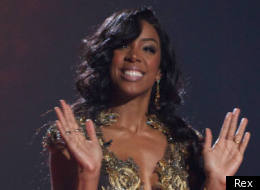 X Factor fans have called Kelly Rowland's behaviour on last night's final show into question, even taking to Twitter to express their concern.
The Destiny's Child singer appeared unusually animated as she told Marcus she was "in love with him" and wished Little Mix a "Merry Fricking Christmas".
Rowland, who's amused viewers with her feedback on acts throughout the series, went one step further last night and fans begun to question whether she'd over-indulged in the green room.
One tweeter wrote:
@SimonThomasSky

Simon Thomas
Anyone else think Kelly Rowland is a little bit wired tonight? Think she may have over indulged in the Green Room
#XFactor
Another said:
@trevsocceram

Trevor Giess
Kelly Rowland sounds like a drunk woman. "happy frickin xmas, I love your jumpers". Excellent analysis there.
Later in the show, she broke down in tears as Little Mix performed their rendition of Silent Night. Her appearance on ITV2 spin-off show Xtra Factor also raised eyebrows, when she danced in the studio for an interview with Caroline Flack and Olly Murs.
The judge, whose acts had all been eliminated by the final, showed support for Marcus Collins and Little Mix throughout the show, but some tweeters commented that it was insincere:
@dsrealitybites

Reality Bites
Looking at the judges tonight, Kelly Rowland has to be best best to leave next year. She looks like she couldn't give a hoot.
#xfactor
#xtra
UPDATE:
However, Rowland took to Twitter to deny allegations that she was drunk, she wrote:
@KELLYROWLAND

KELENDRIA ROWLAND
Nice try, but I wasn't under the influence, in ANY way..........just overwelmed by the crowds cheers!
What was your choice moment of this X Factor series? Choose your favourite from our Top 15 highlights.
What will victory bring Little Mix? We check on previous winners' fortunes, or lack thereof...
See the best of the X Factor finale in our Slideshow below...