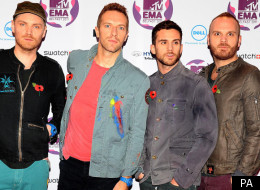 Chris Martin has been hanging around with Jay-Z too much - the mild-mannered rocker has hired a bevy of babes to bare their breasts in Coldplay's next video.
The frontman is more renowned for walking along drizzly beaches in a plastic mac then flirting with floozies in his band's promos, but he will appear alongside a series of girls who are daring to bare in the video for new single Charlie Brown.
In a move favoured by rappers, Chris Martin and company have paid £200 to women who are willing to strip off for the warehouse rave-themed shoot.
Wanting the video to have a real cool vibe, the band also hunted down those elusive "edgy types" as well.
Speaking to The Sun, an insider explains: "There was a huge response. Of course there would be, it's Coldplay. The venue it took place in was a little chilly but, on the whole, everyone was well looked after.
"It was a long one though, starting from 9am to just before midnight over three days. The video is going to look brilliant once it's finished."
(WENN)