'TOWIE's Maria Fowler Shows Off Tulisa-Style Tattoo
As if one person doing a stupid arm salute wasn't enough, there's now another celebrity who is starting to annoy us with the gesture.
The Only Way Is Essex's Maria Fowler showed off her Tulisa style inking on a night out in London last night.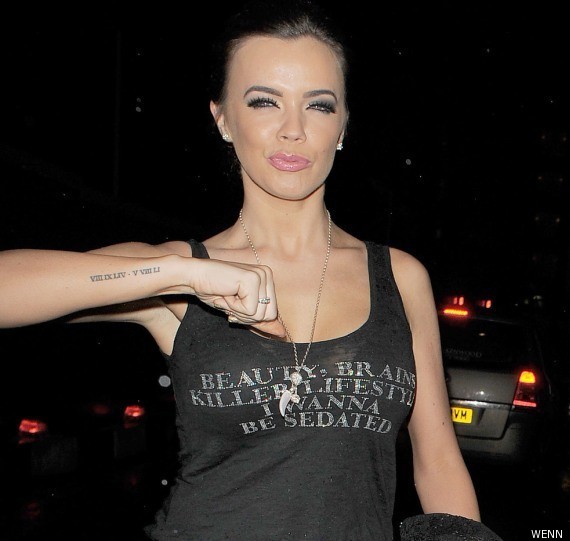 Displaying her new tat on the side of her arm, the reality star posed just like the X Factor judge does at the start of each show.
Well they do say imitation is the biggest form of flattery.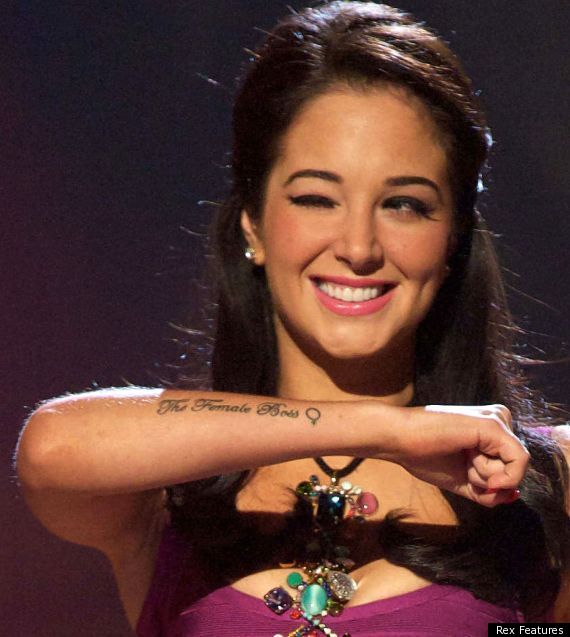 Maria's tattoo doesn't say something quite as ridiculous as 'The Female Boss' though, instead she has a cryptic series of Roman numerals etched on her arm, which read 8,9,54 and 5,8,51.
But pulling that pose makes us think that perhaps she's after a career as a Tulisa impersonator. Well she does need something else to do now, if the rumours about her being axed from TOWIE are true.
WHO'S TAT IS THAT? GALLERY

Loading Slideshow
Tattooed Celebs

This lady wasn't allowed a tattoo when she was younger... (credit: Big Pictures)

Tattooed Celebs - Sarah Harding

Sarah Harding (credit: Big Pictures)

Tattooed Celebs

Sunshine n' showers? Only at the weekend... (credit: Big Pictures)

Tattooed Celebs - Frankie Sandford

Frankie Sandford (credit: Big Pictures)

Tattooed Celebs

We think they're meant to be doves but they look more like pigeons to us. Well, you can take the girl out of Croydon... (credit: Big Pictures)

Tattooed Celebs - Kate Moss

Kate Moss (credit: Big Pictures)

Tattooed Celebs

The owner of these wings hasn't always been angelic... (credit: Big Pictures)

Tattooed Celebs - Kelly Osbourne

Kelly Osbourne (credit: Big Pictures)

Tattooed Celebs

Well she's definitely a star - and that blonde hair might be a bit of a giveaway... (credit: Big Pictures)

Tattooed Celebs - Sienna Miller

Sienna Miller (credit: Big Pictures)

Tattooed Celebs

This leading lady has more tats than kids - and that's saying something! (credit: Big Pictures)

Tattooed Celebs - Angelina Jolie

Angelina Jolie (credit: Big Pictures)

Tattooed Celebs

We wont be putting this body art through to the next round. Sorry pet. (credit: Big Pictures)

Tattooed Celebs - Cheryl Cole

Cheryl Cole (credit: Big Pictures)

Tattooed Celebs

This former wild child has more than one piece of body art in her collection... (credit: Big Pictures)

Tattooed Celebs - Drew Barrymore

Drew Barrymore (credit: Big Pictures)

Tattooed Celebs

This star is rapidly running out of space for any more tattoos. Better not have any more kids then. (credit: Big Pictures)

Tattooed Celebs - David Beckham

David Beckham (credit: Big Pictures)

Tattooed Celebs

We've no idea what this means but we really hope it translates as 'two pints and a hot pot please love'. (credit: Big Pictures)

Tattooed Celebs - Kym Marsh

Kym Marsh (credit: Big Pictures)

Tattooed Celebs

We wonder if this little princess's daddy knows about her love heart tattoo? (credit: Big Pictures)

Tattooed Celebs - Nicky Hilton

Nicky Hilton (credit: Big Pictures)

Tattooed Celebs

That'll be 'Rebel Flower' then. Quite appropriate we reckon. (credit: Big Pictures)

Tattooed Celebs - Rihanna

Rihanna (credit: Big Pictures)