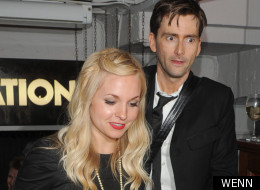 Doctor Who star David Tennant is reportedly set to wed girlfriend Georgia Moffett in a private ceremony today.
The Daily Mail reports that the actor will marry his former Doctor Who co-star in a New Year's Eve ceremony in London later today.
A source revealed to the paper details of the intimate ceremony: "David and Georgia can't wait to get married, they are madly in love.
"They have tried to keep everything quiet and the wedding is for family and closest friends only."
Georgia played David's daughter in the sci-fi series and she is also the real life daughter of former Doctor Peter Davidson, who is a big fan of David's - both personally and professionally.
The pair both starred in a special Children In Need edition of Doctor Who, where their versions of the character came face-to-face.
"It's great because David is a genuinely nice guy – and also a very fine Doctor," he told The Telegraph in January.
David proposed to the actress in January, and they welcomed their first child together in April - a baby girl who they named Olivia.
Georgia already has a nine-year-old son from a previous relationship, who she gave birth to at 17.
But once the couple are wed, we could expect to see more little Tennants running around, as David has previously spoken of his desire to have a big family.
Before the birth of his daughter, he told the Metro: "It feels an important thing to do and I'd hate to miss out on it. I'm only 38 but my parents had had three kids by this age and I have had none yet."
CELEB REVIEW OF THE YEAR 2011