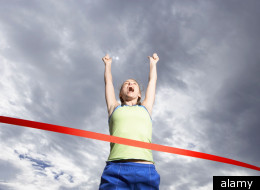 If you've made any New Year's resolutions for 2012, the chances are you've broken them already. New research shows that the average person lasts a measly nine days before their good intentions go out of the window.
What's more, most of us recycle the same resolutions year after year, suggesting that our goals remain ever elusive.
Whether it's to go to the gym three times a week, lose half a stone, clear your debts or find a new job, it's the same emotional roadblocks that hold us back.
Joy Crowther, corporate and personal strategy coach at Stars Gym, suggests the following ten-step strategy to reach your goals by overcoming the obstacles standing in the way of your success.
Have a destination in mind and form a clear picture of where you're going. For example, if your goal is to get a promotion at work, imagine yourself in the new position and think about how that makes you feel. As in business, when a company presents its vision, this establishes that you know where you're heading and focuses your energy.

Research suggests that if you understand 'why' you're doing something you're 90% the way there. Ask yourself why this goal matters to you. If, for instance you want to lose weight, think about why. Is it because you'll look better? Why do you want to look better? Because you'll feel better? Because you want to meet someone? Attach the reasons to the benefits and your goal will have more meaning.

Negativity and self-doubts will hold you back so to remind yourself that you can achieve this think back to what you've accomplished in the past. How did you fulfill those goals? Was it determination? Perseverance? You have got it within you - remember that.

Setting your vision is one thing but life is life and there are always going to be obstacles. Pre-empt any major roadblocks by planning for them in advance. For instance, if you are taking up running but know you have a busy week coming up at work that could get in the way, plan your time and make a schedule in advance.

Setting a deadline or timeline is essential otherwise your goal is just a floating wish. Even if you don't achieve it on that date you'll at least have something clear to work towards. Three months is a good long-term goal but break your time down into manageable one-month goals. Once you've done this, plan how you're going to achieve it. Now is the time to work out your schedule and prepare by getting any materials you might need.

Many of us tend to work as loan rangers but a support network is important in helping you achieve your goal. Whether it's asking a friend to go to classes with you for mutual motivation or simply asking your partner to look after your baby while you go out for a run, now is the time to enlist your support network.

How do you speak to yourself? Does "I can't do this", "I'll never be able to do this" or "this is too hard" sound familiar? Talk to yourself as you would to someone else you wanted to encourage such as your best friend. Belief in your ability is what will drive you towards success.

Make a commitment with yourself by writing down your vision and the reasons why you're aiming for it. Studies suggest if you've written it down you're ten times more likely to achieve it. Make a commitment to yourself in the way you would to other people - and stick to it. We tend to put everything and everyone else first. Writing it down will help you to make it a priority. By getting it out of your head and onto paper, you will also free up more space in your mind.

People give up all too easily because their plan hasn't worked. Instead of saying "I've blown it" say, "I haven't done what I've set out to do so how can I do it differently?" Look at what happened, what went wrong. Solve the problem with alternative solutions instead of giving up.

Studies have shown that as well as celebrating your success you should set yourself rewards along the way, especially if you have a longer term goal. We tend to beat ourselves up readily but we don't give ourselves a pat on the back. Incentivising your efforts by rewarding the little steps along the way will help keep to you on the path to success.