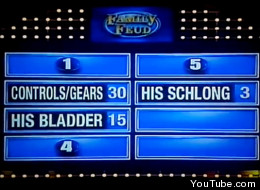 They say you should never work with children or animals. But in the case of game shows, it might be wise to substitute 'children' for 'the public' and 'animals' for 'games involving random letters'.
Because Family Feud - which is like Family Fortunes, only a) American and b) lacking the presence of Les Dennis - has hit the headlines once again after the answer "Schlong" came up. Watch the moment below - and following it, nine other classic game show bloopers. They're all unintentionally hilarious - and sometimes intentionally, sometimes unintentionally, rude - and be warned: they may make you yearn for the heady days when "Can I have a P, please, Bob?" was the rudest thing you ever thought you'd hear someone say on teatime television.
Enjoy, w***ers! (Sorry. Thought we were on Countdown for a minute, then.)
10 Rude Game Show Moments
In the contestants' defence, at least they didn't come up with this answer - the American public did. And the only thing funnier than that? The fact that the studio audience of Family Feud have to shout it out loud. Titter!

This isn't the first time the six-letter W-word has come up on Countdown, of course. But it's the first time a) it's come up this year, and b) new host Nick 'The Apprentice' Hewer has had to deal with it.

If you were on Wheel Of Fortune, would you try to sneakily say "F**k 'em"? Because this contestant did. High-five!

Not the follow-up to Goodbye, Mr Chips, but a particularly memorable moment of animation-induced hilarity in Catchphrase. If you can tolerate Roy Walker's uncomfortable laughter, of course.

In which student Bright from the University of Manchester Institute of Science and Technology doesn't live up to his name.

As in a round of Jeopardy: if "In the ass" was the answer - what do you think the question was? This 1977 clip from The Newlywed Game (America's version of Mr And Mrs) went down in history - although it never made it to air until many years later, as host Bob Eubank explains.

Men: you may not know how women's minds work. But as this Family Feud contestant proves, we know how yours do.

RIP dear Richard Whiteley. You shall forever be remembered for your awkward pauses, your ferret attack, and your diginity in the face of saying naughty words.

We can't be exactly sure, but as you can tell by her outfit, hairstyle and response to the letters she's turning over, we think this is the moment Carol Vorderman became Officially Saucy. Sadly the clip above ends too soon - watch the full (non-embeddable) version on YouTube here.

And finally: the hilarious, pivotal moment in South Park's episode With Apologies To Jesse Jackson, in which Stan's dad shocks an entire nation on Wheel Of Fortune.