Lily Collins Snow White Trailer: New Glimpse Of 'Mirror Mirror' Film (VIDEO)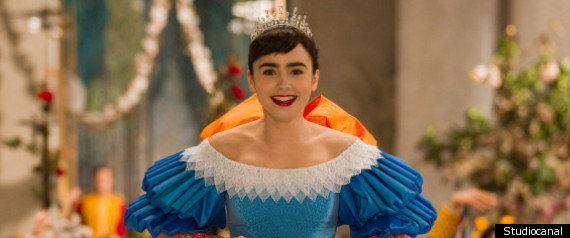 Another glimpse of Lily Collins' feisty take on Snow White in the forthcoming re-imagined Snow White fairytale Mirror Mirror has been unveiled.
The 22-year-old British actress is stepping out from the shadows of her very famous father - Phil Collins - to star alongside Oscar-winner Julia Roberts as the famous spirited orphan, helped by seven dwarf friends.
However, Mirror Mirror: The Untold Adventures Of Snow White turns the traditional story on its over-played head, swapping Doppy, Bashful and Grumpy for " a band of diminutive highway robbers", who rescue Snow White as she attempts to take back her realm from the treacherous Queen (Roberts).
Thankfully, Collins' portrayal also appears different to Kristen Stewart's recent role as Snow White in Snow White And The Huntsman, taking on a more familiar family friendly tone.
Julia Roberts' portrayal of the evil queen less chilling than Charlize Theron's, and Collins has done away with the "damsel in distress" routine.

The film, in cinemas 6 April, also stars Armie Hammer (The Social Network) as Prince Alcott, Sean Bean (The Game of Thrones, The Lord of the Rings: The Return of the King) as the King and Nathan Lane (The Lion King, The Birdcage) as the Queen's hapless and bungling servant, Brighton.

Check out the new video and more photos below: