But now that the singer in madly in love, it appears she's set to leave her music career behind, at least for now, anyway.
The Rolling In The Deep singer has told US Vogue magazine she is set to take a "four or five year" break from music to concentrate on her love life.
"I am f***ing off for four or five years. If I am constantly working, my relationships fail," she said.
"So at least now I can have enough time to write a happy record. And be in love and be happy. And then I don't know what I'll do. Get married. Have some kids. Plant a nice vegetable patch."
And despite it still being early days, it seems like Adele believes she's found 'the one', crediting him for being the one to help her through her recovery from vocal surgery.
"He's wonderful. And he's proud of me, but he don't care about what I do or what other people think. He looks after me. I don't think I would have gotten through the recovery for my surgery if it hadn't been for him."
She also told the mag about the type of girlfriend she is, admitting she "always wants sex".
"I am attentive. I will do anything for my man. I am a good cook. I'm funny. Always want to have sex - Well, most girls don't!"
So do we think Adele will really quit music for the sake of her man?
Well one thing is for certain - if she does return to the studio, we shouldn't expect another album like 21.
The full interview with Adele appears in this month's US Vogue magazine, out now.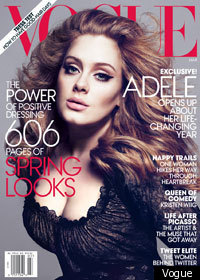 ADELE'S NIGHT AT THE GRAMMYS
SUBSCRIBE TO & FOLLOW UK DAILY BRIEF