Adele Moves Into New Mansion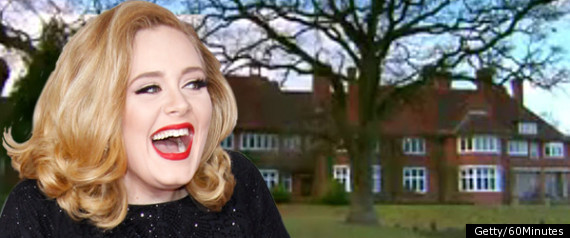 Grammy queen Adele has thrown open the doors of her new country pile to give fans a glimpse of the lavish mansion she now calls home.
After scooping six Grammy Awards on Sunday, Adele has proved once and for all the "girl did good" by showing off her luxury abode in West Sussex.
The Rolling in the Deep star is renting the 10-bedroom property for £15,000 a month and she admits the house is a huge improvement from her humble beginnings in Tottenham, north London.
Offering a tour to US TV host Anderson Cooper, she said: "After my first record I moved out of my mum's to Notting Hill on my own. My life fell apart. My phone got cut off, my credit card got cut off, the house was a mess. It was awful. So I moved back in with her.
"I'd rather be defeated than one day come in and the rats would be eating me. It was basically a bedsit with walls."
Adele's 25-acre property is a converted former convent which boasts two swimming pools, a tennis court, a guest cottage, games' room and helicopter hangar.
Let's hope there's a spare room for all her trophies, too!