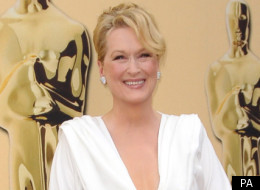 Meryl Streep has joined the presenting line-up at this weekend's Oscars.
The star - who is favourite to land the best actress Academy Award for her role as former PM Margaret Thatcher - joins previously announced presenters such as Halle Berry, Tom Cruise, Cameron Diaz, Michael Douglas, Penelope Cruz, Will Ferrell, Tom Hanks and Angelina Jolie.
Meryl, who won rave reviews for her performance in The Iron Lady, has been Oscar nominated a record 17 times and already won two statuettes.
Her stage role at Sunday's ceremony in Hollywood - the 84th Academy Awards - was announced by telecast producers Brian Grazer and Don Mischer.
Other presenters at the event, hosted by Billy Crystal, include Rose Byrne, Bradley Cooper, Will Ferrell, Tina Fey, Zach Galifianakis, Milla Jovovich, Jennifer Lopez, and the cast of the comedy Bridesmaids.
SLIDESHOW: Oscar hosts from the past 60 years...
Best and Worst Oscar Hosts
Oscar host Billy Crystal dons a Hannibal the Cannibal mask at the opening segment of 64th Annual Academy Awards Monday, March 30, 1992 in Los Angeles. Actor Anthony Hopkins was nominated for actor in a leading role this year for his portrayal of Dr. Hannibal Lecter in "The Silence of the Lambs." Credit: Craig Fujii, AP

Host Whoopi Goldberg welcomes the audience and viewers to the 68th Annual Academy Awards in Los Angeles, Monday, March 25, 1996. Credit: Eric Draper, AP

Comedian Billy Crystal hosts the 62nd Annual Academy Awards at the Dorothy Chandler Pavillion in Los Angeles Monday, March 26, 1990. Credit: Reed Saxon, AP

Billy Crystal, host of the Academy Awards, rides off stage on a horse the end of the show on Monday night, March 26, 1991 in Los Angeles. The western "Dances with Wolves" collected seven Oscars, including best picture. Credit: Reed Saxon, AP

Billy Crystal opens the show on a mock-up of the Titanic at the 70th Academy Awards in Los Angeles Monday, March 23, 1998.

Billy Crystal reacts during his opening monologue at the 69th annual Academy Awards in Los Angeles Monday, March 24, 1997. Credit: Susan Sterner, AP

This is an April 1959 photo of actors backstage at the Academy Awards ceremony. From left: Susan Hayward, David Niven, Ingrid Bergman, and Maurice Chevalier. Credit: AP

Jack Haley Jr., left, producer of the 51st Academy Awards, comedian Johnny Carson, who will host the Oscars, and Marty Pasetta, director, are shown with a model of the stage for the upcoming awards show in Los Angeles, Ca., April 7, 1979. Credit: AP

Studio headshot portrait of American actor Jack Lemmon (1925 - 2001) smiling, wearing a tuxedo with a handkerchief in the breast pocket. Credit: Columbia Pictures / Getty Images

Comedian Bob Hope hosts the Academy Awards in Los Angeles, Calif. on April 3, 1978. Credit: AP

Actor Rob Lowe croons a tune to Snow White during the opening number for the 61st Academy Awards presentation Wednesday, March 30, 1989 in Los Angeles. The Walt Disney Co. filed suit against the Academy of Motion Picture Arts & Science, alleging unauthorized use of the fairy tale character in what it called an unflattering representation.