Oxygen Sniffed Around Saturn's Moon Dione - PHOTOS, VIDEO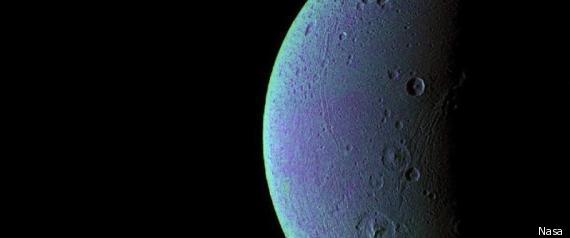 Rare oxygen ions have been found on Saturn's moon Dione.
Nasa's Cassini has just detected a tiny number of oxygen molecules around Saturn's moon Dione.
The Cassini spacecraft has detected the very lightest of atmospheres on the moon - one oxygen ion for every 0.67 cubic inches of space.
The atmosphere is lighter than a unicorn convention on a fairy floss cloud. On Earth, we have 2,550 oxygen ions per cubic foot, substantially more than any potential life on Dione could enjoy.
On Dione's surface, the atmosphere is only as dense as our's up at 480 kilometers above the Earth's surface.
The discovery is described in a recent issue of the journal Geophysical Research Letters.
Robert Tokar, a Cassini team member based at Los Alamos National Laboratory, Los Alamos, and the lead author of the paper, said: "We now know that Dione, in addition to Saturn's rings and the moon Rhea, is a source of oxygen molecules. This shows that molecular oxygen is actually common in the Saturn system and reinforces that it can come from a process that doesn't involve life."
Dione got its oxygen particles not from exhaling plants, but from solar photons or energy particles from space slamming the moon's water icey surface.
Cassini's scientists will still look for other explanations for how the ions formed, including whether or not Dione's surface could create the unusual find.
Amanda Hendrix, Cassini deputy project scientist at NASA's Jet Propulsion Laboratory, Pasadena, California, said: "Scientists weren't even sure Dione would be big enough to hang on to an exosphere, but this new research shows that Dione is even more interesting than we previously thought. Scientists are now digging through Cassini data on Dione to look at this moon in more detail."
Dione joins the exclusive club of oxygen bearing celestial bodies including Earth, Venus, Mars and Saturn's largest moon Titan.