Emily Blunt, A-lister and face of Yves Saint Laurent's perfume Opium and Hollywood A-lister features in a 10-page-shoot in Elle's May issue, showing a tougher side than normal, photographed by Thomas Schenck.

On the eve of her film Salmon Fishing in the Yemen coming to UK cinemas, Blunt chats candidly about the time she met Barack Obama and broke into a fit of giggles, her fear of bugs and her rebellious red carpet style.

Here are some titbits...

On breaking into a fit of giggles on meeting Barack Obama and feeling Michelle Obama's skin:

"I was so starstruck...we were at the White House having cocktails and this woman said, 'Would you like to meet President Obama?' They introduced me and then he turned to me and went, 'Oh. Oh. You are a wonderful actress.' And I laughed, screechingly and hysterically, I couldn't stop. They had to usher me away. I fell apart. I don't know what happened to me. He looked nine-feet tall. I think my eyes rolled back in my head. I gave Michelle a hug and she had skin like silk."



On having a stutter as a child:

"It was hard. I'd want to ask to go to the toilet but couldn't get the words out."

On being freaked out by bugs whilst filming in North Carolina with Colin Firth:

"We [Colin Firth and myself] were filming in this really damp, run-down old house in North Carolina. I was sitting with my make-up artist and all of a sudden she just went, 'Oooooooooooooooah!' I looked around and it was like the sound had cut out - everything went into slow motion. It was a cockroach, like, this long [she holds her fingers about four inches apart] just sitting right on my shoulder."

On being teased on the set of Your Sister's Sister about her pubic hair:

"I remember one scene when the director Lynn Shelton came up to [Emily's co-star] Rosemarie DeWitt and whispered in her ear, 'Say something that would really embarrass Emily'. So Rose told this story that involves my nether regions... Basically, her friend was going out with this boy and he'd said to her, 'I think you need to shave your pubic hair because it's really pouffey in your underwear,' and so we're doing this scene and Rosemarie just goes [adopts American accent], 'Do you remember when Chris told you to shave your bush?' I went completely crimson, I was so mortified. For the first time ever on film, I cried with laughter and they caught it, they captured that golden moment when it was completely genuine."

On not caring what people say about her red carpet style:

"I like to mix it up, but I don't care what people say about what I'm wearing on the red carpet, because there's inevitably going to be someone who hates it, even if you wear something that a lot of people like. I don't care. I know what I like and what I feel good in and I like to take a few risks. They're not huge strides."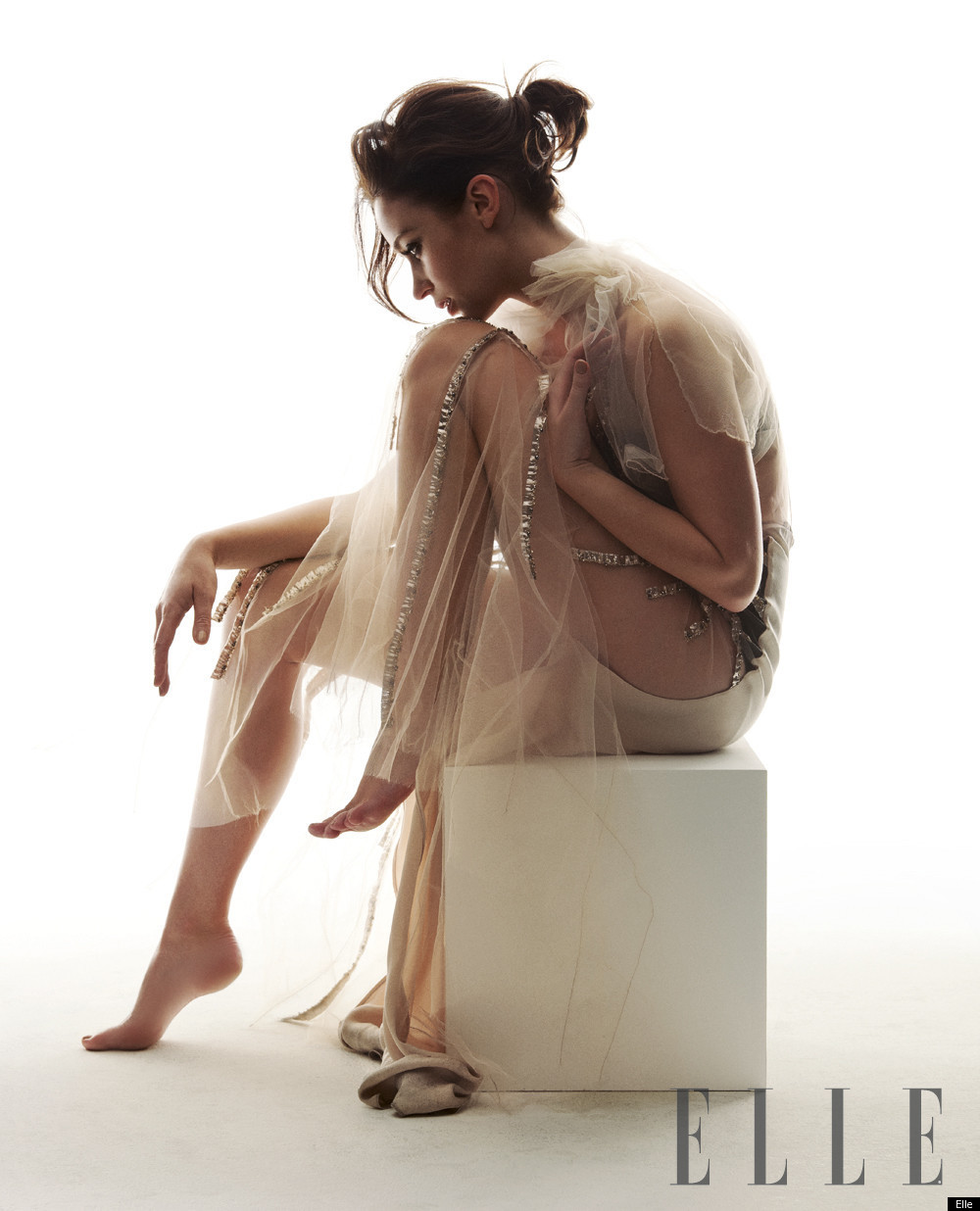 Emily Blunt shows her soft side in Elle magazine photoshoot
See Emily Blunt's full photo shoot and interview in the May issue of ELLE, on sale Wednesday 4th April 2012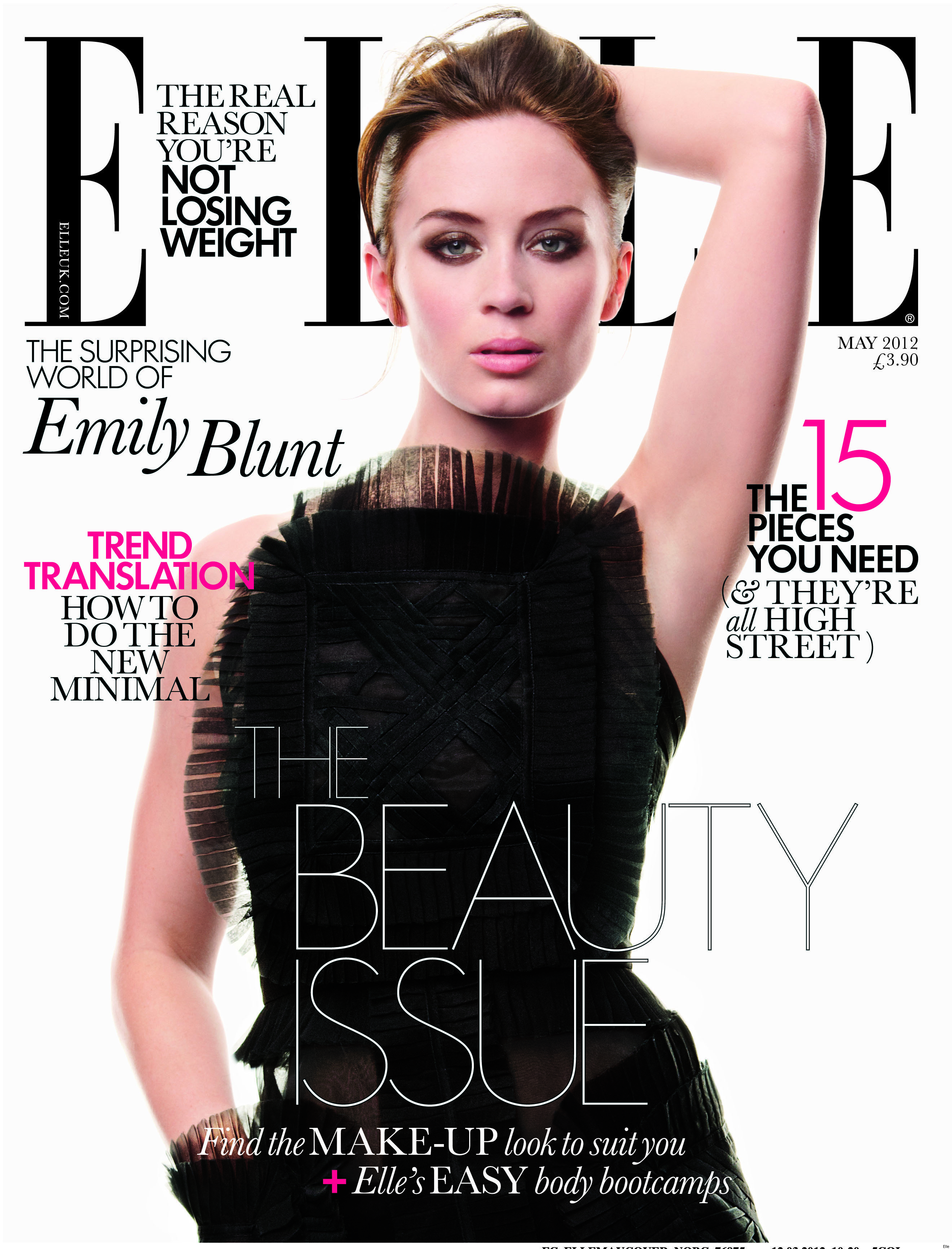 SUBSCRIBE AND FOLLOW
Get top stories and blog posts emailed to me each day. Newsletters may offer personalized content or advertisements.
Learn more